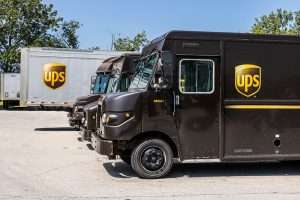 UPS has reached a tentative contract with its 340,000-person union, potentially averting a strike that threatened to disrupt package deliveries for millions of businesses and households nationwide.
The agreement was announced Tuesday, the first day that UPS and the Teamsters returned to the table after contentious negotiations broke down earlier this month.
Negotiators had already reached tentative agreements on several issues but continued to clash over pay for part-time workers, who make up more than half of the UPS employees represented by the union.
The Teamsters hailed the agreement as "historic."
Under the tentative agreement, which still needs union members' approval, full- and part-time union workers will get $2.75 more per hour in 2023, and $7.50 more by the end of the five-year contract. The agreement also includes a provision to increase starting pay for part-time workers — whom the union says are the most at risk of exploitation — from $16.20 per hour to $21 per hour. The average pay for part-timers had been $20.
Continue reading on The Associated Press (No subscription required)…