Overview
Protecting Privacy while Allowing Innovation, Information Sharing Remains Challenge in Evolving Arena
As Californians increase their daily interaction with technology, the public policy conversation around personal information and information security continues to take on a more prominent role. Personal information has been the subject of many laws and regulations over the last decade and new technology is constantly changing the landscape of how information is used, shared, protected, transmitted and disposed. Safeguarding electronic information is challenging; what is considered safe and adequate protection this month often is outdated the next. Information Security
New Internet/Communications Technology Empowers Economic Development, Enhances Business Community
California's technology sector earned its reputation as a powerful economic engine in 2015. California's 1.1 million employee-strong technology sector leads the nation, creating more jobs than the next two largest states by technology sector employment—Texas (581,200) and New York (346,500)—combined. In addition to being the nation's largest technology sector, California also had the fastest growing, adding nearly 33,000 jobs in 2015, and the best paying, with an average annual wage of $139,500. Internet/Communications Technology
Goal
Support the establishment of a uniform national standard for data security laws while assuring that such a law addresses the hackers and identity thieves who commit such crimes — not just the data brokers and financial institutions caught up in security breaches.
Major Victories
Maintaining Balance Between Privacy, Innovation
Secured amendments in 2015 to make data breach legislation more workable for businesses (SB 570, AB 964).
Supported modernization of digital surveillance laws in 2015 to provide clarity to business about when and how government can gain access to electronically stored consumer information (SB 178).
Protecting Victims of Identity Theft. Backed urgency bill to authorize restitution for expenses for three years to monitor an identity theft victim's credit report and for the costs to repair the victim's credit (SB 208 of 2011).
Combating Costly Identity Theft. Supported enactment of a law making it easier to prosecute identity theft offenses by expanding the jurisdiction to include any place where an offense occurred (SB 226 of 2009).
Neutralizing Overly Expansive Privacy Proposals. Secured amendments in 2009 to proposals (ultimately vetoed) potentially exposing businesses to further data breaches by expanding the content of required breach notifications (SB 20) and requiring social networking sites to prohibit and prevent photos posted to a site from being copied (AB 632).
Position
The CalChamber supports protection of privacy rights and privileges, uniform national laws, and regulations governing privacy issues. Increased penalties and incarceration for thefts of personal information is proper for violations.
The CalChamber supports continued research, development and use of radio frequency identification device technology; development of industry standards for protecting data rather than embedding static technology in statute; and the ability for companies to share information.

Privacy Bills
Coalitions
Policy Contact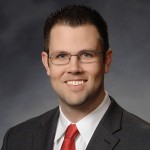 Jeremy Merz​
Policy Advocate
Workers' Compensation, Taxation, Privacy, Transportation and Infrastructure​