October 2019 California Delegation to Mexico City Led by Lt. Governor Eleni Kounalakis
Day 1
Tuesday, October 1 – Arrival and Reception
Early this morning the delegation departed California for the financial and political center of Mexico: Mexico City. The 600-year-old city is the oldest capital city in the Americas and is one of the most populated cities in the world.
It sits 7,380 feet above sea level (more than a mile), and if you look up toward the horizon, past the skyscrapers, you can see that the city is cradled by majestic mountains and volcanoes. Two volcanoes in this mountain range, Popocatépetl (the smoking mountain) and Iztaccíhuatl (white woman), have inspired tales and art for centuries.
Our delegation stayed at the JW Marriott Hotel in the Polanco district of Mexico City, which is situated across from Chapultepec Park, one of the largest public parks in the world. This area has been inhabited since pre-Hispanic times and was once a retreat for Aztec rulers. The park in many ways is considered not just a green space, but a historic site as well.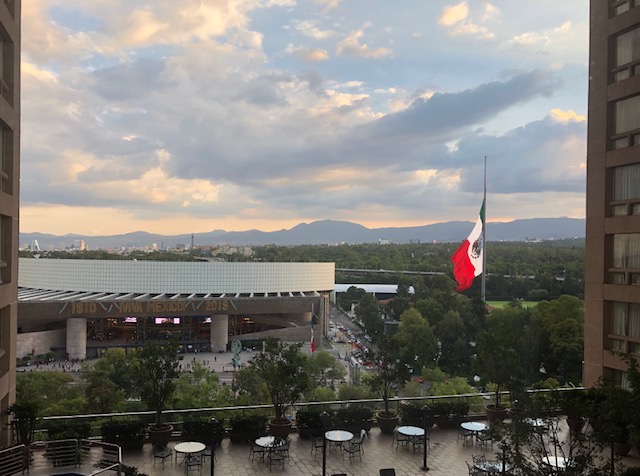 While fall is taking full effect in California, Mexico City is in the midst of its rainy season, which is enfolding everyone in lush greenery and is gifting us with beautiful forest views of Chapultepec.
We had a few brief moments to enjoy our new surroundings before checking into our hotel rooms and beginning our packed few days of events and meetings.
This evening we had a Welcome Reception with the U.S. Ambassador to Mexico, Christopher Landau. Ambassador Landau recently arrived in Mexico himself, having assumed office two months earlier. He was sworn in as United States Ambassador to Mexico on August 12, 2019.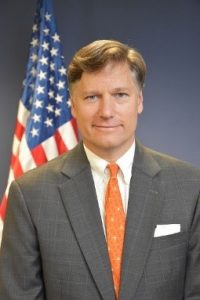 Landau was born in Madrid and attended the American School of Asunción, Paraguay, for five years, where he became fluent in Spanish. He earned his Bachelor of Arts in history, summa cum laude, from Harvard College in 1985, where he was elected to Phi Beta Kappa his junior year, and earned a Certificate in Latin American Studies.
He received his Juris Doctor, magna cum laude, from Harvard Law School in 1989. After graduating, Landau clerked for then-Judge Clarence Thomas of the U.S. Court of Appeals for the District of Columbia Circuit. He later clerked for Associate Justices Antonin Scalia and Clarence Thomas of the U.S. Supreme Court during the 1990 and 1991 terms, respectively.
In 1993, Landau joined Kirkland & Ellis, where he became a partner in 1995. He was chairman of the firm's appellate practice until he left after 25 years to join Quinn Emanuel Urquhart & Sullivan in 2018. He has argued nine cases before the U.S. Supreme Court, including two on behalf of the Commonwealth of Puerto Rico, and has briefed and argued appeals in all the U.S. appellate courts.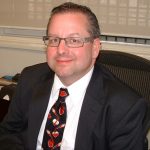 At the welcome reception Ambassador Landau spoke about the U.S. and Mexico bilateral relationship in positive terms. The Ambassador indicated this was his first visit from a state delegation.The Ambassador was accompanied by:
Minister Counsellor for Commercial Affairs, Brian Brisson;
Minister Counsellor for Agricultural Affairs, Melinda Sallyards;
Minister Counsellor for Political Affairs, Dana Brown;
Counsellor for Economic Affairs,  Kevin Murakami;
Homeland Security Attache Edgar Ramirez; and
Commercial Officer Paul Oliva, originally from Sacramento.
Each gave an overview of their issue area.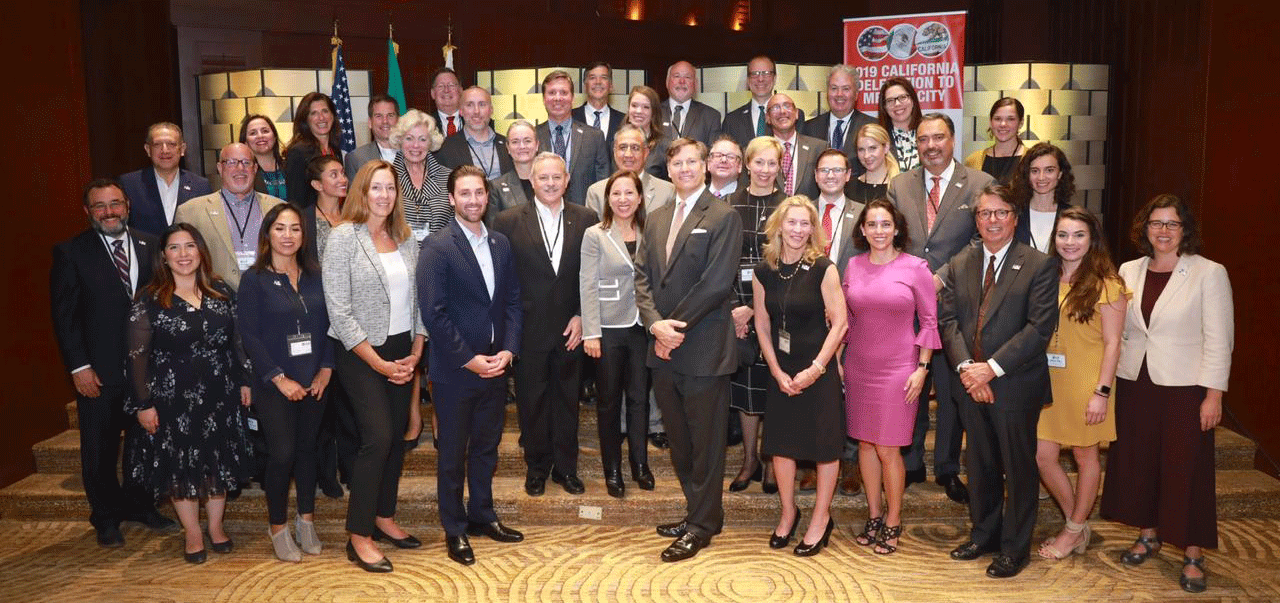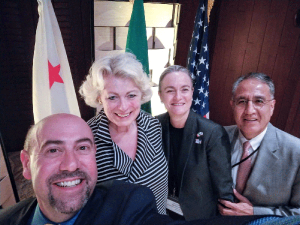 Bud Colligan opened the reception on behalf of GO-Biz. I added a quick welcome on behalf of the California Chamber of Commerce and our Foundation for Commerce and Education.  Honore Comfort of the Wine Institute, which provided California wine for the evening and the mission also spoke about California wine in the Mexican market.
We enjoyed the rest of the reception and went to bed to rest for a full next day.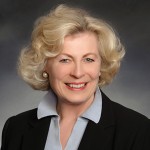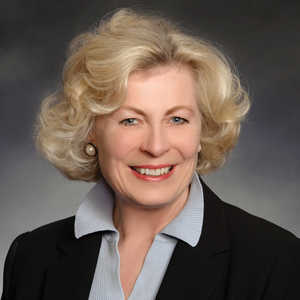 Blog By
(Mrs.) Susanne Stirling
Vice President, International Affairs
CalChamber