Trading Partner Portal: New Zealand
Overview
Trade Overview

New Zealand, whose capital city is Wellington, is a constitutional monarchy with a parliamentary democracy.  It is approximately the size of Colorado and has a population of roughly 5 million.  The county is divided into two major islands.  The North Island is home to approximately 78 percent of the population while the South Island boasts a larger land mass with varied topography from deep fjords to many steep mountain peaks.
U.S. Department of State
New Zealand is a strong advocate for free trade and was the first developed county to enter into a free trade agreement with the People's Republic of China.  New Zealand also has free trade agreements with Singapore, Thailand, Australia, Malaysia and the ASEAN nations.  www.newzealand.com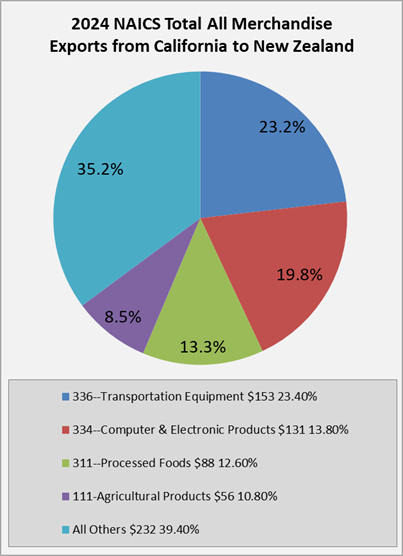 New Zealand has been ranked as the second best country to do business in the world by the World Bank "Doing Business 2015" report. According to the most recent figures, New Zealand has a GDP of $166.1 billion.
New Zealand's number one export is agriculture.  Leading agricultural exports include dairy products, meat, forest products, fruit and vegetables, fish, and wool.  In 2022, the U.S. imported nearly $5.38 billion worth of goods, $2.45 million of which was processed foods.  The United States exported $4.18 billion to New Zealand, which consisted of transportation equipment at $1.2 billion, followed by non-electrical machinery, chemicals, and computer and electronic prodcuts.
U.S. Department of Commerce
US FDI in New Zealand totaled $12.12 billion in 2021, while New Zealand FDI in the US totaled $2.6 billion. New Zealand was the second fastest growing source of FDI into the U.S. in 2021. In 2020, New Zealand FDI supported 17,600 jobs in the US and contributed $1 billion to expanding US exports in 2020. The top industry sectors for New Zealand FDI in the US were: software and IT services, plastics, communications, transportation, business services and industrial equipment. (Select USA)
Video: New Zealand Exports 1983 – 2018
Source: New Zealand Trade & Enterprise
New Zealand – California Trade
California exported approximately $565 million to New Zealand in 2022. Top exports included processed foods at $110 million, computer/electronic products at $84 million, and transportation equipment at $68 million. California imported $1.4 billion from New Zealand in 2022 with processed foods making up $707 million of the total, followed by beverages and tobacco, and agricultural products.
U.S. Department of Commerce 
In 2022, New Zealand was the twenty-fourth largest growing source of FDI through foreign-owned enterprises (FOEs). New Zealand FOEs in California provided 3,622 jobs through 80 firms amounting to $372million in wages in 2022. The top jobs by sector are: manufacturing, wholesale trade, transportation/warehousing/utilities, financial activities, and retail trade (World Trade Center Los Angeles FDI Report).
Characteristics of travellers from New Zealand to California – 2012
Visit California
Trade Agreements
Trade Agreements
U.S.-New Zealand Free Trade Agreement
United States and New Zealand Meet Under Trade and Investment Framework Agreement
USTR, July 20, 2018
United States and New Zealand concluded two days of meetings under the Trade and Investment Framework Agreement (TIFA), noting the strong and growing trade relationship between the two countries and discussing a full range of bilateral issues.
Members of the U.S. Congress have requested negotiations for a Free Trade Agreement with New Zealand. New Zealand and the United States have been strong partners and good friends for over a century. Political ties are close, business links are strong, and cultural links are many and varied.
In the aftermath of September 11, New Zealand Prime Minister Clark quickly and firmly offered diplomatic, political, and military support. New Zealand is one of only two countries that has fought side-by-side with America in every war since World War I.
New Zealand is one of America's strongest allies in international trade liberalization. New Zealand has worked consistently with the United States in trade forums, such as the WTO and APEC.
New Zealand and the Trans Pacific Partnership
The original Trans-Pacific Agreement negotiations were launched by Chile, New Zealand and Singapore at the APEC leaders' summit in 2002. After attending a number of rounds as an observer, Brunei joined the Trans-Pacific Agreement as a "founding member".
The Trans-Pacific Strategic Economic Partnership Agreement (TPP) was signed by New Zealand, Chile, Singapore and Brunei in the summer of 2005.
One of the objectives of the Trans-Pacific Agreement is to create a trade agreement that could be seen as a model within the Asia-Pacific region and could potentially attract new members. The agreement is open to accession "on terms to be agreed among the parties, by any APEC economy or other state".
On November 14, 2009, during his first trip to Asia as President of the United States, President Barack Obama announced the United States' intention to engage with the Trans-Pacific Partnership countries to shape a regional agreement, with the objective of shaping a high-standard, broad-based regional pact helping to expand U.S. exports, saving and creating good U.S. jobs.
In November 2011, at the APEC meetings in Hawaii, Japan, Mexico and Canada expressed interest in joining the Trans-Pacific Partnership negotiations and were welcomed by the US.
New Zealand and the United States Build Relationship Through Free Trade
ITA Blog, August 2, 2016
For more information, visit www.calchamber.com/TPP
Regional Comprehensive Economic Partnership (RCEP)
After 8 years of negotiations, the Regional Comprehensive Economic Partnership (RCEP) was signed on November 15, 2020. The RCEP is a free trade agreement (FTA) with 10 Association of Southeast Asian Nations (ASEAN) member states—Brunei, Burma (Myanmar), Cambodia, Indonesia, Laos, Malaysia, the Philippines, Singapore, Thailand, Vietnam—and the five states with which ASEAN has existing FTAs—Australia, China, Japan, South Korea and New Zealand.
Please see the CalChamber's RCEP page for more info.
RCEP – Association of Southeast Asian Nations
Text of the Regional Comprehensive Economic Partnership Agreement
Events
Events
New Zealand Consul General Visits CalChamber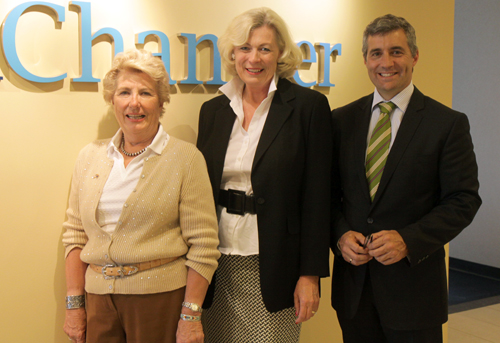 On Wednesday, September 26, 2012, Honorary Consul Starr Hurley visited the CalChamber offices with the newly appointed Consul General for New Zealand in Los Angeles, Leon Grice.
The Consul General discussed California and New Zealand trade, as well as the Trans Pacific Partnership and the possibility of a U.S. – New Zealand Free Trade Agreement.
For full Alert article, please click here.
Key Country Contacts
Resources
Business
Business
Cultural