Trading Partner Portal: Russia
Overview
Executive Order — Blocking Property of Additional Persons Contributing to the Situation in Ukraine​
White House, March 17, 2014
​​Comment of Ambassador of Ukraine to the U.S. Olexander Motsyk on the situation in Ukraine
Embassy of Ukraine in the U.S., March 17, 2014
Trade Overview

After the December 1991 dissolution of the Soviet Union, the Russian Federation became its successor state, inheriting its prominent place on the world stage. With a GDP of $2 trillion in 2013, Russia is one of the world's top exporters according to the World Trade Organization and CIA Factbook.
The United States exported $10.8 billion to Russia in 2014, with 60.7 percent being transportation equipment and machinery. Russia exported $24 billion to the US in 2014, with 55.6 percent being petroleum and coal products. Primary metal manufacturing contributed 23.5 percent and chemicals made up 10 percent while the oil and gas category had 3.2 percent of the total US imports from Russia.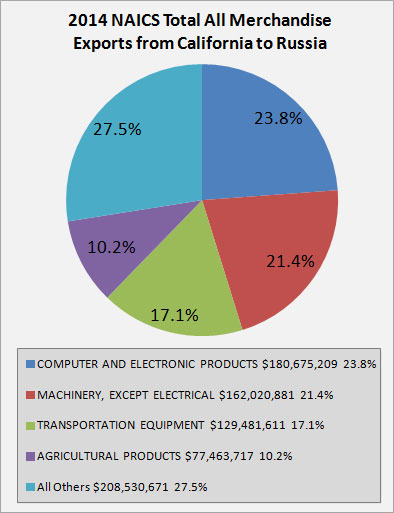 Russia exported $758 million in goods to California in 2014. 23.8 percent consisted of in computers and electronics, agricultural products made up 10.2 percent, transportation equipment contributed 17.1 percent, and machinery were the next highest exports, with 21.4 percent. In the same year California imported 979 million to Russia. Top imports included oil and gas that consisted 32.2 percent, primary metal manufacturing made up 24.3 percent, petroleum and coal products were 18 percent and transportation equipment total 14.6 percent of imports. (US Department of Commerce)
Foreign Direct Investment
According to the most recent figures, total investment by Russian business in the U.S. market reached $6.2 billion, while total U.S. direct investment into Russia reached $14.6 billion. (Bureau of Economic Analysis)
Trade and Investment
Ernst & Young's attractiveness survey – Russia 2013
Special Economic Zones in Russia
Russez, January 2013
New Opportunities for US business in Russia
Russia Signs Free-Trade Deal With Former Soviet States
The agreement was announced following talks in St Petersburg. The other signature countries are Ukraine, Belarus, Kazakhstan, Armenia, Kyrgyzstan, Moldova and Tajikistan.
BBC News, October 19, 2011
CalChamber's Trade Issues page on Russia – Permanent Normal Trade Relations
Coalition for U.S. – Russia Trade
Upcoming Events
2014 XXII Winter Olympic Games – Sochi
February 7-23, 2014
News Update
UPDATE –
Acting U.S. Trade Representative Sapiro Issues Report Highlighting Russia's World Trade Organization Compliance
June 19, 2013
Presidential Proclamation — To Extend Nondiscriminatory Treatment (Normal Trade Relations Treatment) to the Products of the Russian Federation and the Republic of Moldova
December 20, 2012
U.S. Senate Passes Legislation Ensuring U.S. Access to Russian Market
Yesterday, the U.S. Senate approved California Chamber of Commerce-supported legislation that will enable U.S. companies to compete in the growing and profitable Russian marketplace.
CalChamber, December 7, 2012
CalChamber Praises House Passage and Urges Senate Action to Ensure U.S. Access to Russian Market
CalChamber, November 19, 2012
CalChamber Urges Support for Permanent Normal Trade Relations with Russia
August 21, 2012
California Governor Brown signs-on to support letter for Russia PNTR
July 2012
Joint Statement by the President of the United States of America Barack Obama and the President of the Russian Federation Vladimir Putin
White House, June 18, 2012
Chairman Camp Announces Hearing on Russia's Accession to the World Trade Organization and Granting Russia Permanent Normal Trade Relations
House Ways and Means, June 18, 2012
Senate Hearing – Russia's WTO Accession – Administration's Views on the Implications for the United States
Senate Finance Committee, June 18, 2012
CalChamber Backs Permanent Normalizing of U.S. Trade
Relationship with Russia
CalChamber, June 12, 2012
California and the Russian Market
Coalition for US-Russia Trade
Russian Political, Economic, and Security Issues and U.S. Interests
Congressional Research Service, February 2012
The True Cost of Jackson-Vanik
The National Interest, March 29, 2012
Why Approving Permanent Normal Trade Relations with Russia is in the U.S. National Interest
U.S. Chamber of Commerce, March 2012
CalChamber Backs Permanent Normalizing of U.S. Trade Relationship with Russia
Calchamber, March 14, 2012
McFaul Pushes for Trade Status
Moscow Times, March 14, 2012
Russia PNTR Fact of the Week
U.S. – Russia Business Council
World Trade Organization – Ministerial Conference approves Russia's WTO membership
World Trade Organization, December 16, 2011

The USRBC Applauds Russia's Formal Invitation to Join the WTO Package
US – Russia Business council, December 16, 2011
The WTO is a multilateral treaty subscribed to by over 150 governments that together account for more than 97 percent of world trade. Over 20 governments are currently negotiating or due to negotiate accession to the WTO. Its basic aim is to liberalize world trade and place it on a secure basis, thereby contributing to economic growth and development and to the welfare of the world's peoples.
The functions of the WTO are:
• administering WTO trade agreements;
• providing a forum for trade negotiations;
• handling trade disputes;
• monitoring national trade policies;
• offering technical assistance and training for developing countries; and
• cooperation with other international organizations.
The Russian Federation made significant steps towards WTO membership in 2006. The United States and the Russian Federation reached a bilateral trade agreement in November 2006, which cleared a major hurdle to their membership. This follows the 2005 completion of bilateral negotiations on goods with 29 total WTO members, accounting for countries that provide 87 percent of all Russian imports.
On October 1, 2010, US Trade Representative, Ambassador Ron Kirk stated "As President Obama has made clear, having Russia in the rules-based system of the WTO is clearly in the United States' interest, and we will continue to offer our support as Russia completes the accession process. By reaching bilateral agreement on key issues related to the accession process, Russia can now devote additional energy to addressing remaining steps at the multilateral level. The United States will continue to provide support to Russia as it accomplishes these steps, and to contribute to continued momentum in the process, in cooperation with other members of the WTO."
As Russia joins the WTO, the United States looks forward to further enhancing bilateral trade relations with Russia.
For more information, please see
CalChamber's Trade Issues page on the World Trade Organization
The World Trade Organization homepage
From the US Chamber: On October 20,2011 – nineteen business organizations representing the technology industry and the broader business community, including the Chamber, sent a letter to President Obama to underscore the importance of Russia joining the Information Technology Agreement (ITA) as part of its World Trade Organization (WTO) accession package.

The letter states: "We believe it is crucial for Russia to maintain its 2006 commitment to join the ITA as part of its accession package. While we are confident the Office of the U.S. Trade Representative is fully engaged in attempting to bring about this outcome, we believe it is important to directly communicate to you how essential it is to our industry that Russia become an ITA signatory and to underscore with you that the U.S. technology industry's support of Russia's accession to the WTO is predicated in large part upon it joining the ITA."
Ulyanovsk and Chelyabinsk
Ulyanovsk and Chelyabinsk are two fast-developing regions of Russia. Both regions are taking steps in different fields of the economy, including manufacturing, metallurgy, natural resources extraction, engineering, construction, energy, agriculture, banking, and others to successfully collaborate with foreign investors.
The regions have a solid investment profile that have tripled for the last five years and reached more than $4 billion.
Krasnodar, Samara and Primorsky Krai
Krasnodar is regarded as one of the six regions in Russia with the highest investment potential. "The region ranks first in the country in terms of agricultural production, second in housing commissioning, third in investments attracted, fourth in terms of construction completed and public paid services, fifth in terms of retail sales and sixth in public catering turnover." Guide to Investment, Krasnodar Region, 2011
Samara is a prominent region in Russia, widely regarded as the place for bio-innovation. Its key industries include machine engineering and metal processing, chemicals and petrochemicals, food and beverages, energy, non-ferrous metals and agriculture.
Primorsky Krai is the largest economy in the Far East of Russia. Its key industries include food production, machine building, defense, construction and timber. In 2012, the region attracted USD 700 billion in foreign investments, primarily from the People's Republic of China, the Republic of Korea, Japan and the US.
Fort Ross: The Russia – California Connection
Located approximately 2 1/2 hours above San Francisco, on California's northern coast line, sits State Historical Park Fort Ross. According to it's website, "Fort Ross was a thriving Russian-American Company settlement from 1812 to 1841. This commercial company chartered by Russia's tsarist government controlled all Russian exploration, trade and settlement in the North Pacific, and established permanent settlements in Alaska and California."
In June 2010, Governor Arnold Schwarzenegger signed a memorandum of understanding (MOU) with the Renova Group of Companies in order to affirm a partnership to support and promote the preservation of California's Fort Ross State Historic Park, and to raise awareness of its historical and cultural significance.
Gov. Schwarzenegger and the Renova Group of Companies Sign MOU to Preserve Fort Ross State Park
Governor's Press Release, June 22, 2010


Events
Events
CalChamber Meets with Russian Trade Representative

Roman S. Zykunov, Trade Representative of the Russian Federation and Susanne Stirling, Vice President, International Affairs, CalChamber
See also www.calchamber.com/RussiaPNTR
On September 26, 2012, Roman Zykunov, Trade Representative for the Russian Federation, visited the CalChamber offices to discuss current trade relations between California and Russia.

As well as discussing the on-going support from the CalChamber for Russia's PNTR status, Mr. Zykunov reviewed several measures, recently taken by the Russian government, to improve investment project conditions in their country. This list included facilitating construction procedures, lifting infrastructure restrictions, simplifying procedures for hiring highly qualified expatriates, and improving customs administration.

Mr. Zykunov also informed the CalChamber of tax incentives, the improved court system, privatization of companies with State shareholding, and reduced administrative barriers in general.

For the complete, detailed list, please click here.

For the complete Alert article, please click here.

CalChamber Meeting Highlights Russia – California Connection
On November 2, 2010, Mr. Maxim Bezaev visited the CalChamber to discuss California – Russia Trade Relations. Mr. Bazaev is the Head of Projects and Programmes Division, within the Department of International, Foreign Economic and Interregional Relations of the Nizhny Novgorod Region of Russia.

The Nizhny Novgorod Region is located in the European center of Russia, approximately 400 km northwest of Moscow. Chief exports of this region are transporation equipment, metallurgy, chemical and petrochemical production and lumber. Nizhny Novgorod also has over 300 high-technology companies and with approximately 43 million people, it is a key Russian consumption market. For more information, please visit
www.government.nnov.ru .


Susanne Stirling, CalChamber and Maxim Bezaev, Region of Nizhny Novgorod

Governor Schwarzenegger Leads Trade Mission to Russia -2010

(Above)Governor Schwarzenegger speaking to the American Chamber of Commerce in Russia
Photo Courtesy of the Governor's Office

In October, 2010 Governor Arnold Schwarzenegger led a trade mission to promote California's leadership in the high-technology industry and strengthen relations with California's international partners with stops in Russia and London.

In June, the Governor met with Russian Federation President Dmitry Medvedev in Silicon Valley where they discussed Russia's efforts to generate a technology center similar to Silicon Valley in Skolkovo. The Governor is honoring President Medvedev's invitation to come to Russia, where he will connect a number of Silicon Valley business leaders and venture capitalists with Russian leaders and business people.

Governor Schwarzenegger to Promote High-Tech Jobs and Innovation in Russia
Governor's Press Office, October 9, 2010

Governor's Photo Essay on Russia Trade Mission
Key Country Contacts
Resources
CalChamber Resources
Business
Business
Cultural