Trading Partner Portal: Malaysia
Overview
Trade Overview

Malaysia is located in South East Asia with the South China Sea separating the country into peninsular Malaysia, and East Malaysia (located on the island of Borneo). Malaysia borders Thailand, Indonesia, and Brunei, with Singapore just off the coast of peninsular Malaysia. Malaysia boasts a population of 33.57 million people with a GDP of $372.9 billion. It is roughly the size of New Mexico, and has a tropical climate.
Bilateral trade between the United States and Malaysia reached $72.86 billion in 2022. The U.S. exported $18.1 billion to Malaysia, with top export categories being computers, transportation equipment, waste and scrap, chemicals, and non-electrical machinery.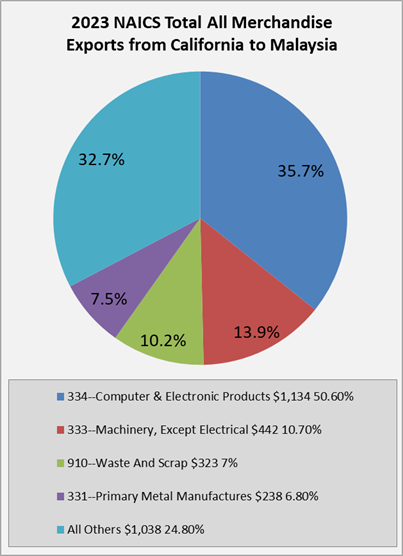 The United States is one of Malaysia's largest export destinations, while Malaysia stands as the United States' 23rd largest export destination. Malaysia is also currently the second largest U.S. trading partner in ASEAN. The U.S. imported $54.7 billion from Malaysia in 2022 with computer and electronic products making up $30.5 billion of the total.
U.S. Department of Commerce
According to the most recent figures in 2021, the U.S. had directly invested nearly $12 billion into Malaysia, whereas Malaysia had invested a negative $336 million into the United States. In 2019, Malaysian FDI supported about 2,500 jobs in the US. Malaysian firms contributed $22 million to expanding U.S. exports in 2018. Top industry sectors of Malaysian FDI were: business services, plastics, financial services, hotels and tourism, metals, and food and beverages. (U.S. Department of Commerce, Bureau of Economic Affairs, Select USA)
California – Malaysia Trade
In 2022, California exported $2.97 billion to Malaysia.. Trade between Malaysia and California is dominated by computer and electronics. Computer and electronic products made up $1.13 billion, the next closest exports non-electrical machinery at $466 million.
Malaysia's Economic Development
From 1981 until 2003 under the leadership of Prime Minister Mahathir bin Mohamad, Malaysia was able to transition from an economy primarily dependent on the exportation of raw materials into one focused on creating and sustaining manufacturing, service, and tourism industries. In the wake of the 2008 financial crisis Malaysia's export driven economy suffered. However, as a result of lessons learned during the Asian Financial Crisis from 1997-1998, Malaysia's economy was quickly guided into recovery with growth rates of 7.2% in 2010 and 5.1% in 2011. U.S. State Department
Under the leadership of Prime Minister Mohamed Najib bin Abdul Razak, Malaysia passed their first antitrust law which went into effect in February of 2012 effectively creating a checking mechanism for the size of many of the State Owned Enterprises (SOE's). [Greg Rushford; "Truthbusters" Foreign Policy]. Prime Minister Najib has also begun to privative many of the once SOE run businesses in an attempt to increase foreign investment in the country. He has recently instituted a series of pro business programs in order to "boost growth to enable Malaysia to meet its goal of becoming a high-income, developed nation by 2020". U.S. State Department
Malaysia is a member of a few large multilateral forums, such as APEC (Asia Pacific Economic Cooperation), and it is a founding member of ASEAN (The Association of South East Asian Nations).
Trade Agreements
Trade Agreements
U.S. – Malaysia Free Trade Agreement
As negotiating members of the Trans Pacific Partnership (TPP), the United States and Malaysia both hope to increase the amount of trade between the two countries, tying our economies closer together.
In 2005, the United States and Malaysia announced that they would begin negotiations on a bilateral free trade agreement to eliminate trade barriers between the two nations. Negotiations continued throughout 2006 and then were halted after April 2007. Some of the unresolved issues include financial services, intellectual property, competition policies, government procurement and labor.
During the third round of negotiations held in Kuala Lumpur, the United States offered to open about $250 billion worth of procurement to Malaysia under the proposed FTA.  Since the two countries launched the FTA talks in mid-2005, six rounds of negotiations have been held so far with the last meeting in Washington in April 2007.
Both countries had hoped to reach a deal by early 2007. But talks were delayed by a change in Malaysia's lead negotiator and Kuala Lumpur's hesitation to open the country's government procurement market to more U.S. companies.
According to the U.S.-ASEAN Business Council, it is expected to take at least two more formal rounds of the negotiations to finish a deal.
Regional Comprehensive Economic Partnership (RCEP)
After 8 years of negotiations, the Regional Comprehensive Economic Partnership (RCEP) was signed on November 15, 2020. The RCEP is a free trade agreement (FTA) with 10 Association of Southeast Asian Nations (ASEAN) member states—Brunei, Burma (Myanmar), Cambodia, Indonesia, Laos, Malaysia, the Philippines, Singapore, Thailand, Vietnam—and the five states with which ASEAN has existing FTAs—Australia, China, Japan, South Korea and New Zealand.
Please see the CalChamber's RCEP page for more info.
RCEP – Association of Southeast Asian Nations
Text of the Regional Comprehensive Economic Partnership Agreement
Key Country Contacts
Resources
CalChamber Resources
Business
Business
Cultural
Cultural/Educational