Trading Partner Portal: Australia
Overview
Interview Series Featuring California's Key Trading Partners – Featuring Consuls General of Australia Jane Duke in Los Angeles and Nick Nichles in San Francisco:
Shared Values Underpin Enduring Mateship Producing Jobs, Prosperity for Both Partners
CalChamber, November 17, 2020
Trade Overview

Australia has a market economy with a gross domestic product (GDP) of $1.39 trillion and a population of 25.36 million. World Bank.
Australia's diverse landscape and abundant natural resources has provided the country high level of foreign investment for exporting commodities such as coal, iron ore, copper, gold, natural gas, uranium and renewable energy sources.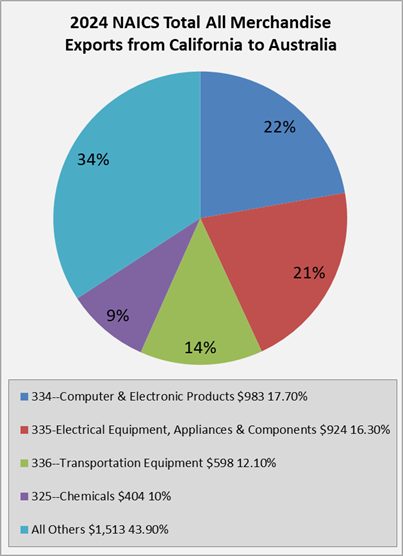 In addition to being a large exporter of natural resources, energy, and food, Australia also has a significant service sector. Imports to the U.S. from Australia totaled $14.4 billion in 2020. Primary metals and food manufactures which made up over half the total combined, totaling $5.36 billion and $2.87 billion, respectively. This was followed by chemicals and reimports.
As the 16th largest export destination for the U.S., Australia has always enjoyed a strong trade relationship and a diverse portfolio with the U.S. In 2020, total exports were $23.48 billion with top categories being non-electrical machinery, chemicals, transportation equipment, and computer and electronic products.
Australia's total FDI stock into the US totaled $86.5 billion in 2019 supporting 86,500 jobs in the US in 2018. $182 million was invested in research and development and $3.7 billion went to expanding US exports. The top industry sectors that were recipients of Australian FDI were: software and IT services, healthcare, business services, communications, financial services, and textiles. SelectUSA
U.S. FDI into Australia totaled $162.4 billion in 2019 (Bureau of Economic Analysis).
Australia – California Trade
In 2020, Australia was the 14th largest importer of California goods and services. California exported approximately $3.2 billion to the country, making it the largest exporter to Australia. The largest export category from California was transportation equipment  making up 17.7% of the total, with computers and electronic products following next with 16.3% of the total. Other top export categories include chemicals and food manufactures totaling 12.1 percent and 10 percent, respectively.
Imports to California from Australia totaled $2.2 billion in 2020. Top imports were food manufactures at $750 million and 34% followed by primary metal manufacturers at $491 million and 22.3%.
In California, the twelfth largest source of FDI through foreign-owned enterprises (FOEs) is Australia. In 2020, Australian FOEs in California provide 13,548 jobs through 391 firms amounting to $1.28 billion in wages. The top jobs by sector are: professional/business services, wholesale trade, manufacturing, construction, and financial activities (World Trade Center Los Angeles FDI Report, June 2021).
The Bay Area-Silicon Valley and Australia: An Expanding Trans-Pacific Partnership
Bay Area Council, December 2020
Blue Dot Network: The Belt and Road Alternative
The Diplomat, April 7, 2020
WTO Trade Policy Review: Australia – April 2015
New Opportunities with TPP – Increasing U.S. Exports to Australia
ITA Blog, May 25, 2016
Australia and World Trade
Australia is actively involved with Asia-Pacific Economic Cooperation (APEC) as well as engaged in the Trans-Pacific Partnership talks in an effort to lower barriers to trade.
APEC was formed in 1989. It serves as a multilateral forum in which Asian and Pacific economies can solve economic problems and cooperate in developing key economic sectors.
On February 4, 2016, after more than five years of negotiations, trade ministers representing Australia, Brunei Darussalam, Canada, Chile, Japan, Malaysia, Mexico, New Zealand, Peru, Singapore, United States, and Vietnam,  signed the Trans-Pacific Partnership Agreement (TPP) in Auckland, New Zealand.
CalChamber Trade Issues: Trans-Pacific Partnership

Australian State Of Victoria And California Share Emergency Management Knowledge, Technology
Imperial Valley News, July 6, 2016
Signing of International Wine Trade Memorandum of Understanding Will Ease Burden on U.S. Wine Exporters, Support American Jobs
October 20, 2011 – Santiago, Chile – Members of the World Wine Trade Group (WWTG), including the United States, Chile, Argentina, New Zealand, Australia, and Georgia, joined together to sign a Memorandum of Understanding (MOU) on Certification Requirements, which will help reduce barriers to international wine trade and support exporters of wine in each participating country. This MOU will facilitate trade in wine among these countries by encouraging the elimination of burdensome requirements and certifications of wine products and ingredients.
"The MOU signed today by these six World Wine Trade Group member countries is a key example of the kind of collaboration between trading partners that is essential to increase trade and support international growth in this global economy," said United States Trade Representative Ron Kirk. "The production and sale of wine is a valued and robust industry in the United States and this MOU will help contribute to its continued growth and viability, while supporting much needed American jobs in these challenging economic times."
Trade Agreements
Trade Agreements
U.S. – Australia Free Trade Agreement
On January 1, 2005, the U.S.-Australia Free Trade Agreement came into effect. The agreement eliminates tariffs on 99 percent of U.S. manufactured goods exported to Australia, accounting for 93 percent of all U.S. exports to the nation.
A comprehensive free trade agreement combined more than 345 million consumers in a market of over $19.3 trillion annually. Australian companies employ more than 84,000 American workers.
Webinar: Australia-United States Free Trade Agreement – 15 Years and Beyond 
American Australian Association, October 2, 2020
Australia and the United States Free Trade Agreement – Celebrating 15 Years
Australian Embassy in the U.S., 2020
CalChamber Trade Issues: U.S. – Australia Free Trade Agreement
Regional Comprehensive Economic Partnership (RCEP)
After 8 years of negotiations, the Regional Comprehensive Economic Partnership (RCEP) was signed on November 15, 2020. The RCEP is a free trade agreement (FTA) with 10 Association of Southeast Asian Nations (ASEAN) member states—Brunei, Burma (Myanmar), Cambodia, Indonesia, Laos, Malaysia, the Philippines, Singapore, Thailand, Vietnam—and the five states with which ASEAN has existing FTAs—Australia, China, Japan, South Korea and New Zealand.
Please see the CalChamber's RCEP page for more info.
RCEP – Association of Southeast Asian Nations
Text of the Regional Comprehensive Economic Partnership Agreement
Events
Events
NSW Australia, CalChamber Share Sister State Discussion
(August 6, 2018) CalChamber President and CEO Allan Zaremberg and Vice President of International Affairs Susanne T. Stirling met with a delegation from the Parliament of New South Wales (NSW), Australia, led by the Honorable John Ajaka, President of the Legislative Council. Top Story
California and New South Wales share a Sister State relationship, a symbol of mutual goodwill, thereby encouraging bilateral cooperation. California and New South Wales, Australia became sister states through a resolution in 1997 as the two states share many economic and cultural similarities. California and New South Wales both have diverse landscapes, are key exporting states for their respective countries, and have agriculture and mining industries that are vital to both states' economies. More recently, the two have shared a similarity in the wine industry and growing service sector, as well as the film, sports and leisure industries.
The group discussed the structure of the NSW Parliament, governance issues, infrastructure projects, research and development, and technology exchanges.  Recognizing the U.S.-Australia Free Trade Agreement, there was discussion of the new Trump administration proposal of the Indo-Pacific Vision, encompassing a region of 14 countries, including Australia, Bangladesh, Burma, India, Indonesia, Japan, Malaysia, New Zealand, Philippines, Singapore, South Korea, Taiwan, Thailand and Vietnam.
CalChamber Hosts Meeting on California – Australia Trade Relations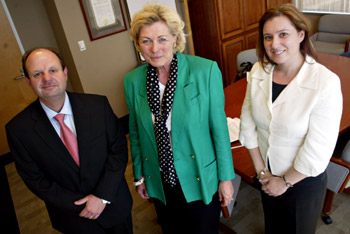 (August 13, 2008) California trade relations with the Australian state of Victoria were among the topics discussed during a recent meeting at the California Chamber of Commerce.
Victoria—which is located in southeast Australia—is home to 5 million people with 3.6 million living in the capital city of Melbourne. In 2007, the United States exported $19.2 billion worth of goods to Australia, a 35 percent increase since 2004, the year before the U.S.-Australia Free Trade Agreement (FTA) went into effect.
Key Country Contacts
Resources
CalChamber Resources
Business
Cultural