Trading Partner Portal: Indonesia
Overview
Interview Series Featuring California's Key Trading Partners – Featuring Simon D.I. Soekarno, Consul General of Indonesia in San Francisco: 
Young, Tech Savvy Population Provides Strong Core for Building Future Investment
CalChamber, October 2, 2020
Trade Overview

With a population of 273.753 million, Indonesia is the fourth most populous country in the world and represents a sizable consumer market. According to the most recent figures, Indonesia has a gross domestic product (GDP) of $1.19 trillion, making it the 16th largest economy in the world. (International Monetary Fund, World Bank)
The Indonesian government plays a significant role in Indonesia's market economy in which it owns over 160 enterprises and sets prices for several goods such as electricity, rice and fuel. Indonesia has the largest economy in Southeast Asia and is a member of both the G20 and APEC (Asia-Pacific Economic Cooperation).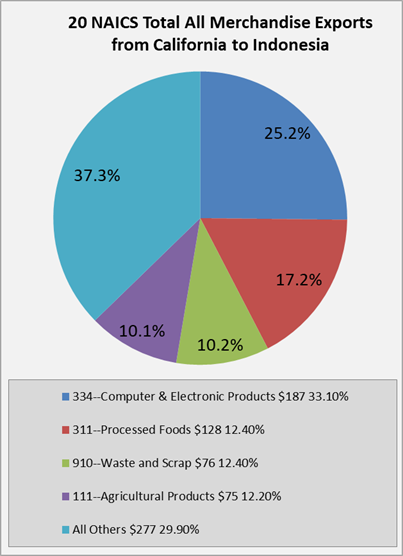 The country's main economic industries include petroleum and natural gas, apparel, textiles, apparel, mining, tourism and rubber. Indonesia has endured the recent global financial crisis through its reliance on domestic consumption to drive continual economic growth.
In addition, investment from both foreign and domestic sources has supported the Indonesian economy. Due to its recent economic growth and sound fiscal policies, Indonesia's debt to GDP ratio has steadily declined.
Trade has been expanding swiftly between the United States and Indonesia in the last several years. Exports to Indonesia totaled $9.986 billion in 2022 The main export categories are oil and gas, agricultural products, chemicals and processed foods. Imports from Indonesia totaled $34.56 billion in 2022. Top imports included apparel and accessories, processed foods, leather and allied products, electrical equipment, and computer and electronic products. 

US FDI total stock into Indonesia totaled $15.73 billion in 2021, and Indonesian FDI into the US totaled $718 million in the same year (Bureau of Economic Analysis). Indonesian FDI in the US supported over 500 jobs. Indonesian owned firms contributed $9 million to expanding US exports. The top industry sectors for Indonesian FDI were: aerospace, software and IT services, rubber, and plastics. Select USA
Indonesia – California Trade
California exported approximately $830 million to Indonesia in 2022. The largest export category from California was processed food totaling $258 million. Other top exports include computer and electronic products, agricultural products, and waste and scrap.​ Imports from Indonesia to California totaled $7.58 billion in 2021, the highest in the last decade. Top imports were apparel and accessories, leather and allied products, miscellaneous manufactured commodities, and processed foods.
___________________________________
United States and Indonesia Meet Under Trade and Investment Framework Agreement USTR, June 13, 2013
Helping Indonesia Make the Most of US Investment
U.S. Chamber of Commerce Senior Vice-President for Int'l Affairs, Myron Brilliant, editorial
The Jakarta Globe, July 9, 2012
Indonesia: The Emerging Market

Presentation to DEC Conference, 2011
U.S.-Indonesia Commercial Dialogue Steering Committee and project presenters
October 2012
On the sidelines of the Indonesian Investment day in New York City, the U.S. Chamber of Commerce in coordination with the U.S. Department of Commerce, US-ASEAN Business Council and AmCham Indonesia hosted the Indonesian Coordinating Ministry for Economic Affairs (MENKO) and members of KADIN (the Indonesian Chamber of Commerce and Industry) and APINDO for the biannual U.S. – Indonesia Commercial Dialogue (CD) plenary meeting. Click here to view the list of meeting participants
The CD is a public sector-private sector dialogue on commercial cooperation between the United States and Indonesia that was launched on November 11, 2011 at the Hawaii APEC CEO Summit. The CD is open to all U.S. and Indonesian private sector companies interested in developing projects to enhance the U.S. – Indonesia relationship in the following six Commercial Dialogue areas of focus:
Investment climate
Clean energy
Trade Expansion
Entrepreneurship
Small and Medium Enterprises
Industrial Cooperation
During the plenary meeting, seven project proposals were presented and discussed as possible CD initiatives. The U.S. Chamber of Commerce presented a proposal on developing and implementing good regulatory practices for growth. Please find a copy of the proposal here. Our goal is to develop this proposal and improve the business interaction with the Indonesian government on standard setting policies.
APEC & RCEP
APEC
Indonesia is actively involved with Asia-Pacific Economic Cooperation (APEC). APEC was formed in 1989. It serves as a multilateral forum in which Asian and Pacific economies can solve economic problems and cooperate in developing key economic sectors.
Collectively, the 21 economies of APEC, which touch the Pacific Ocean, represent a large consumer market— nearly half the world's population, nearly half of all world trade and more than $31 trillion in economic output.
The APEC economies are: Australia, Brunei Darussalam, Canada, Chile, People's Republic of China, Hong Kong, Indonesia, Japan, Republic of Korea, Malaysia, Mexico, New Zealand, Papua New Guinea, Peru, Republic of the Philippines, Russia, Singapore, Chinese Taipei, Thailand, United States and Vietnam.
Indonesia hosted the 25th Annual APEC meetings in 2013.
CalChamber Trade Issues: APEC
ASEAN – Indonesia's Involvement
Association of SouthEast Asian Nations (ASEAN)
On October 7, 2003, 10 Southeast Asian nations signed an agreement to become an economic union by 2020. The agreement sets deadlines for lowering travel restrictions and tariffs in the region of 500 million people. Trade in this ASEAN Economic Community totals more than $720 billion a year. ASEAN includes Thailand, the Philippines, Indonesia, Cambodia, Malaysia, Singapore, Laos, Vietnam, Brunei and Myanmar.
Regional Comprehensive Economic Partnership (RCEP)
After 8 years of negotiations, the Regional Comprehensive Economic Partnership (RCEP) was signed on November 15, 2020. The RCEP is a free trade agreement (FTA) with 10 Association of Southeast Asian Nations (ASEAN) member states—Brunei, Burma (Myanmar), Cambodia, Indonesia, Laos, Malaysia, the Philippines, Singapore, Thailand, Vietnam—and the five states with which ASEAN has existing FTAs—Australia, China, Japan, South Korea and New Zealand.
Please see the CalChamber's RCEP page for more info.
RCEP – Association of Southeast Asian Nations
Text of the Regional Comprehensive Economic Partnership Agreement
Events
Events
Asia Pacific Trade Matters get Attention at CalChamber Gatherings
(June 1, 2011) Ambassador Kurt Tong discusses upcoming meetings of the Asia-Pacific Economic Cooperation (APEC) at an international forum presented by the CalChamber Council for International Trade, chaired by Susan Corrales-Diaz.
Key Country Contacts
Resources
CalChamber Resources
Business
Business
Cultural