Economic Indicators
Economic Indicators
Currently in Cuba, most business is conducted via state-owned enterprises. Capital improvement projects in transportation and infrastructure are badly needed, but there are not mechanisms in place to invest, as of yet. Land cannot be owned and joint ventures are based on the state owning 51 percent. Further, a banking system needs to be developed.
Trade:
In 2014, the US exported $229.1 million to Cuba, with top exports being food manufactures (75.5%) and agricultural products (19.8%).
In 2014, California exported $ 174.1 billion to 229 economies, with $675,025 bound for Cuba, a considerable increase from the 2013 total of $122,160. The top categories of exports from California to Cuba were computers and electronics (48.5%) and agricultural products (47.4%). There is room for opportunities in the future. (U.S. Department of Commerce).
According to the most recent figures, Cuba exported $6.25 billion in 2013, with top export partners being Canada (17.7%), China (16.9%), Venezuela (12.5%), Netherlands (9%), and Spain (5.9%). Cuba imported $13.6 billion with the top sources being Venezuela (38.3%), China (10.8%), Spain (8.9%), Brazil (5.2%), and the U.S (4.3%). The top goods imported are petroleum, food, machinery and equipment, and chemicals. (CIA Factbook).
According to the CIA Factbook, Cuba has a total population of just over 11 million and labor force of 5.23 million, with an unemployment rate of 4.3%. To put that in perspective, California has a labor force of 18.94 million with an unemployment rate of 6.7%. The primary occupations in Cuba are agriculture (19.7%), industry (17.1%), and services (63.2%). Top agricultural goods produced are sugar, tobacco, citrus, coffee, rice, potatoes, beans and livestock with top industries being petroleum, nickel, cobalt, pharmaceuticals, tobacco, construction, steel, cement, agricultural machinery and sugar.
Only a small percentage of Cubans have ready access to the Internet, computers, cell phones and other modern technologies, which leaves much room for growth.
Communications/Media:
Very few inhabitants in Cuba have phone access, with 10 in 100 inhabitants having a fixed-line and 10 in 100 inhabitants having mobile cellular service. While this number is quite small, mobile service is currently expanding. (CIA Factbook)
The broadcast media is wholly owned by the government, who operate four national TV networks and multiple smaller local TV stations. The government also own and operate at least six national radio stations, local stations, as well as an international station, from the US. (CIA Factbook)
Entertainment:
Dressed in a white linen suit and fedora, Conan O'Brien bounced on to his set — a cobbled street in Havana — for a one-hour special on Cuba which aired on TBS on March 4, 2015. "Conan in Cuba" was filmed during four days in Havana in mid-February. It was the first foray to Cuba by an American late-night host since Jack Paar interviewed Fidel Castro in 1959.
Netflix:
Netflix will now be available in Cuba, but it is still unclear how fast the Cuban government will allow Internet access and Internet services to its all of its citizens. Despite only 5 percent of Cubans having unfiltered access to the Internet, Netflix anticipates a growing number of citizens to be able to access its streaming video service as Internet access improves and credit and debit cards become more widely available. However, there is the issue of affordability. Service packages may start at only $7.99/month, but the average salary in Cuba is $20/month.
Military:
With the collapse of the Soviet Union in 1991, the Cuban military found itself deprived of much of its logistical and economic support. While the army is still well-trained and capable, the military equipment has taken the heaviest toll, and is becoming in need of extensive repair. Cuba currently requires service of in the military between ages 17-28. (CIA Factbook)
Cuban Port:
According to Reuters on February 3, 2015 improved relations with the United States could lead to a more rapid expansion of the Mariel port upon which the country has staked much of its economic future. Brazilian conglomerate Odebrecht SA completed an $800 million project at Mariel, west of Havana, a little over a year ago. It is seen as a potential distribution center for the Caribbean and Central and South America and is at the heart of a special development zone designed to attract foreign investment in Cuba.
Odebrecht also has hotel and sugar interests in Cuba, plans to build a plastics factory at Mariel, and is expanding Terminal 3 of Havana's international airport. Many potential foreign investors are more skeptical of doing business in the communist-ruled island, concerned about the safety of investments in a country that has shown a willingness to take over businesses it finds attractive or to jail foreign executives.
At Mariel, Odebrecht built 700 meters of port connecting to roads and rails in an initial phase that is expected to last eight to 10 years before expansion. With enough demand, Cuba could triple the waterfront infrastructure to 2,140 meters.
The US embargo bans commercial vessels from U.S. ports for six months after they dock in Cuba.
Sports:
The US National Basketball Association (NBA) announced on April 8, 2014 that it would organize a basketball camp in Cuba in April. The NBA will be the first professional US sports league to visit Cuba. Basketball is very popular in Cuba and the country has produced top players. Its men's national team won the bronze medal at 1972 Summer Olympics and its women's team won the 2013 International Basketball Federation Americas Championship. For more than five decades, all professional sport was banned in Cuba, with athletes drilled to perform for the love of their country, not cash.
Cuban Flag: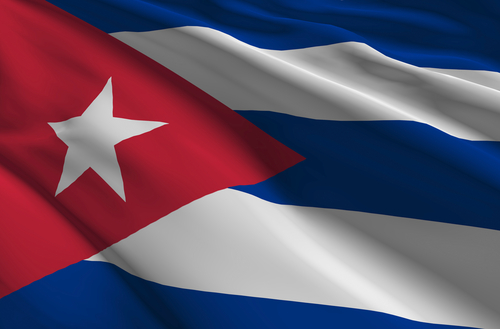 The Cuban flag was adopted in 1848. The blue bands represent the three old divisions of the island (central, occidental and oriental). The white bands symbolize the purity of the Cuban ideal of independence. The red symbolizes the blood that was shed in the struggle for independence. The triangle shape of the red section represents liberty, equality and fraternity. Finally the white star (La Estrella Solitaria-the Lone Star) is meant to light the way to freedom. The white star was taken from the Texan flag. ​​