BizFile Online
BizFile Online Offers Centralized Resource for Businesses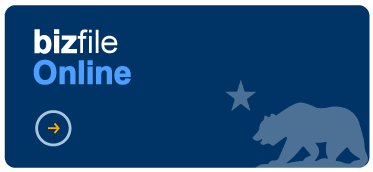 Located at https://bizfileonline.sos.ca.gov/, the web center pulls together in one location links to the many services businesses new and old need to conduct operations in California, including filing required statements or lien notices, searching business records or trademarks, and ordering forms.
A partial list of tasks that can be accomplished via the BizFile Online portal includes the following:
Business Entities: Free search for a corporation, limited liability company and limited partnerships of record with the California Secretary of State with free PDF copies of more than 17 million business entity documents. Users who have created an account and are logged in also can register a business, file a statement of information, reserve a business entity  (BE) name, request a BE certificate of status or a BE certified copy.
Liens: Free search of the Secretary of State Uniform Commercial Code (UCC) data base for abstracts of lien notices filed. A user who has created an account and is logged in can file a lien/lien amendment or request a certified lien search.
Information and Resources: New business checklist, verify business entity and lien certificates. A user account gives a person access to their own business and UCC records, plus  business entity and UCC bulk orders.
Trademarks and Special Filings: Register a trademark, modify a registered trademark, search for a California trademark, verify trademark certificates, search for an immigration consultant or a successor-in-interest.
bizfile Online – Launch Event and Live Demo

CalChamber President and CEO Jennifer Barrera joined California Secretary of State Shirley N. Weber, Ph.D. and other officials at a hybrid news conference on August 4, 2022 to highlight the BizFile Online portal providing online secure services for California businesses.
Barrera commented that the BizFile  platform provides a centralized resource that enables businesses to start off on the right foot, to be successful and to continue to be successful. Read more.
A video of the news conference is available at https://www.facebook.com/CaliforniaSOS/videos
Related News