Attorney General Issues Guide for Complying with Transparency in Supply Chains Act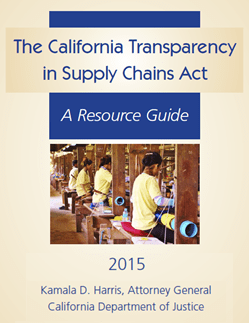 California Attorney General Kamala D. Harris has issued a resource guide to help companies that do business in California with disclosing their efforts to comply with state law requiring them to disclose their efforts to prevent and root out human trafficking and slavery in their product supply chains.
The California Transparency in Supply Chains Act: A Resource Guide, provides businesses with recommendations to develop and refine their disclosures to consumers.

The California Department of Justice sent informational letters in April 2015 to companies that may be subject to the disclosure requirements. See a redacted copy of the letter.
The act applies to companies doing business in California that have annual worldwide gross receipts totaling more than $100 million and which identify themselves on their California tax return as a retail seller or manufacturer.
Read more about the California Transparency in Supply Chains Act on the Attorney General website at http://oag.ca.gov/SB657/ or view other reports at www.oag.ca.gov.
See a one-page CalChamber synopsis of the legislation.