16 Local Chambers Receive 2023 HR Champion Award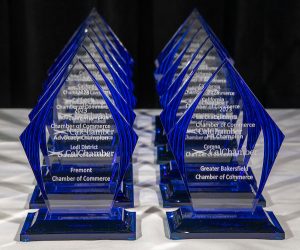 The California Chamber of Commerce has named 16 local chambers of commerce as HR Champions.
This HR Champion Award was created to recognize chambers that excel in helping their members comply with California employment laws. Representatives of the HR Champion chambers were honored on May 17, 2023 during the CalChamber Capitol Summit in Sacramento.
"California labor law requirements can be a puzzle for businesses of all sizes, especially smaller operations," said Nick Ortiz, CalChamber vice president of local chamber relations. "We are pleased to recognize these HR Champion chambers for keeping their members updated on state labor law by participating at a high level in our compliance product resale program."
The 2023 recipients of the HR Champion Award are as follows:
Greater Bakersfield Chamber of Commerce
Corona Chamber of Commerce
Fresno Chamber of Commerce
Gilroy Chamber of Commerce
Imperial Valley Regional Chamber of Commerce
Oakdale Chamber of Commerce
Palm Desert Area Chamber of Commerce
Paso Robles Chamber of Commerce
Porterville Chamber of Commerce
Redding Chamber of Commerce
Ridgecrest Chamber of Commerce
Rohnert Park Chamber of Commerce
Santa Fe Springs Chamber of Commerce
The Chamber of Commerce for Greater Brawley
Whittier Area Chamber of Commerce
Yuba-Sutter Chamber of Commerce