7 Local Chambers Receive 2023 Advocacy Champion Award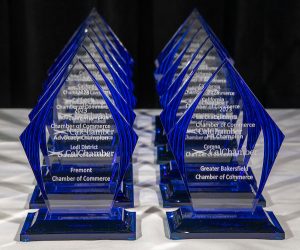 Seven local chambers of commerce received the 2023 Advocacy Champion Award from the California Chamber of Commerce.
This is the first year the award has been given to recognize chambers for excellence in business advocacy. Representatives of the Advocacy Champion chambers were honored on May 17, 2023 during the CalChamber Capitol Summit in Sacramento.
"Communities look to their local chambers to be problem solvers for the community," said Nick Ortiz, CalChamber vice president of local chamber relations. "The Advocacy Champion chambers stepped up to the plate in a big way."
Advocacy Champions published vote records of their state legislators on key business issues, joined coalition efforts to let state elected officials know about community sentiment on issues of interest to members, voiced the local chamber's position at legislative policy committee hearings and met with state elected officials on important policy issues.
The 2023 recipients of the Advocacy Champion Award are as follows:
Fremont Chamber of Commerce
Laguna Niguel Chamber of Commerce
Lodi District Chamber of Commerce
Murrieta/Wildomar Chamber of Commerce
Orange County Business Council
Roseville Area Chamber of Commerce
Torrance Area Chamber of Commerce