2019 Capitol Summit & Host Breakfast >><< 2022 Capitol Summit & Host Breakfast
2021 Virtual Capitol Summit & Host Breakfast: May 12-13
Capitol Summit
Business and local chamber of commerce leaders from throughout the state logged in on May 12, 2021 for the CalChamber Virtual Capitol Summit. The virtual presentation allowed double the attendance of the in-person event.
More Capitol Summit News on CalChamber Alert
Awards
The California Chamber of Commerce honored a business owner with its 2021 Small Business Advocate of the Year Award, recognizing him for outstanding advocacy on behalf of small businesses during the pandemic.
Chambers receiving the 2021 President's Circle Award also were acknowledged at the CalChamber Virtual Capitol Summit.
95th Annual Virtual Host Breakfast
Business, civic and legislative leaders gathered virtually on May 13, 2021 for the 95th annual Sacramento Host Breakfast featuring remarks from Sacramento Host Committee Chair Susan Savage, CalChamber Chair Donna L. Lucas and Governor Gavin Newsom.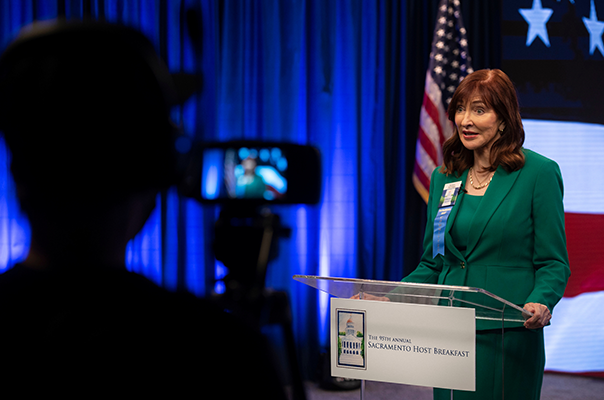 The Host Breakfast is sponsored by the Sacramento Host Committee and the California Chamber of Commerce.
More Host Breakfast News on CalChamber Alert
Contacts
Capitol Summit and Host Breakfast – (916) 930-1299, events@calchamber.com
Related News
Twitter
Past Summits
2021 Sponsors