National Export Initiative (NEI) "Next"
National Export Initiative (NEI) "Next"
NEI Next
In May 2014, Secretary of Commerce Penny Pritzker announced the launch of NEI Next, using improved information and a customer-service strategy to help U.S. companies increase exports.
"The National Export Initiative has been a remarkable success," said U.S. Secretary of Commerce Penny Pritzker. "NEI/NEXT is the next phase of this program and will help connect more of the 95% of consumers that live outside our borders. More and more American companies are seeing the value of selling their goods and services all over the world, but there are still many businesses that focus solely on the domestic market. They are missing out on potential opportunities for growth, and that is why we need NEI/NEXT to help spur every opportunity for these businesses to export."
In 2013, U.S. exports hit an all-time record of $2.3 trillion and supported 11.3 million U.S. jobs. According to the most recent figures, almost 305,000 US firms now export, a record high and an increase of 28,000 from 2009.
Since 2009, exports have driven nearly a third of economic growth and now account for nearly 14 percent of our economy.
Jobs supported by exports increased to 11.3 million in 2013, up 1.6 million since 2009. Of these 11.3 million jobs, 7.1 million were supported by goods exports, while services exports supported 4.2 million in 2013.
​U.S. Secretary of Commerce Penny Pritzker Announces Next Phase of the National Export Initiative — NEI/NEXT
U.S. Department of Commerce, May 13, 2014​
---
National Export Initiative Celebrates Three Years
Three years ago, the President announced a government-wide strategy to promote exports to strengthen America's economy, support additional jobs here at home, and ensure long-term, substainable growth – the National Export Initiative.
Read more: https://advocacy.calchamber.com/wp-content/uploads/international/trade/NEI-Anniversary-Fact-Sheet.pdf
The newly updated (Jan. 3, 2013) National Export Strategy recounts the trade promotion and trade policy results of the Obama Administration in this third year of the National Export Initiative. Moreover, the Report lays out ambitious new plans of the Federal Government, including partnering with metropolitan areas, improving outreach and service delivery to small businesses, targeting efforts on infrastructure projects and in the regions Asia and Africa, and supporting the work of SelectUSA to attract and retain more investment and the new Interagency Trade Enforcement Center to identify and address unfair trade practices.
Full report: http://www.trade.gov/publications/abstracts/national-export-strategy-2012.asp
---
The Obama Administration proposed a $534 million budget for the US Department of Commerce – International Trade Administration (including the US Commercial Service) for 2011 and received $450 million. The Administration's request for 2012 was scaled back to $526 million, but the current budget bill in the Senate cuts it even more to $441 million.
Senate appropriators said in their report accompanying the bill, S. 1572 while the NEI is a "worthy plan," it cannot be funded "for the second year in a row because funding for the International
Trade Administration is stalled."


According to the U.S. International Trade Administration, the National Export Initiative (NEI) is a multi-year effort to increase U.S. jobs by increasing the number of companies exporting and expanding the number of markets current U.S. companies sell to. The federal government's trade promotion and export finance agencies are ready to help U.S. businesses large and small meet this challenge.
Over the months and years ahead, the NEI will:
Work to help companies shipping to only one market expand their sales to new markets.
Expand the availability of credit for small and medium-sized enterprises (SME's).
Improve online tools to make information easier to find and faster to use.
Work to reduce trade barriers that are in your way to increasing your exports.
CalChamber Hosts International Forum for APEC (Asia Pacific Economic Cooperation), NEI (President's National Export Initiative) and GoED (Governor's Office of Economic Development)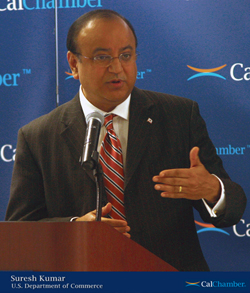 CalChamber Forum Highlights Asia Pacific, Exports, Economic Development CalChamber Alert
The vital role international trade plays in California's economic recovery was discussed by two trade officials from the Obama administration during an international forum this week presented by the
The 100 forum attendees were also introduced to the executive director of the newly created Governor's Office of Economic Development (GoED).
CalChamber Council for International Trade.
Related Items: