Generalized System of Preferences (GSP)
CalChamber Urges Congress to Reauthorize Trade Program, Refund Billions in Tariffs
CalChamber, November 14, 2022
Letter to California's Congressional Delegation
Not successful in renewing the GSP program in 2020, as expected there was a push to renew GSP in Congress in 2021 – and now again during the "Lame Duck" post – election in 2022. The Senate passed a renewal provision within their China competitiveness package in early June of 2021. The House Ways and Means Committee responded with a piece of legislation introduced in the middle of June. It remains to be seen if the House will pass legislation to renew GSP in the Fall of 2022.
House Ways and Means Committee New GSP Bill
House Ways and Means Committee, June 17, 2021
GSP Renewal Provisions Included in Senate's China Competitiveness Package
Coalition for GSP, June 8, 2021
Nearly 300 American organizations call on Congressional leaders to renew GSP in the Lame Duck
Renew GSP Today, December 1, 2020
On December 1, 284 American companies and associations sent a letter to Senate Majority Leader McConnell, Senate Democratic Leader Schumer, House Speaker Pelosi, and House Republican Leader McCarthy urging immediate passage of legislation extending the Generalized System of Preferences (GSP).
GSP Saved American Companies $79 Million in September; $630 Million in First 9 Months of 2020
Renew GSP Today, November 5, 2020
GSP saved American companies $79 million in September, the most since March as imports continue to recover from the Covid-19 pandemic and recession. In the first 9 months of 2020, GSP saved American companies $630 million. GSP is on track to save between $850 million and $900 million in 2020, down from 2018/2019 due to country suspensions but still up significantly from savings in previous years.
Report: How GSP Termination Would Hurt American Businesses & Workers
Renew GSP Today, May 2, 2019
"The Coalition for GSP released an in-depth survey of American businesses that details how they will be harmed by loss of duty-free imports under the Generalized System of Preferences (GSP) program. On March 4, The Trump administration announced its intent to terminate eligibility for India and Turkey under the GSP program and a formal proclamation terminating eligibility could come by the end of the week. As the report on the survey shows if termination is implemented it would increase tariffs that American businesses pay on imports from India and Turkey by hundreds of millions of dollars annually." Press Release.
Coalition for GSP
Per March 22, 2019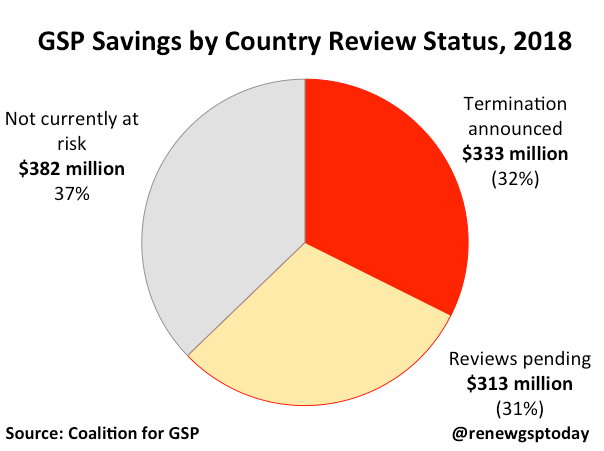 USTR has published a document with initial details for the 2018/2019 GSP annual review. Basically:
• Products on List 1, List 2, and List 4 will lose GSP effective November 1 unless granted a waiver
• Products on List 3 could regain GSP effective November 1 if granted redesignation (not a very good chance)
2018 GSP savings of $1.03 billion smash previous highs (but major potential cuts on horizon for many American companies)
GSP saved American companies a record $1.03 billion in 2018, smashing the previous high of $894 million set in 2017. However, less than 40% of GSP benefits came on products where there is no an immediate risk of losing GSP. Read more here.
Federal Trade Program Saving Businesses Millions Back in Force
CalChamber, March 26, 2018
The $1.3 trillion omnibus spending bill signed by the President on March 23, 2018 averting a government shutdown, includes language renewing a federal trade program that saves U.S. companies millions of dollars.
The language renewing the Generalized System of Preferences (GSP) was passed by the U.S. House of Representatives in February 2018.
The bill will renew GSP through December 31, 2020. The renewal of GSP will refund tariffs paid from January 1, 2018 through the reinstatement date. The bill also will change the annual review announcement date from July 1 to November 1, update some dates related to "competitive need limit" (CNL) reviews, and require the U.S. Trade Representative to submit an annual report to the trade committees on country-eligibility criteria.
GSP saved U.S. companies $865 million in eliminated taxes in 2017. That is about $136 million, or nearly $13 million per month, more than 2016. GSP savings exceeded $1 million for 41 states plus Puerto Rico. More than 80% of U.S. states saw GSP savings grow over 2016.
In 2017, California, along with New Jersey and Texas, saw GSP savings jump by about $19 million, followed by a $17 million increase in Florida and an $11 million increase in New York. In 2017, California spent $3.5 billion on GSP imports and had a total tariff savings of $139 million, thanks to GSP.
GSP Renewal Language Included in Omnibus Spending Bill March, 2018
A three-year renewal of the Generalized System of Preferences program is included in the major omnibus spending bill released on Wednesday, March 21, 2018. GSP waives duties on thousands of goods from developing countries to promote economic development and jobs.
The GSP program expired at the end of December, costing importers $77 million in taxes in the month of January alone, according to the Coalition for GSP. However, any duties collected since Jan. 1 will now be reimbursed.
Generalized System of Preferences approved by House
In the evening of February 13, 2018 the U.S. House voted 400-2 to pass H.R. 4979, bipartisan legislation providing a three-year retroactive renewal of the Generalized System of Preferences program.  GSP is a longstanding U.S. trade preference program that delivers tariff relief and cost savings to American businesses, workers, and consumers across the country. The issue now is expected to be addressed in the U.S. Senate in March.
"GSP expiration has already cost American companies approximately $100 million, a figure that grows by several million dollars every day," Dan Anthony, executive director of the Coalition for GSP, said in statement. "A three-year extension will provide American businesses with the certainty needed to continue growing and investing in their workers and communities."
GSP saved U.S. companies $619 million in the first eight months of 2017, about $83 million more than in 2016. California has received the most savings—more than any other state. In 2016, GSP waived tariffs in California on $3.2 billion worth of imports and saved California companies $119 million. Of the $729 million saved by American companies in 2016, more than 16.3% went to California.
CalChamber, February 14, 2018.
On January 4, 2018 nearly 400 U.S. companies and associations (including the California Chamber of Commerce)  sent a letter to House Speaker Paul Ryan, Senate Majority Leader Mitch McConnell, House Minority Leader Nancy Pelosi, and Senate Minority Leader Chuck Schumer urging swift, retroactive renewal of the GSP program.GSP expired on December 31, 2017 and companies must now pay $2-3 million per day in extra taxes while awaiting a potential congressional reauthorization. The last time GSP expired, Congress did not renew it for nearly 2 years and companies paid about $1.3 billion in tariffs.
Despite broad, bipartisan support in both the House and Senate, GSP renewal did not get a vote in 2017. In January, 2018 a White House official reportedly said the Trump Administration supports a three-year GSP extension and would like to see Congress act "this this year" (2018).
GSP was last reauthorized on June 29, 2015 (effective July 29, 2015) for a period of two-and-a-half years. The program is set to expire on December 31, 2017.
President Signs CalChamber-Supported Trade Bills CalChamber, June 30, 2015
H.R.1295 – Trade Preferences Extension Act of 2015
The CalChamber is among 661 American organizations that sent a letter to congressional trade leadership, urging retroactive renewal of the Generalized System of Preferences (GSP) program. Just a few days after the letter was sent, GSP was reauthorized.
Background
The Generalized System of Preferences provides special tariff preferences for imports from the less developed countries into the advanced industrialized countries. The idea of such preferences was first formally proposed at the 1964 United Nations Conference on Trade and Development (UNCTAD I). This conference focused on the theme that trade, as opposed to aid, was the most effective vehicle for promoting Third World economic development.
In 1968, some headway was made at UNCTAD II, when the United States and other advanced industrialized countries supported a resolution to establish a mutually acceptable system of preferences.
A barrier to such a system was the most favored nation clause of the General Agreement on Tariffs and Trade (GATT), which provides that trade be conducted on the basis of non-discrimination. To permit them to grant preferences to less developed countries, the industrialized countries requested and received a 10-year waiver from the requirement on June 1971.
The implementation of 14 Generalized Systems of Preferences (GSPs) followed: The European Community (July 1, 1971), Japan (August 1971), Norway (October 1971), Denmark, Finland, Ireland, New Zealand, Sweden, the United Kingdom (January 1972), Canada (July 1974), and the United States (January 1976). The 10-year waiver was later extended by the GATT and adopted by the WTO, with the result that the industrialized countries can extend their GSP programs indefinitely.
The U.S. GSP is authorized by Title V of the Trade Act of 1974 and instituted on January 1, 1976. Under the program, the President designates countries and products eligible for duty-free treatment. Products determined to be import-sensitive are statutorily exempt.
GSP was most recently reauthorized on June 29, 2015 (effective July 29, 2015) for a period of two and a half years. According to the Coalition for GSP, the renewal alone led to about $1.3 billion in refunds.
GSP is an important tool for boosting economic growth and job creation. Many U.S. companies source raw materials and other inputs from GSP countries, and the duty-free treatment of these imports reduces the production costs of these U.S. manufacturers, making them more competitive. According to analysis by the Coalition for GSP, approximately 82,000 jobs are either directly or indirectly associated with the importation and use of GSP-eligible imports. Products eligible for duty-free treatment under GSP, according to the Office of the U.S. Trade Representative, include most manufactured items; many types of chemicals, minerals and building stone; jewelry; many types of carpets; and certain agricultural and fishery products.
CalChamber Position
The California Chamber of Commerce, recognizing that the Generalized System of Preferences has stimulated two-way trade with the United States and has contributed to the long-term economic development of some developing countries, supports annual extensions of the Generalized System of Preferences.
In keeping with long-standing policy, the CalChamber enthusiastically supports free trade worldwide, expansion of international trade and investment, fair and equitable market access for California products abroad and elimination of disincentives that impede the international competitiveness of California business. New multilateral, sectoral and regional trade agreements ensure that the United States may continue to gain access to world markets, resulting in an improved economy and additional employment of Americans.
Recent News
Additional Information