Day 3 – Day 3: Education MOU and Business-to-Business Meetings
On day three (July 29) of the Gubernatorial Trade Mission, our delegation got up bright and early to head to the
Casa de California
, University of California's mini-campus in Mexico City, to witness Governor Edmund G. Brown Jr. sign
agreements with Mexico's Ministry of Education
.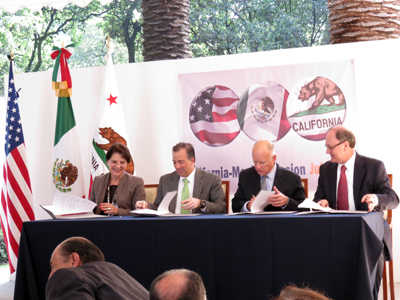 U.S. Ambassador E. Anthony Wayne, Senator President pro Tem-elect Kevin de León (D-Los Angeles), Assemblywoman Cristina Garcia (D-Bell Gardens), and Mexico Secretary of Foreign Affairs Dr. José Antonio Meade Kuribreña gave remarks before Governor Brown took the podium to give remarks of his own.
Assemblywoman Garcia emphasized that California and Mexico have a long history, and shared heritage. She continued on to say that in this technologically advanced world, quality education is not enough. "We need to be more internationally aware and cross-culturally adept."
She said there's a greater need for highly-trained workers that extend beyond our national borders. For this reason, we must work locally and globally to tackle the problems of this century and beyond, she said.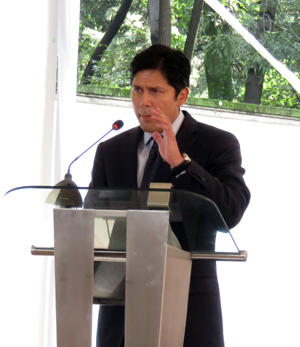 During his remarks, de León addressed immigration in California, saying that in both chambers of the California legislature, legislators respect the globally diverse mosaic of immigrants, and respect the human rights and dignity of those immigrants who left their homeland and came to the United States to better the lives of their family through their hard work.
Before signing the memorandum of understanding (MOU), Governor Brown spoke about a relatively recent development in education: online learning. The Governor said he would like to make sure that we advance online learning, but acknowledged that it is still in a very "embryonic stage." He said he'd like to see the day when a student could take a course in Mexico and still get full credit at Cal State, all campuses of the University of California system, and California community colleges. This scenario is inevitable, the Governor said, but the time frame of which this can be achieved is what is not certain. It depends on how well lawmakers can translate collaboration into real facts on the ground, he said.
"All things that are good, always require overcoming resistance," Brown added.


After the MOU signing, the legislators and business delegates headed to individual meetings with Qualcomm and IEnova (a Sempra Energy company) for briefings on the Mexico business climate.
Business delegates were welcomed to IEnova by Ana Franco, handling public relations for IEnova in Mexico, a subsidiary of Semapra based in San Diego. IEnova was one of the first private companies to invest in energy infrastructure in Mexico in the mid-1990's as result of the regulatory reforms to the Mexican gas sector in 1995.

These reforms allowed private participation in natural gas pipelines, distribution and storage. Since 1997, IEnova's presence has increased through the development of new projects, organic growth and acquisitions; having invested approximately US $ 2.8 billion in energy infrastructure.
Mark Snell, President of Sempra in San Diego and a mission delegate explained how Sempra operates in Mexico and also in Peru and Valparaiso, Chile.
Carlos Ruiz Sacristan, chief executive officer of IEnova, explained how the last years have been significant as the company started as a new stage as a publicly traded company listed on the Mexican stock exchange or Bolsa.
Tania Ortiz Mena, vice president of External Affairs and Busines Development, went on to explain how the new energy reforms in Mexico will give IEnova new opportunities.

The American Chamber of Commerce of Mexico (AmCham) hosted a lunch for the delegation, which was attended by legislators and Governor Brown. Executive Vice President and General Director of AmCham Guillermo Wolf warmly welcomed the delegation to Mexico City; Governor Brown, Senator de León , Senator Ben Hueso (D-San Diego), Assemblymember Luis Alejo (D-Watsonville) and Ambassador Wayne each gave remarks at the luncheon.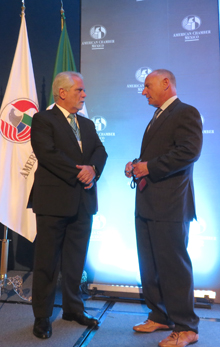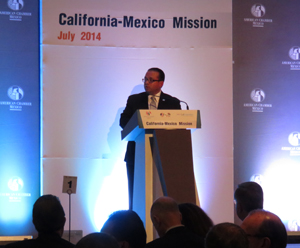 The American Chamber of Commerce in Mexico is nonprofit organization that represents more than 1,000 U.S. companies and 3,500 individuals doing business in Mexico.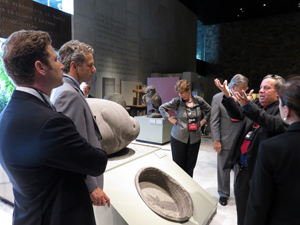 The cultural component of the day was a tour of the National Museum of Anthropology, which has a number of significant archaeological and anthropological artifacts and exhibits, such as: the Stone of the Sun; giant stone heads of the Olmec civilization; and a replica of Aztec Emperor Montezuma II's headdress (the original was given to Hernan Cortes and is now at a museum in Vienna).
After making a brief stop at the hotel to freshen up, the delegation headed to the Four Seasons hotel for a dinner hosted by Visit California, the California Department of Food and Agriculture, and the Wine Institute. The event celebrated the food and wine that California has to offer.
Caroline Beteta, president and CEO of Visit California, introduced Governor Brown, who gave some remarks before the delegation. The night's entertainment was provided by David Garibaldi, a well-known performance painter from California. He wowed the crowd as he used his paints and brushes to the beat of music to create a painting that fused the flag emblems of California and Mexico: a bear and an eagle.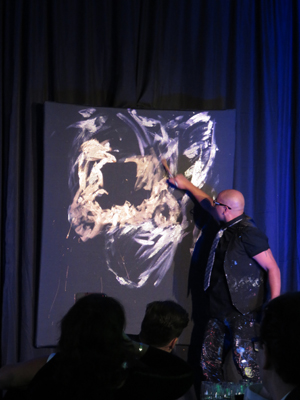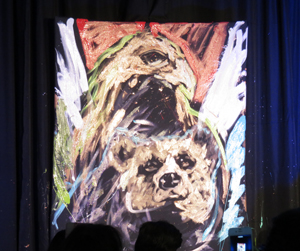 During the day, Governor Brown met with Mexico's President of the Senate Raúl Cervantes Andrade and other Mexican legislators. Later in the day he met with Archbishop of Los Angeles Jose Horacio Gomez, and religious and diplomatic leaders from Mexico and Central America to discuss immigration at the Club de Industriales, which is across from the JW Marriott Hotel.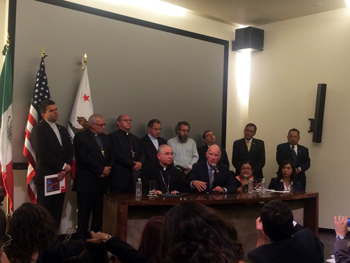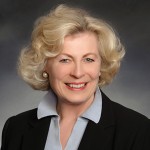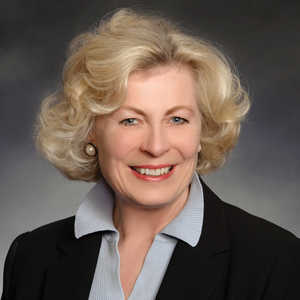 Blog By (Mrs.) Susanne Stirling
Vice President, International Affairs