Trading Partner Portal: Thailand
Overview
Trade Overview

Thailand is located in the lush lower Mekong river sub Basin of South East Asia with an estimated standing population of over 71.6 million people.
Thailand's economy has generally grown within the last decade, averaging above four percent per year from 2000-2007. Though affected by the financial crisis, Thailand's economy greatly rebounded in 2010 with a growth of 7.8%. Due to unexpected environmental disasters in Thailand's northern region, their 2011 growth rate was severely affected however. While Thailand's economy temporarily rebounded in 2012, it contracted slightly in 2013 with a growth rate of 2.9%, becoming stagnant with a 1% in 2014, and then began to grow again steadily with a growth rate of of 3.2% for 2016. The growth rate in 2017 was 3.9% in 2017, 4.1% in 2018, 2.35% in 2019. In 2020, Thailand's growth rate was greatly affected by the COVID-19 pandemic. CIA Factbook
The United States imported approximately $58.7 billion from Thailand in 2022, with computer and electronic products accounting for over $22.22 billion of the total. This was the largest number of imports over the past decade. That same year, the U.S. exported $15.59 billion.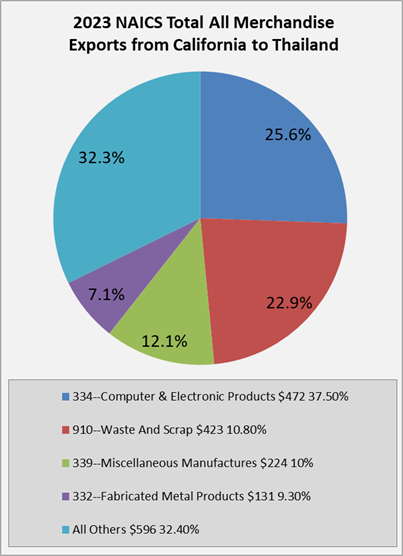 In 2022, California exported $1.77 billion to Thailand. California's main exports include, but are not limited to: computer and electronics, $494 million; waste and scrap, $428 million; miscellaneous manufactures, $188 million; and processed foods, roughly $153 million. U.S. Department of Commerce
On the reverse side, in 2022, California imported over $16.4 billion. Our main imports were: computer and electronics, $7.6 billion; processed foods, $1.6 billion; electrical equipment, $1.4 billion; and plastics and rubbers, $1.2 billion. U.S. Department of Commerce
Thai FDI in the US totaled $1.8 billion in 2021, while US FDI in Thailand totaled $15.47 billion. Thai FDI supported 4,500 jobs in the US. Thai investments contributed $249 million towards expanding US exports in 2020. The top industry sectors for Thai FDI in the US are: plastics, chemicals, food and beverages, software and IT services, auto components, and building materials. Select USA
In California, the nineteenth largest source of FDI through foreign-owned enterprises (FOEs) is Thailand. In 2021, Thai FOEs in California provided 5,833 jobs through 27 firms amounting to $636 million in wages. The top jobs by sector are: professional/business, financial activities, public administration, wholesale trade and manufacturing (World Trade Center Los Angeles FDI Report).
According to the Los Angeles County Economic Development Corporation, Thailand is the fifth largest trading partner of the Los Angeles Customs District which includes the seaports of Hueneme (in Ventura County), Long Beach and Los Angeles, and Los Angeles and Ontario international airports.

United States and Thailand Reaffirm Commitment to Expand Trade and Investment Ties
USTR, April 20, 2016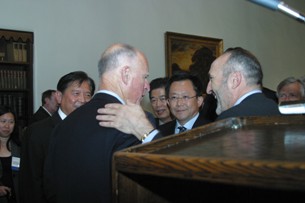 Thailand and California
According to the Thai American Chamber of Commerce in California, California is home to some 200,000 Thais, the largest Thai population outside of Thailand.
California is home to many Thai businesses, among them Thai Airways, Kasikorn Bank (Thailand's second largest commercial bank), Krung Thai Bank and Chang Beer. Apart from the influence of these larger companies, aspects of Thai culture have found niche markets in America, from Spa and Massage services; Buddhist influenced beauty and health programs, and Thai boxing clubs. However, perhaps most famous in California is their food business. Los Angeles alone is home to about 700 Thai restaurants
Thai Town
Los Angeles is home to the only Thai Town in the world, having occupied a section of East Hollywood since 1999. Thai town is operated by the Thai Community Development Center, a non-profit organization created in 1994 with the expressed goals of creating "a thriving community by creating businesses and jobs, developing decent and affordable housing, and revitalizing public space".
THAI Town in Los Angeles

Multi-Lateral Cooperation
Thailand's Multi-Lateral Cooperation
Thailand is a member of several multi-lateral organizations which have increased Thailand's presence both in the region and globally. They are currently a member of the Association of South East Asian Nations (ASEAN), Asia Pacific Economic Cooperation (APEC), the World Trade Organization (WTO), The Mekong River Commission, and the Greater Mekong Sub Region (an IGO created through the Asian Development Bank).
Through these organizations and bi-lateral relations with the United States, there has been increased development in Thailand's infrastructure, as well as environmental impact analysis and studies for continued economic growth. The United States also pledged $187 million for the Lower Mekong Initiative, which "has the stated aim of improving education, health, infrastructure, and the environment in the region". (Lee, John. "China's Water Grab." Foreign Policy)
The initiative was negotiated by U.S. Secretary of State Hilary Clinton, and the foreign ministers of Cambodia, Laos, Thailand, and Vietnam. U.S. State Department
Regional Comprehensive Economic Partnership (RCEP)
After 8 years of negotiations, the Regional Comprehensive Economic Partnership (RCEP) was signed on November 15, 2020. The RCEP is a free trade agreement (FTA) with 10 Association of Southeast Asian Nations (ASEAN) member states—Brunei, Burma (Myanmar), Cambodia, Indonesia, Laos, Malaysia, the Philippines, Singapore, Thailand, Vietnam—and the five states with which ASEAN has existing FTAs—Australia, China, Japan, South Korea and New Zealand.
Please see the CalChamber's RCEP page for more info.
RCEP – Association of Southeast Asian Nations
Text of the Regional Comprehensive Economic Partnership Agreement
Event
Thai Delegation Visits CalChamber
(May 22, 2012) A delegation, consisting of representatives of the Thai government and members of the Thai American Chamber of Commerce in California visited the CalChamber offices to discuss trade promotion.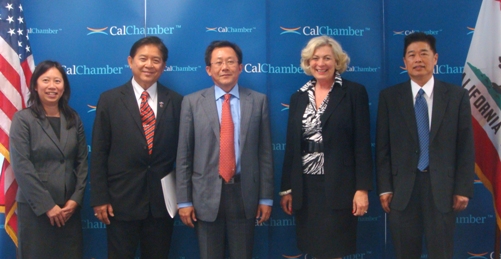 Key Country Contacts
Resources
CalChamber Resources
Business
Business
Cultural
Cultural/Educational