Trading Partner Portal: South Africa
Overview
Trade Overview

Over the past two decades, South Africa's post-apartheid government has made remarkable progress.  South Africa is the second or third largest economy in Africa, in competition with Egypt. Their GDP totaled $335.44 billion in 2020. Their peaceful transition to democracy, priorities given to economic growth and dedication to human rights allowed South Africa to host the 2010 FIFA World Cup, which solidified their place on the world stage.
(US Department of State and World Trade Organization)
South Africa is the 42nd largest export destination with the United States, with exports more than doubling over the past decade.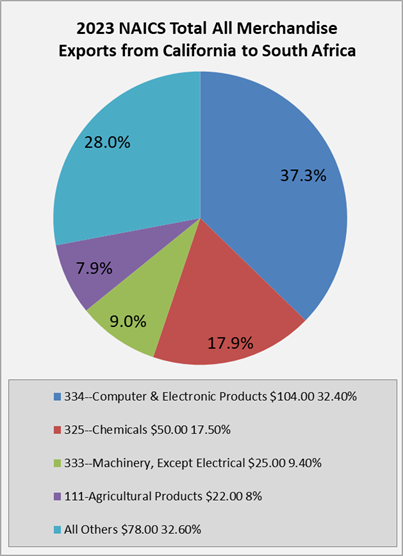 In 2021, two-way trade between South Africa and the United States was approximately $21.2 billion. As South Africa's second largest export partner, the United States exported $5.4 billion to South Africa in 2021. $908 million of which was made up of transportation equipment exports. This was followed by non-electrical machinery at $860 million, and chemicals at $739 million. In 2021, the United States imported $15.7 billion from South Africa, $10.15 billion of that being primary metals.
California exported over $281 million to South Africa in 2021, making it the state's 48th largest export destination. Computers and electronic equipment accounted for $81 million of this total. (US Department of Commerce)
Foreign Direct Investment
According to the most recent figures in 2020, South Africa invested $4.44 billion into the United States economy. In 2020, the United States invested $10.02 billion into South Africa (Bureau of Economic Analysis). In 2019, South African FDI in the US contributed to 6,900 jobs. The value of U.S. goods exports by majority South African-owned firms operating in the U.S. was $509 billion. The top industry sectors for South African FDI were: software and IT services, chemicals, financial services, food and beverages, coal oil and natural gas, and minerals. Select USA
Economist South Africa Country Report
Invest in South Africa
Investing in South Africa 2010
Projects in Progress 2009
South Africa Geared for Growth 2009
Information Provided by the South African Consulate General in Los Angeles
Trade Agreement / AGOA
U.S. Southern Africa Customs Union (U.S. – SACU) / African Growth & Opportunity Act (AGOA)
On November 4, 2002, the U.S. Trade Representative notified Congress of President Bush's decision to negotiate a Free Trade Agreement with the member countries of the Southern African Customs Union (SACU). The five nations of the Southern Africa Customs Union are South Africa, Botswana, Namibia, Lesotho and Swaziland. Total U.S.-SACU trade totaled $17 billion in 2013.
A U.S.-SACU Free Trade Agreement would have built on the African Growth and Opportunity Act (AGOA) of 2000. The California Chamber of Commerce supported the AGOA, which President Bill Clinton signed on May 19, 2000 as part of The Trade and Development Act of 2000.
For more information, please see U.S. – Southern African Customs Union Free Trade Agreement
The African Growth and Opportunity Act (AGOA), extended to 2015, initially was enacted in 2000, eliminating duties on imports from African nations into the United States if those nations made significant efforts to open their economies.
Since its inception, AGOA has helped increase U.S. two-way trade with sub-Saharan Africa. In 2013, U.S. exports with the AGOA nations totaled over $22.8 billion, more than triple the amount in 2001. U.S. total imports from sub-Saharan Africa nearly doubled during this period to $38.1 billion.
U.S. Trade Representative Michael Froman stressed the need to renew AGOA beyond 2015 and said:
"Behind the billions of dollars in exports generated by AGOA, are hundreds of thousands of new jobs that have helped African men and especially women to support their families in ways that once seemed impossible. Countless African workers whose jobs depend on AGOA are now able to purchase goods and services that were previously beyond their means…By providing new market opportunities for African exports, especially of non-traditional and value-added products, AGOA has helped African firms become more competitive both in the United States and internationally."
President Signs CalChamber-Supported Trade Bills
June 30, 2015
Statement by Ambassador Michael Froman on Congressional Passage of TPA
June 25, 2015
Presidential Proclamation – African Growth and Opportunity Act
December 2013
For more information, please see
U.S. Department of State
International Trade Administration
U.S. Trade Representitive
Brookings Institute – July 2013
U.S. Strategy
U.S. Strategy Toward Sub-Saharan Africa
In June 2012, Obama announced the new U.S. Strategy toward Sub-Saharan Africa with four main objectives:
(1.) strengthen democratic institutions
(2.) spur economic growth, trade and investment
(3) advance peace and security
(4) promote opportunity and development
This strategy emphasizes U.S. support for sustainable economic growth and prosperity in Africa.
Power Africa Initiative
Currently, over two-thirds of the population of 800 million people in sub-Saharan Africa has no access to power or electricity. The Power Africa Initiative was launched in June 2013 to double access to electricity in sub-Saharan Africa and provide more than 10,000 megawatts of electricity generation capacity that is cleaner and more efficient.
The U.S. government has committed to providing over $7 billion in aid and loan guarantees over a five-year period. Twelve U.S. government agencies including the U.S. Export-Import Bank (EX-IM), the Overseas Private Investment Corporation (OPIC) and the U.S. Trade and Development Agency (USTDA) are combining efforts to provide funding and technical assistance to the initiative.
Trade Mission / Events
Trade Mission to South Africa – 1995
The California Trade and Commerce Agency and the California Chamber of Commerce led a 20-member trade and investment mission to South Africa during the first week of October, 1995, to coincide with the Made in USA Trade Expo in Johannesburg, and with the opening of the California Office of Trade and Investment in Johannesburg.
The trip was a high-profile opportunity for California to introduce the state, its projects and way of doing business. Since the trade mission in 1995, U.S. exports to South Africa have nearly doubled.
For more articles and photos from the trade mission, please see the
October 20, 1995 Alert edition.
Trade Mission / Events
(CalChamber, September 28, 2018) Renewing and furthering South Africa's trade and investment relationship with California was the emphasis when Consul Talifhani Mbelengwa from the Consulate General of South Africa in Los Angeles stopped by the California Chamber of Commerce this week.
The South African Consulate General in Los Angeles represents the 13 western states of the United States. South Africa has four consular offices in the United States, including the embassy in Washington, D.C.
Consul Mbelengwa's September 26 visit was pleasant and informative as he discussed the current activities and goals of new South African President Cyril Ramaphosa, who was elected in February.
CalChamber Hosts Consul General of South Africa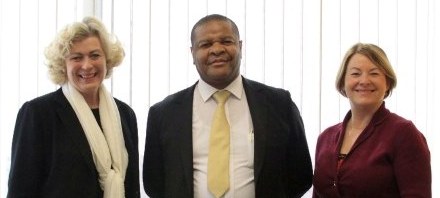 (February 24, 2014) Growing trade and investment between California and South Africa was a topic of discussion earlier this month when the California Chamber of Commerce hosted The Honorable Cyril Sibusiso Ndaba, consul general of South Africa in Los Angeles.
In the last five years, two-way trade between California and South Africa, the largest economy in Africa, has nearly doubled, from $684 million in 2009 to approximately $1.1 billion in 2013.
Joining the discussion with the consul general were Ms. Ezilda Samoville, executive director of the Senate Office of International Relations, and Mrs.Susanne Stirling, CalChamber vice president of international affairs.
Ndaba has served as the consul general in Los Angeles since 2010. He represents South Africa in 13 U.S. states—Alaska, Arizona, California, Colorado, Hawaii, Idaho, Montana, Nevada, New Mexico, Oregon, Utah, Washington and Wyoming.
He was the deputy high commissioner to the United Kingdom from 2004 to 2010. Before working in Rwanda for four years, Ndaba served as a diplomat in New York from 1995 to 1998.
One of the key strategic goals for the South African Consulate General in Los Angeles is "to stimulate South Africa's economic growth through trade and investment promotion." With a growing gross domestic product (GDP) of $384.3 billion, South Africa is well-positioned for foreign investment
South African Ambassador Highlights Country's Growth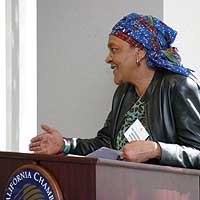 (March 24, 2004) South Africa's continual strong economic growth is due in large part to international investment in the last decade of democracy, Ambassador Barbara Masekala told a California Chamber luncheon audience.
Masekala noted that in the last 10 years she has seen great economic achievements in South Africa due to strong trade partnerships and investment of the international community.
Key Country Contacts
Resources
CalChamber Resources
Business
Business
Cultural