Trading Partner Portal: Singapore
Overview
Interview Series Featuring California's Key Trading Partners – Featuring William Chik, Consul General of Singapore in San Francisco:
Synergy in Many Fields, from Tech to Food, Boosts Ongoing Trade/Investment Success
CalChamber, February 5, 2021
Trade Overview

Singapore has been ranked as the top country in the world to do business for the tenth year in a row, according to the World Bank "Doing Business 2016" report. According to the World Bank, Singapore has a population of 5.45 million and a GDP of $396 billion.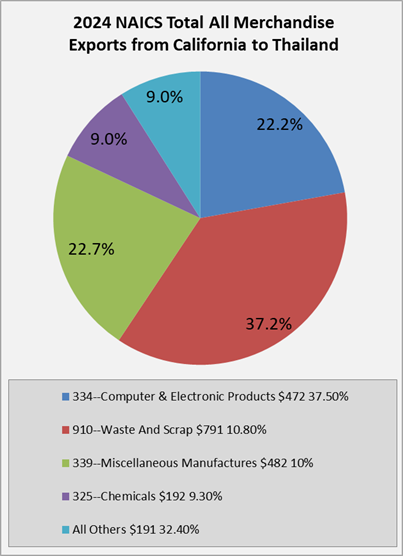 U.S. exports to Singapore totaled $46.18 billion dollars, and imports to the United States and from Singapore totaled $31.6 billion in 2022. Top exports to Singapore included oil and gas at $11.2 billion, computer and electronic products making up $6.4 billion of the total, followed by transportation equipment, non-electrical machinery, and chemicals. Top imports from Singapore include chemicals, which made up $8.4 million of the total, followed by reimports, computer and electronic products, and processed foods.
Since implementation of the U.S.-Singapore FTA in 2004, U.S. exports to the nation have increased by over $8 billion. According to the Office of the U.S. Trade Representative, new market opportunities have also been created, including those for pharmaceutical products and organic chemicals.
Singapore is the 11th largest export market for California. In 2022, California exports to Singapore totaled over $5.1 billion. Non-electrical machinery accounted for $1.556 billion of the total exports, while computers and electronic products was second with $1.4 billion. Imports to California from Singapore totaled $5.1 billion in 2022. Top imports included petroleum and coal products, chemicals, computer and electronic products, and miscellaneous manufactured commodities.
U.S. direct investment to Singapore totaled $294.54 billion in 2021. Foreign direct investment from Singapore into the United States was $53.68 billion (BEA). In 2020, Singaporean FDI in the US contributed to 39,100 jobs, $318 million in research and development, and another $257 million of expanded US exports. The top industry sectors for Singaporean FDI were: software and IT services, business services, communications, financial services, biotechnology, and textiles.  Select USA According to figures from the 2018 SelectUSA Investment Summit in Washington D.C., Singapore is currently the sixth fastest-growing source of FDI in the US . Major investors include Singapore Airlines, American President Lines, and Sovereign Wealth Fund (known in San Francisco as Singapore Investment Wealth Corp).
In California, the fifteenth largest source of FDI through foreign-owned enterprises (FOEs) is Singapore. Singaporean FOEs in California provided 10,636 jobs through 163 firms amounting to $998 million in wages. The top jobs by sector are: wholesale trade, leisure/hospitality, professional/business services, natural resources, and manufacturing (World Trade Center Los Angeles FDI Report).
In March 1998, the California Trade and Commerce Agency signed a Memorandum of Understanding with the Singapore Trade Development Board, Economic Development Board, and the National Science and Technology Board. This agreement was reinforced in May 1999, when then Governor Gray Davis and Prime Minister Goh signed a Memorandum of Understanding reiterating the mutual commitment to economic and IT co-operation. (Singapore MFA)
Singapore's $40 Billion Mega-Port Takes Aim at Shipping Chaos
American Journal of Transportation, June 29, 2022
Singapore and the Bay Area: Leveraging Emerging Opportunities in Southeast Asia
Bay Area Economic Council, January 2020
The U.S. and Singapore celebrate 50 years of diplomatic relations
White House, August 2, 2016
WTO TRADE POLICY REVIEW: SINGAPORE
New Opportunities with TPP – Increasing U.S. Exports to Singapore
ITA Blog, July 12, 2016
Tourism
Singapore was one of California's overseas markets with approximately 70,000 visitors to California in 2010.  California Tourism Industry

Trade Agreements
Trade Agreements
U.S. Secretary of Commerce Wilbur Ross and Singapore Minister for Trade and Industry Chan Chun Sing Sign Memorandum of Understanding on Trade Financing and Investment Cooperation
U.S. Department of Commerce, December 15, 2020
U.S. – Singapore Free Trade Agreement
The U.S.- Singapore Free Trade Agreement  (USSFTA) went into effect in January 2004. Under the agreement, most tariffs were eliminated immediately, with the remaining tariffs phased out over a three to ten-year period.
The Agreement was signed on May 6, 2003 by President Bush and Goh Chok Tong, the Prime Minister of Singapore. The U.S. House of Representatives and Senate passed the FTA in July 2003 by a vote of 277-155 and 66-32 respectively. This marked the first time the Trade Promotion Authority (approved in 2002) was used.
A major strategic trading partner of the United States and one of America's closest friends, Singapore has one of the most open, well-regulated, safe and secure investment climates in the world. It is consistently rated among the most competitive economies in the world. The USSFTA is making this remarkably productive relationship even closer. In 2014, the U.S. State Department estimated that nearly 2,000 U.S. companies have regional headquarters in Singapore. Additionally, a large number of Americans currently live in Singapore.
The U.S.-Singapore FTA enhances mutual interests in a stable, prosperous ASEAN and East Asia, and will further strengthen the partnerships across the Pacific. Singapore, one of the busiest port cities in the world, already has free trade pacts with New Zealand and Japan.
American companies have a great deal to gain with the USSFTA. This comprehensive agreement benefits American firms and workers, and complements ongoing regional and multilateral trade and investment liberalization efforts.
For more information, see CalChamber's Trade Issues page on the U.S.-Singapore Free Trade Agreement.
United States and Singapore Hold Sixth Annual Free Trade Agreement Review
October 15, 2010
Washington, D.C. -The United States and Singapore held their sixth annual review of the implementation of their Free Trade Agreement (FTA) today.  Assistant United States Trade Representative Barbara Weisel led the U.S. delegation and Deputy Secretary Koh Lin-Net of the Ministry of Trade and Industry led the Singaporean delegation.
The two sides reviewed implementation of the agreement and the growth in bilateral economic trade and investment.  Since the FTA came into force in 2004, job creating U.S. goods exports have increased 34 percent, with goods exports totaling $22.2 billion in 2009.  Trade in services also is up, with U.S. exports of $9 billion to Singapore in 2008 (the latest available data), up 60 percent from 2004.  Foreign direct investment in both directions rose, with Singaporean investment in the United States totaling $22.9 billion last year and U.S. investment in Singapore totaling $76.9 billion.
During the review meeting the two sides exchanged views on issues and concerns related to agricultural and textile market access, intellectual property rights, regulations related to cable TV content, and other issues.  The two sides also reviewed the past year's activities under the Plan of Action for Environmental Cooperation, and reviewed the results of recent meetings in Singapore exploring ways to intensify joint work on labor issues, including worker rights and human resources development.   
The U.S.-Singapore FTA also serves as a foundation for broader cooperation between the two countries regionally and multilaterally.  The United States is engaging closely with Singapore on the Trans-Pacific Strategic Economic Partnership (TPP), a high-standard agreement that will serve as a platform for Asia-Pacific economic integration in a way that reflects U.S. priorities and values.  The United States and Singapore also work together closely in other fora, including the WTO, ASEAN and APEC. 
Regional Comprehensive Economic Partnership (RCEP)
After 8 years of negotiations, the Regional Comprehensive Economic Partnership (RCEP) was signed on November 15, 2020. The RCEP is a free trade agreement (FTA) with 10 Association of Southeast Asian Nations (ASEAN) member states—Brunei, Burma (Myanmar), Cambodia, Indonesia, Laos, Malaysia, the Philippines, Singapore, Thailand, Vietnam—and the five states with which ASEAN has existing FTAs—Australia, China, Japan, South Korea and New Zealand.
Please see the CalChamber's RCEP page for more info.
RCEP – Association of Southeast Asian Nations
Text of the Regional Comprehensive Economic Partnership Agreement
Events
Events
CalChamber Joins Singapore Ambassador in Celebration of Nation's 50th Anniversary of Independence
California Chamber of Commerce International luncheon held on October 6, 2015 with the Consulate General of Singapore celebrated Singapore's 50th National Day of Independence, providing an opportunity to highlight the strong trading ties between Singapore and the United States, as well as California. Top Story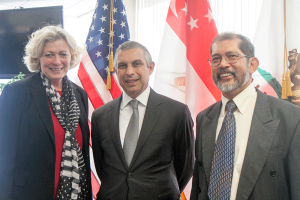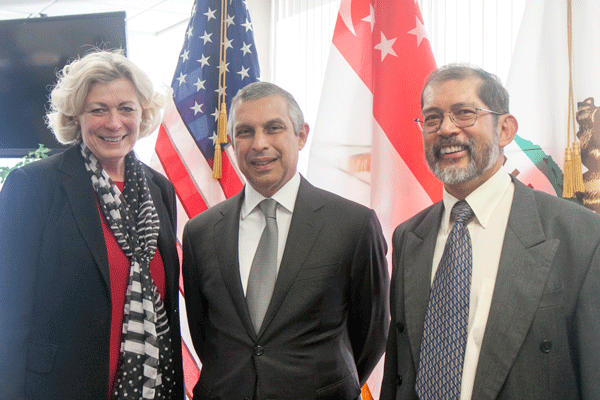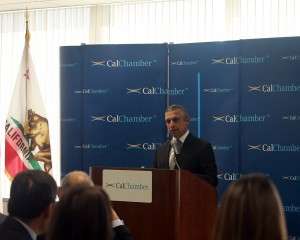 Singapore Prime Minister at Chamber Luncheon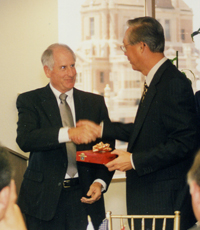 (June 11, 1999) The California Chamber of Commerce hosted a luncheon honoring Singapore Prime Minister Goh Chok Tong during the Prime Minister's visit to Sacramento on May 27. The Prime Minister was in California for three days to promote increased trade and cultural ties with Singapore. Singapore is California's sixth largest trading partner. California exports nearly $5 billion annually to Singapore.
Key Country Contacts
Resources
CalChamber Resources
Business
Business
Cultural
Cultural/Educational