Trading Partner Portal: Saudi Arabia
Overview
Trade Overview

The Kingdom of Saudi Arabia has a population of approximately 34.26 million and is roughly one-fifth the size of the US geographically. It is the largest country in the world without a single river. In 2018 Saudi Arabia had a GDP of $792.96 billion.
As the leading producer of oil and natural gas in the world, Saudi Arabia is largely economically dependent on petroleum output. It holds 16 percent of the world's petroleum reserves and is the largest exporter of petroleum. (CIA Factbook)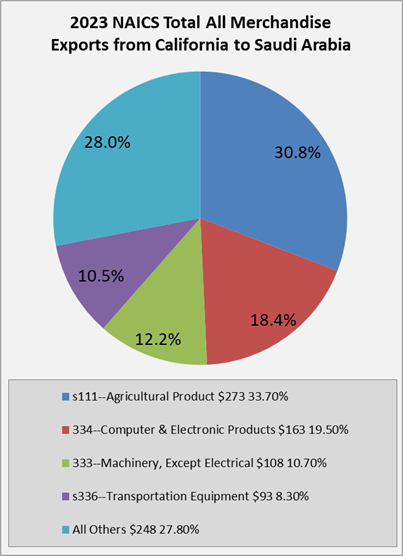 The Kingdom of Saudi Arabia has been a member of the WTO since 2005, and has since been working towards attracting foreign investment. The government recently begun a campaign to build up six "economic cities" in the country to promote the national economy, create more jobs, improve domestic skills, develop the regions and diversify the economy.
Saudi Arabian FDI in the US reached $13.2 billion in 2019, while US FDI in Saudi Arabia reached $10.8 billion in 2019. Saudi Arabian FDI in the US supported 8,500 jobs in 2018. The top industry sectors for Saudi Arabian FDI were: plastics, coal oil and gas, chemicals, transportation, and textiles.  (Select USA)
Saudi Arabia's Economic Cities​
Saudi Arabian General Investment Authority
Two-way trade in goods between the United States and Saudi Arabia was around $20.16 billion in 2020. Saudi Arabia is the United States' 24th largest export destination with $11.17 billion in exports. Imports from Saudi Arabia to the U.S. totaled $8.9 billion. The top import into the United States from Saudi Arabia is oil and gas, accounting for 79.2% of total imports. Top exports from the United States to Saudi Arabia include transportation equipment, machinery except electrical, chemicals, and computer and electronic products.
Saudi Arabia is California's 31st largest export destination. In 2020, California exported approximately $829.6 million to Saudi Arabia. California is among the top five state exporters to Saudi Arabia. Agricultural products accounted for 28.9% of exports, while computer and electronic products accounted for 17.4%. Food manufactures accounted for 11.8% of exports, totaling $97.5 million, while chemicals accounted for 11.5% and $95.7 million. In 2020, California imports from Saudi Arabia totaled $2.5 million, 96.6% of which was made up by oil and gas.
Posting First Rise Since 2014, U.S. Exports to Arab World Grow 4 PErcent to $62.64 Billion in 2019
National U.S.-Arab Chamber of Commerce, February 9, 2020
U.S. Goods Exports to Arab Countries 2018 vs. 2019
National U.S.-Arab Chamber of Commerce, February 2020
Trade Policy Review: Saudi Arabia
WTO, January 2012
U.S. – Saudi Business Opportunities Forum
U.S. – Saudi Business Opportunities Forum

Already the largest economy in the region and a key member of the G20, Saudi Arabia is undergoing an extraordinary economic boom. Massive public investment, rapid private-sector growth and new sector initiatives are driving an expansion projected to offer more than $1 trillion in trade and investment opportunities over the next decade.
This recent US-Saudi Forum was held September 16-18 in Los Angeles highlighting the U.S.-Saudi commercial and trade relationship and how U.S. companies can participate in Saudi Arabia's expansion. Approximately 1,200 American and Saudi businesses, government officials, academics and opinion leaders were in attendance.
US-Saudi Forum Keynote: His Excellency Dr. Tawfig Alrabiah
Keynote Address: The Honorable Penny Pritzker, U.S. Secretary of Commerce
Obama Trade Official Highlights the Positive Impact of Expanding the U.S.-Saudi Arabia Trade Relationship
ITA Blog, September 18, 2013
Key Country Contacts
Resources
CalChamber Resources
Business
Business
Cultural
Cultural/Educational