Trading Partner Portal: Morocco
Overview
Trade Overview

Morocco is slightly geographically larger than California. It is in between the Western Sahara and Algeria in North Africa. The capital of Morocco is Rabat, which is bordered by the Atlantic Ocean. Morocco has a population of 36.9 million people and a gross domestic product (GDP) of $114.73 billion. Due to its proximity to Europe, Morocco has created strong trade relationships and promotes an open market economy. In 2020, the US had $457 million in foreign direct investment (FDI) in Morocco. World Bank, BEA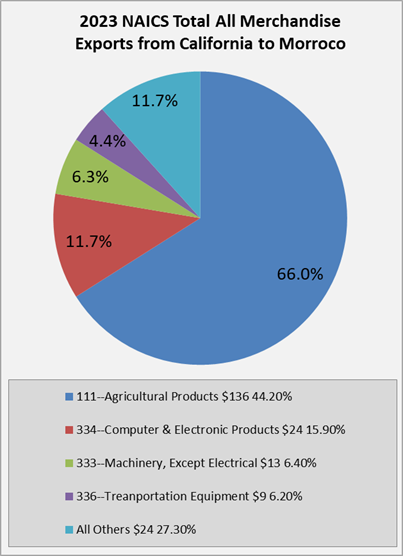 In 2021, the US exported roughly $2.79 billion worth of goods to Morocco. The largest category of exported goods was transportation equipment, which made up $630 million of the total. Other exports to Morocco from the U.S. included oil and gas, agricultural products, process foods, and non-electrical machinery. In the same year, the United States imported $1.27 billion worth of goods from Morocco. The main imports from Morocco were chemicals, apparel and accessories, processed foods, transportation equipment, and computer and electronic equipment each composing between $234 million and $149 million of the total. US Department of Commerce 
Posting First Rise Since 2014, U.S. Exports to Arab World Grow 4 PErcent to $62.64 Billion in 2019
National U.S.-Arab Chamber of Commerce, February 9, 2020
U.S. Goods Exports to Arab Countries 2018 vs. 2019
National U.S.-Arab Chamber of Commerce, February 2020
US Exports to Morocco More Than Triple in Ten Years Since US-Morocco Free Trade Agreement
Moroccan American Center for Policy, August 17, 2016
Morocco -California Trade
California exported $179 million worth of goods to Morocco in 2021. The key exported product categories were agricultural products, computer and electronic products, transportation equipment, minerals and ores, and chemicals. Agricultural products, the largest, had a value of $132 million. Out of the states, California is the largest importer of Moroccan goods. In 2021, California imported $245 million of various goods from Morocco. The largest import category was computer and electronic products with a value of $127 million. Some of the other major imports were apparel and accessories, processed foods, and nonmetallic mineral products; making up about $46 million, $41 million, and $10 million, respectively. US Department of Commerce 
Current News
WTO Trade Policy Review: Morocco (02/02/2016-02/04/2016)
Morocco has sustained a substantial level of economic growth annually. The report mentions that the FTA with the United States has opened up the market access for Moroccan non-agricultural products, excluding textiles and clothes. The majority of agricultural products are traded free of duty and some enjoy tariff preferences. The report also mentions the open strategic dialogue between the two countries to further and improve the economic relationship.
U.S. Goods Exports to Arab Countries 2018 vs. 2019
National U.S.-Arab Chamber of Commerce, February 2020
Trade Agreements
Trade Agreements and Issues
The United States- Morocco Free Trade Agreement
The United States- Morocco Free Trade Agreement was signed in June of 2004. Its implementation began in the beginning of 2006. It was economically beneficial for both sides with the elimination and reduction of trade barriers. 95% of tariffs of bilateral trade between Morocco and the United States were eliminated with the agreement. All tariffs were to be phased out after nine years. Five years after the FTA's implementation, the US exported $2.8 billion worth of goods to Morocco and the trade surplus with Morocco was $1.8 billion, which was a dramatic increase from the $79 million the year before the FTA was enacted.
US Middle East Free Trade Initiative
Key Country Contacts
Resources
Business
Business
Cultural