Trading Partner Portal: Ghana
Overview
Trade Overview

Ghana is located in West Africa along the coast of the Atlantic Ocean. Ghana's population was 30.4 million in 2019 and the GDP was $66.98 billion in the same year. Ghana's population is made up of a wide variety of ethnic and religious groups, about 70% is Christian, another 15% is Muslim and 5% practice traditional faiths. Ghana has a growing economic strength within the region and has become a regional power in West Africa.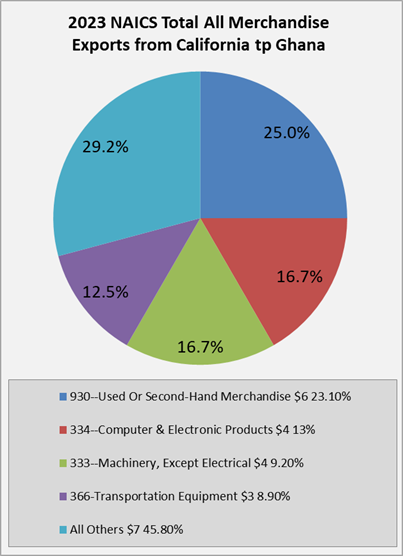 In 2020, the U.S. exported $831.9 million to Ghana. Transportation equipment made up 19.2% and $159.7 million of the total. This was followed by used or secondhand merchandise, non-electrical machinery, and chemicals. In the same year, the U.S. imported $716.9 million from Ghana. Oil and gas made up 55.7% of the total at $399 million, followed by agricultural products, food manufactures, and petroleum and coal products.
In 2020, California exported $24.2 million worth of goods to Ghana. Used or second hand merchandise totaled $8.3 million and made up 34.6% of the total. This was followed by food manufactures, transportation equipment, and computer and electronic products. California imported $75.9 million from Ghana in 2020, with oil and gas making up 90.5% of the total.
U.S. foreign direct investment into Ghana totaled $1.6 billion in 2019, while Ghanaian FDI into the U.S. totaled $1 million the same year. (Bureau of Economic Analysis)
Trade Agreements
Trade Agreements and Issues
Africa Growth Opportunity Act (AGOA)
In 2020, Ghana was eligible to trade with the U.S. under AGOA.
According to the U.S. Trade Representative, since its enactment in 2000, the African Growth and Opportunity Act (AGOA) has been at the core of U.S. economic policy and commercial engagement with Africa.  AGOA provides eligible sub-Saharan African countries with duty-free access to the U.S. market for over 1,800 products, in addition to the more than 5,000 products that are eligible for duty-free access under the Generalized System of Preferences program.
Key Country Contacts
Resources
Business
Business
Cultural
Cultural/Educational