Trading Partner Portal: Estonia
Overview
Trade Overview

Estonia is a country in Northern Europe with a population of 1.3 million, which makes it one of the least-populous member states of the European Union. Estonia is a developed country with an advanced high-income economy that has been among the fastest growing in the EU. Estonia has been involved in an active trilateral Baltic states cooperation with Latvia and Lithuania, as well as a Nordic-Baltic cooperation with the Nordic countries, and is a member of the Nordic-Baltic Eight.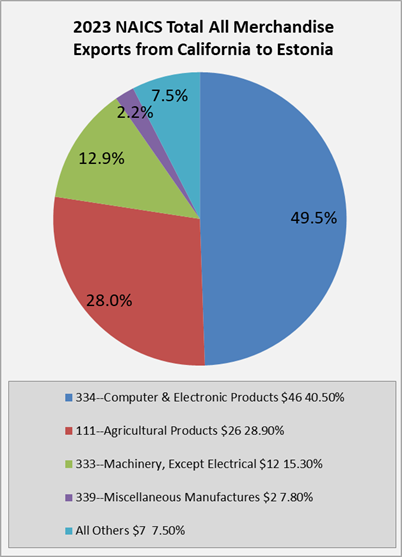 The U.S. exported $410 million to Estonia in 2019. $81.4 million and 19.9% of which was made up of computer and electronic products. This was followed by $75.8 million of non-electrical machinery, $63.2 million of transportation equipment, and $53 million of miscellaneous manufactured commodities. The U.S. imported $1 billion worth of products from Estonia in 2019. 57.9% of imports were computer and electronic products, followed by electrical equipment, appliances and components at 10.1% and non-electrical machinery at 6% and wood products at 4.7%. (U.S. Department of Commerce)
California exports to Estonia totaled $74.8 million in 2019. Agricultural products made up almost 63.5% of the total, followed by computer and electronic products at 19.3%. Non-electrical machinery and waste and scrap accounted for over $3.7 million and $2.9 million of exports, respectively as well. California imported $33.5 million of products from Estonia in 2019. Computer and electronic products made up over 20.8% of the total, followed by non-electrical machinery and wood products, each at about 14.5%. (U.S. Department of Commerce)
U.S. foreign direct investment into Estonia totaled $76 million in 2018 (Bureau of Economic Analysis).
Trade Agreements / Initiatives
Trade Agreements / Initiatives
Three Seas Initiative (3SI)
The Three Seas Initiative (3SI), getting its name from the three seas that border the region, was launched in 2015 by Croatian President Kolinda Grabar-Kitarović and Polish President Andrzej Duda to promote interconnectivity on energy, infrastructure, and digitization projects in Central and Eastern Europe. There are 12 EU member states that are part of the initiative: Austria, Bulgaria, Croatia, the Czech Republic, Estonia, Hungary, Latvia, Lithuania, Poland, Romania, Slovakia, and Slovenia. The main goal of the venture is to create a "north-south" energy and infrastructure corridor in the region. The region has a total population of 10 million and a combined GDP of about $1.7 trillion, and has emerged as a significant driver of European economic growth. (Atlantic Council)
The U.S. has committed up to $1 billion to the 3SI, adding momentum to the project and its investment fund, helping to attract international private capital to the region. The initiative has been endorsed diplomatically by the United States, Germany, and the European Union, among others.
Pompeo Pledges $1 Billion in US Support for European Energy Initiative
The Hill, February 15, 2020
Key Country Contacts
Resources
CalChamber Resources
Business
Business
Cultural
Cultural/Educational