Trading Partner Portal: El Salvador
Overview
Trade Overview

El Salvador is a small developing country in Central America approximately equivalent in size to New Jersey. El Salvador, with a population of 6.4 million people and a gross domestic product (GDP) of $26.05 billion, is classified by the World Bank as a lower middle income country. Though it is a smaller country, El Salvador has a vast array of production. While the majority of the land in El Salvador is used for agricultural production (about 75%), its exports vary from offshore assembly exports, to coffee, sugar, and textiles. World Bank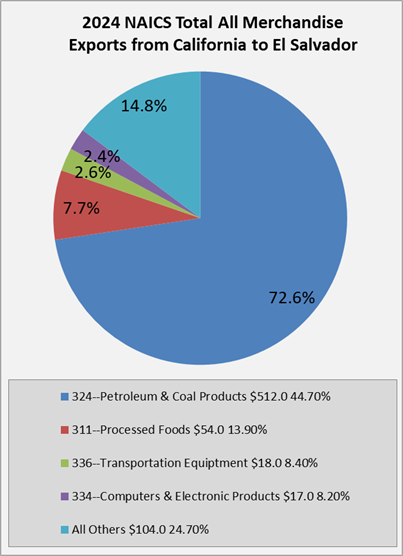 The United States is the top importer of El Salvadorian goods and the top exporter to El Salvador. The United States exported just over $3.37 billion worth of commodities to El Salvador in 2019. Many of those products included petroleum and coal products, special classification provisions, food manufactures, and chemicals. In the last year, the United States imported around $2.47 billion worth of goods from El Salvador. The biggest imported product that composed 75.1% of all imported goods from El Salvador was apparel manufacturing products, which totaled slightly more than $1.86 billion. Other key imports from El Salvador include food manufactures, reimports, and agricultural products. US Department of Commerce
El Salvador-California Trade
California is the fourth largest US state exporter of goods to El Salvador, second to Florida. California exported $352 million of products to El Salvador in 2019. Petroleum and coal products are the main exported good from California, making up 48% of the total. Other key exports are computer and electronic products, food manufactures, and textiles and fabrics. California is also one of the largest importers of El Salvadorian products out of all the states with a total of $208 million worth of imported goods in 2019. The main imported goods included apparel manufacturing products, which represented 52.2% of all the imports, followed by food manufactures and agricultural products.
Foreign Direct Investment
In 2018, out of the $126.5 billion the US invested into Central America, $3.27 billion went into El Salvador. In 2018, El Salvador's FDI into the US based on balance of payments and direct investment position was undisclosed.  US Department of Commerce, BEA
Preliminary Overview of the Economies of Latin America and the Caribbean
ECLAC, December 2019
Trade Agreements
Trade Agreements
Yes, Really: It's Time to Revive Hemispheric Trade Talks
Latin Trade, August 6, 2020
CAFTA-DR (Dominican Republic- Central America Free Trade Agreement)
The United States trade deal with some of the small developing countries in Central America was signed by President George W. Bush in 2005 as an expansion of the North American Free Trade Agreement. Members of the CAFTA-DR free trade agreement include the United States, Costa Rica, El Salvador, Guatemala, Honduras, Nicaragua, and the Dominican Republic.  Exports from the United States to this group of countries totaled $29 billion in 2015, while imports totaled approximately $24 billion. This trade agreement ensures that 100% of goods from the United States are not subject to tariffs in these countries, it also has a goal of phasing out all tariffs on agricultural products by 2020.
Events
Events
The California Chamber of Commerce hosted five ambassadors representing the nations included in the proposed U.S.- Central American Free Trade Agreement (CAFTA) at an International Luncheon Forum on March 8, 2005.
Key Country Contacts
Resources
CalChamber Resources
Business
Cultural