Trading Partner Portal: Ecuador
Overview
Trade Overview

Ecuador is located in northwestern South America and, per it's namesake, is dissected by the equator. Ecuador is one of 17 'megadiverse' countries in the world, as it is home to many endemic plants and animals, including those of the Galapagos Islands. Ecuador's economy is highly dependent on commodities, including petroleum and agricultural products; most notably bananas and cut flowers. The population of Ecuador in 2021 was 17.9 million and GDP totaled $106.1 billion in the same year.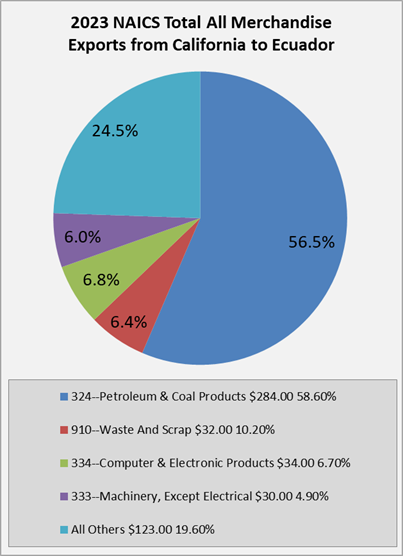 The U.S. exported $7.9 billion to Ecuador in 2022. Petroleum and coal products made up $3.5 billion of the total. This was followed by oil and gas, chemicals, and computer and electronic products. The U.S. imported $10.4 billion worth of products in 2022. Over $5.1 billion of which was made up of oil and gas. This was followed by livestock, agricultural products, and petroleum and coal products.
In 2022, California exported $347 million to Ecuador. Petroleum and coal made up $104 million of the total. This was followed by waste and scrap, computer and electronic products, machinery except electrical, and chemicals. Imports from Ecuador into California totaled $6 billion in 2022 with the top import being oil and gas at $5 billion.
Ecuadorian FDI into the U.S. totaled $70 million in 2021, and U.S. FDI into Ecuador totaled $25 million the same year.
Trade Agreements
Trade Agreements
Ecuador is the only country in Latin America along the Pacific that does not currently have a free trade agreement with the U.S. The "mini" trade deal brings the two countries a step closer to achieving an FTA.
>According to Politico, the new pact contains three chapters on trade facilitation, good regulatory practices and anti-corruption. It's similar to the "mini deal" the U.S. concluded recently with Brazil. It also includes a fourth chapter on small and medium sized enterprises, which make up the bulk of Ecuador's business community. Separately, the United States recently added roses to the list of imported goods eligible for duty-free treatment under its Generalized System of Preferences program. That has provided a major boost for one of Ecuador's top export industries.
USTR Agrees to Explore New Trade Talks with Ecuador
Politico, November 1, 2022
United States and Ecuador update Trade and Investment Council Agreement with New Protocol on Trade Rules and Transparency
U.S. Trade Representative, December 8, 2020
FACT SHEET: U.S. – Ecuador 2020 Protocol on Trade Rules and Transparency
U.S. Chamber Welcomes Signing of Trade Protocol between the U.S. and Ecuador
U.S. Chamber, December 8, 2020
Events
Key Country Contacts
Resources
CalChamber Resources
Business
Business
Cultural
Cultural/Educational