Trading Partner Portal: Colombia
Overview
Trade Overview

Colombia is an emerging economy that is providing California with a quickly expanding export market and opportunity for future collaboration. Located on the northwestern coast of South America, Colombia has a GDP of $314.4 billion and a population of 51.5 million. World Bank  Colombia was the second country in South America to join the OECD, becoming a member in 2020, a decade after Chile.
Since 2007, both U.S. and California exports to Colombia have nearly doubled. In 2022, the United States exported $20.5 billion of goods to Colombia, with total trade amounting to $39 billion. The U.S. imported $18.5 billion of goods from Colombia including: oil and gas, agricultural products, primary metal manufacturing, and petroleum and coal products. The top U.S. exports included petroleum, chemicals, processed foods, agricultural products, and transportation equipment.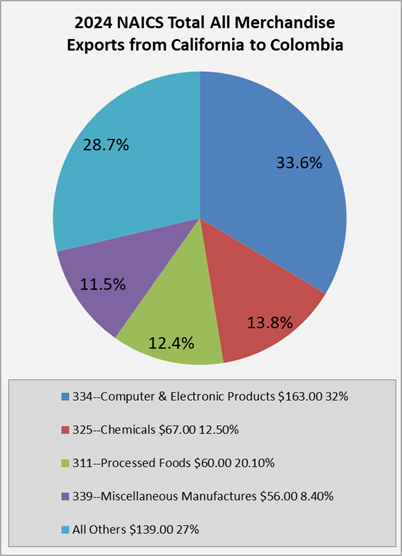 In 2022, Californian exports to Colombia totaled over $500 million. Since 2006, exports to Colombia have nearly tripled. Colombia is California's 38th largest export market. California exports consisted of computer and electronic products ($139 million), with other export categories including processed foods ($100 million), chemicals ($68 million), and miscellaneous manufactured commodities ($42 miillion). U.S. Department of Commerce
Top imports from Colombia to California include oil and gas ($12.1 billion), agricultural products ($281 million), processed foods ($71 million), and apparel ($40 million). U.S. Department of Commerce
According to 2021 figures, U.S. direct investment into Colombia was $6.8 billion and Colombian FDI based on balance of payments and direct investment position was $4.1 billion (Bureau of Economic Analysis). In 2021, Colombia was the tenth fastest growing source of FDI into the US. In 2020, Colombian FDI into the US supported 4,800 jobs and contributed a value of $22 million to expanding U.S. exports. Top industry sectors of Colombian FDI were: software and IT services, plastics, business services, food and beverages, consumer products and coal/oil/gas. Select USA
USCIB Congratulates Colombia on Formally Becoming OECD Member
U.S. Council for International Business, April 2020
Preliminary Overview of the Economies of Latin America and the Caribbean
ECLAC, December 2019
Colombia on the Mend, but SoCal Can't Do Much to Help, Daily Bulletin, February 2, 2018
The largest group of Americans of South American origin are those from Colombia, and the fourth-largest population of Colombian-Americans is in California. Some 33,000 were living in Los Angeles and Orange counties, according to the 2010 Census.
Colombia Applauds U.S. Congress for Approving Funding for Peace Colombia in FY2017 Spending Bill
Embassy of Colombia in the United States, May 5, 2017
U.S. Chamber Launches U.S.-Colombia Business Council March 15, 2017
On Wednesday, March 15, the Chamber announced the launch of the U.S.-Colombia Business Council, an organization that endeavors to build upon already close economic ties between the two countries in order to foster a stronger, more robust commercial partnership.The Council will examine impediments to expanding trade and investment and propose solutions; promote commercial opportunities for American and Colombian workers, farmers, and companies; and support economic growth in Colombia, particularly through post-conflict initiatives. The Council aims to work with both governments to set policy priorities and share best practices to foster both countries' economic competitiveness in the global marketplace. Announcing the Business Council launch, Myron Brilliant, Executive Vice President and Head of International Affairs remarked: "Colombia, having emerged as a leader in the hemisphere, has a fascinating economic story to tell, and the Chamber is excited to be a part of the next chapter through the work of the U.S.-Colombia Business Council. Colombia is a critical market for many American companies, so we are eager to build on the progress achieved by the U.S.-Colombia Trade Promotion Agreement, step up our engagement, and set our eyes on the future of this partnership." The impetus for the formation of the Council was a December 2016 advisory forum in Cartagena, Colombia, that brought together more than 30 U.S. and Colombian CEOs in an event hosted by Colombian President Juan Manuel Santos and organized by the U.S. Chamber, the Embassy of Colombia, the National Business Association of Colombia (ANDI), and AmCham Colombia. A U.S. government delegation, led by then-Vice President Joe Biden, also played a key role in the forum. At that meeting, the U.S. Chamber and ANDI signed a memorandum of understanding that laid the foundation for greater private-sector cooperation and for the formation of a council. The Chamber has a long track record of support for the trade relationship with Colombia. The U.S. is Colombia's largest trading partner, representing 31.8 percent of Colombia's exports in 2016. Colombia is the United States' third largest trade partner in Latin America. U.S. companies invested $6.2 billion in Colombia in 2015. The U.S.-Colombia Business Council is comprised of more than a dozen companies representing a broad cross-section of industries and sectors.
US Stands to Gain from Colombia's Ongoing Rise to Prosperity 
February 15, 2017
Colombia Final Peace Accord
(August 25, 2016) "After over fifty years of conflict and four years of difficult negotiations, a final peace accord has been reached by the Colombian government and the FARC. The United States strongly supports this accord that can achieve a just and lasting peace for all Colombians."
State Department, August 26, 2016
Building Peace: Colombian Peace Presents New U.S. Business Opportunities
ITA, August 15, 2016 
Trade Policy Review: Colombia
WTO, June 2012
President Santos Welcomes Formation of CEO Advisory Board
U.S. Business Leaders to Bring Expertise to Colombia's Post-conflict Economy
Embassy of Colombia in the U.S., February 6, 2016
Trade Agreements
Trade Agreements
Yes, Really: It's Time to Revive Hemispheric Trade Talks
Latin Trade, August 6, 2020
U.S. – Colombia Free Trade Agreement
UPDATE –
The United States-Colombia Trade Promotion Agreement – Four Years Later
ITA Blog, July 6, 2016
U.S.-Colombia Trade Agreement Website United States Trade Representative
U.S.-Colombia Trade Promotion Agreement Now in Force!
International Trade Administration Blog Post, May 15, 2012
U.S. Trade Representative Ron Kirk Statement on Entry into Force of the U.S.-Colombia Trade Agreement
Statement by U.S. Commerce Secretary John Bryson on the U.S.-Colombia Trade Promotion Agreement
Senate Finance Chair Baucus Hails Colombia FTA's Entry Into Force
House Ways and Means Leaders Camp, Brady Statements on U.S.-Colombia Trade Promotion Agreement Entry Into Force
Colombian Embassy Launches Newly Updated Website
US-Colombia Free Trade Agreement goes into effect
Export.gov
In November 2006, the United States and Colombia signed a Free Trade Agreement (also referred to as a Trade Promotion Agreement). Colombia's Congress approved the agreement in 2007.
On October 12, 2011, the US Congress passed the US – Colombia Free Trade Agreement by a vote of 262 – 167 in the House and 66 – 33 in the Senate.
U.S. – Colombia FTA:
Final Votes
House: 262 Ayes – 167 Noes
Senate: 66 Ayes – 33 Noes
California Delegation
Ayes: Berman, Bilbray, Bono Mack, Calvert, Campbell, Cardoza, Costa, Davis, Denham, Dreier, Farr, Gallegly, Herger, Hunter, Issa, Lewis, Lungren, McCarthy, McClintock, McKeon, Miller, Nunes, Rohrabacher, Royce, Feinstein
Noes: Baca, Bass, Becerra, Capps, Chu, Eshoo, Filner, Garamendi, Honda, Lee, Lofgren, Matsui, McNerney, Miller, Napolitano, Pelosi, Richardson, Roybal-Allard, Sanchez (Linda), Sanchez (Loretta), Schiff, Sherman, Speier, Stark, Thompson, Waters, Waxman, Woolsey, Boxer
Per the U.S. Department of Commerce, International Trade Administration, the U.S.-Colombia Trade Promotion Agreement offers tremendous opportunities for California's exporters. When the Agreement enters into force, 80 percent of U.S. consumer and industrial exports to Colombia, including nearly all information technology products; mining, agriculture, and construction equipment; medical and scientific equipment; auto parts; paper products; and chemicals, will be duty-free immediately. The remaining tariffs phase out over 10 years.
U.S. farmers and ranchers will also become much more competitive, benefiting from immediate duty-free treatment of 77 percent of current U.S. agriculture exports. Key U.S. agriculture exports such as cotton, wheat, soybeans, high-quality beef, apples, pears, peaches, cherries, and almonds will be duty-free upon entry into force of the Agreement. Colombia will phase out all other agricultural tariffs within 19 years.
October 2009 – Letter from Colombian Ambassador to CalChamber
CalChamber Position
The California Chamber of Commerce, in keeping with long-standing policy, enthusiastically supports free trade worldwide, expansion of international trade and investment, fair and equitable market access for California products abroad and elimination of disincentives that impede the international competitiveness of California business. New multilateral, sectoral and regional trade agreements ensure that the United States may continue to gain access to world markets, resulting in an improved economy and additional employment of Americans.
Reasons for Position
The Free Trade Agreement is a critical element of the U.S. strategy to liberalize trade through multilateral, regional and bilateral initiatives.
Bilateral and regional agreements complement the possible goal of creating a Free Trade Area of the Americas.
The FTA will increase momentum toward lowering trade barriers and set a positive example for other small economies in the Western Hemisphere.
Tourism
Tourism
Tourism in Colombia has skyrocketed over the last seven years. The number of visiting tourists has increased by 150% since 2010, reaching 6.5 million. Colombia earned $4.3 million in revenue in 2017 from the tourism industry. The number of foreign visitors increased by 28% from january through November 2017 compared to the same period in 2016. Jobs relating to tourism grew from 1.5 million in 2016 to 1.8 million in 2017. Every week there are 219 direct flights to Colombia connecting nine U.S. cities.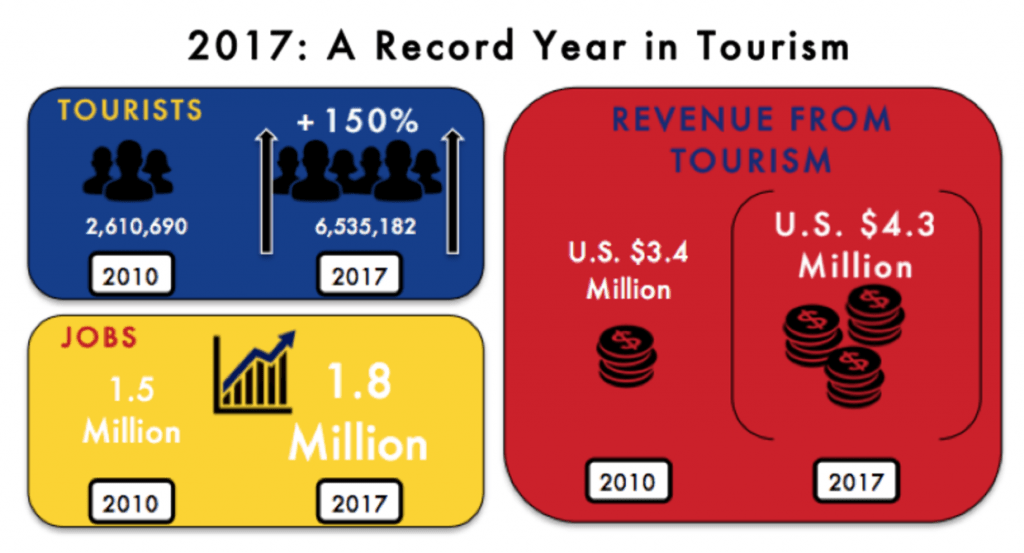 Embassy of Colombia in the United States, February 2018
Events
Events

Colombian Vice Consul Maria Melo testifies against AJR 27
(April 20, 2010) Colombian Vice Consul Maria Melo and CalChamber Vice President, Government Relations Marc Burgat testify on behalf of CalChamber against AJR 27, a California Resolution, which would impair trade between the U.S and Colombia
Profiles in Trade: Colombia Offers Growing Export Market for CalChamber Member Cange International
(April 3, 2008) Cange International Inc., a San Diego-based export management company and member of the California Chamber of Commerce, is keeping a close eye on the upcoming congressional vote on the U.S.-Colombia Trade Promotion Agreement. Alert Article
Magazine ads such as this one placed by Solid Brass, distributor for Cange International Inc., help the company market its Viking products to Colombian consumers. Photo Courtesy of Cange International Inc.
Key Country Contacts
Resources
Business
Business
Cultural