Trading Partner Portal: Brazil
Overview
Trade Overview

Geographically, Brazil is nearly as large as the United States and is home to approximately 209 million residents. Brazil is the 7th largest country in the world and the most populous in South America. It has the strongest economy in South America with a GDP of approximately $2.056 trillion. Brazil's strong sectors include manufacturing, mining and agriculture. Out of the emerging markets, Brazil was the first to recover from the 2008 financial crisis, and experienced a 7.5 percent GDP increase in 2010. Despite this recovery, growth slowed from 2011-2013, due to inflation and poor economic conditions. (World Bank, CIA Factbook)
Brazil is the United States' 9th largest export destination with $39.5 billion in exports. Two-way trade in goods between the United States and Brazil was $70.66 billion in 2018. Top imports from Brazil to the United States include primary metal manufactures, oil and gas, reimports, and transportation equipment. Top exports from the United States to Brazil include chemicals, transportation equipment, petroleum and coal, and computer products.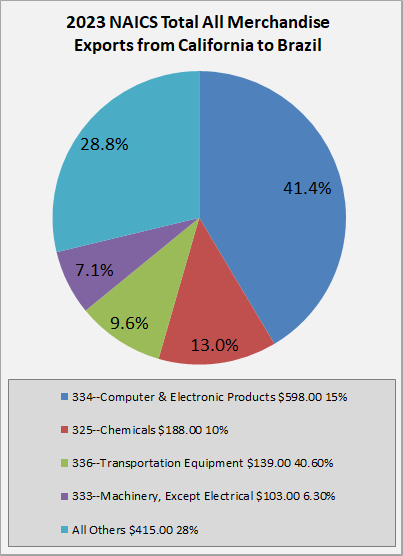 Brazil is California's 24th largest export destination. In 2018, California exported almost $1.4 billion to Brazil. This included computer and electronic products, chemicals, transportation equipment, and manufactured commodities. California imports the following from Brazil: oil and gas, primary metal manufacturing, chemicals, and food manufactures.
Preliminary Overview of the Economies of Latin America and the Caribbean
ECLAC, December 2019
Brazil: A Brilliant Opportunity for U.S. Exporters
ITA Blog, August 31, 2016
Doing Business in Brazil's Retail Sector in the Digital Age
ITA Blog, July 21, 2016
Characteristics of travelers from Brazil to California – 2013
2015 Brazil Sales and Media Mission, Monday, October 19–Friday October 23, 2015
Visit California
Trade Agreements
Trade Agreements
On March 19, 2011, President Obama and President Rousseff signed the Agreement on Trade and Economic Cooperation, to enhance cooperation on trade and investment between the Western Hemisphere's two largest economies.
Investment
Investment
In 2017, US FDI in Brazil was $68.27 billion. Brazil FDI in the United States had a negative flow of $2 billion in 2017 (BEA). However, in 2016, the ultimate beneficial owner (UBO) of Brazilian FDI in the US was $36.86 billion. (Select USA) According to the USTR, U.S. FDI in Brazil is led by the manufacturing and finance/insurance sectors and Brazil's FDI in the United States is led by the wholesale trade sector. In 2016, Brazil was the seventh fastest growing source of FDI in the U.S., supporting 74,200 jobs. Brazil invested $27 million into research and development in the U.S. Brazil also invested $5.1 billion into expanding U.S. exports. The top industry sectors in the US of Brazilian FDI are: software and IT services, financial services, food and tobacco, metals, textiles, and chemicals. SelectUSA
Brazil Beyond The Olympics: Good News For Emerging Market Investors
Forbes, August 23, 2016
"Strengthening the U.S.-Brazil Trade and Investment Partnership for the 21st Century" Remarks by Deputy U.S. Trade Representative Miriam Sapiro
Nunes Opening Statement: Hearing on U.S.-Brazil Trade and Investment Relationship: Opportunities and Challenges
Vice President Biden Discusses the 'Start of a New Era of U.S.-Brazilian Relations'
Remarks to the Press by Vice President Biden and Brazilian Vice President Temer
General Council appoints Azevêdo as next Director-General, Lamy pledges smooth transition
Joint Statement by President Obama and President Rousseff
Fact Sheet: The United States and Brazil: A Growing Partnership
Fact Sheet: The U.S.-Brazil Economic Relationship
Fact Sheet: The U.S.-Brazil Global Partnership Dialogue
Fact Sheet: U.S.-Brazil Science and Technology Cooperation
Fact Sheet: The U.S.-Brazil Strategic Energy Dialogue
Fact Sheet: U.S.-Brazil Defense Cooperation
Fact Sheet: Strengthening the U.S.-Brazil Economic Relationship
Fact Sheet: the United States and Brazil Facilitating Travel and Exchange
Related News
Key Country Contacts
Resources
Business
Cultural
Upcoming Event