Trading Partner Portal: Brazil
Overview
Interview Series Featuring California's Key Trading Partners – Featuring Consuls General of Brazil Marcia Loureiro in Los Angeles and Adalnio Senna Ganem in San Francisco – Recent Agreements Provide Framework for Ongoing Partnership in Multiple Sectors
CalChamber, April 6, 2021
Trade Overview

Geographically, Brazil is nearly as large as the United States and is home to approximately 212.5 million residents in 2020. Brazil is the 5th largest country in the world and the most populous in South America. It has one of the strongest economy in South America with a GDP of approximately $1.44 trillion. Brazil's strong sectors include manufacturing, mining and agriculture. (World Bank, CIA Factbook). Brazil is expected to join OECD in 2021, when it will become the third country in South America after Chile and Colombia to do so.
Brazil is the United States' 9th largest export destination with $46.8 billion in exports in 2021. Two-way trade in goods between the United States and Brazil was $78.16 billion in 2021 Top imports from Brazil to the United States include primary metal manufactures, oil and gas, non-electrical machinery, transportation equipment, and processed food. Top exports from the United States to Brazil include chemicals, petroleum and coal, transportation equipment, gas, and computer products.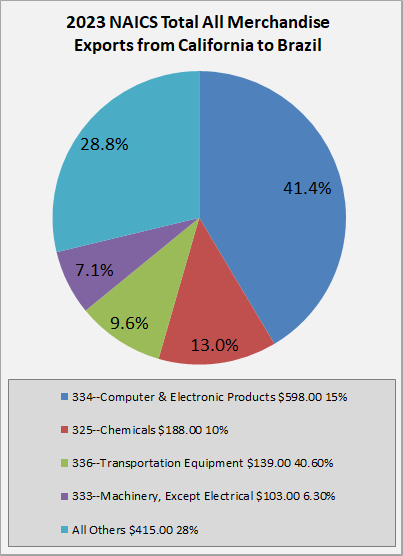 Brazil is California's 17th largest export destination. In 2021, California exported over $1.9 billion to Brazil. This included transportation equipment, computer and electronic products, chemicals, and non-electrical machinery. California imported $4.59 billion from Brazil in 2021 including the following from Brazil: oil and gas, primary metal manufactures, and processed foods.
U.S.-Brazil Relationship
The US Brazil diplomatic relationship was established nearly 200 years ago in 1822, when the U.S. was the first country to recognize Brazil's independence.
In March 2020, President Donald Trump and Brazilian President Jair Bolsonaro met in Mira Lago, Florida to set the tone for future relations. Topics include starting discussions on trade and economics including trade facilitation, good regulatory practices, e-commerce and aerospace / satellite cooperation.
Further a U.S.-Brazil CEO Forum which was originally established in 2007 was reinvigorated in November 2019. The Forum is comprised of 10 top CEOs from each country who are now meeting regularly.
Foreign Direct Investment
FDI into Brazil from the U.S. totaled $70.74 billion in 2020. Brazilian FDI into the U.S. totaled $44.6 billion the same year (by ultimate beneficial owner). Brazil was the 5th largest growing source of FDI into the U.S. in 2019.  Brazilian FDI supported 95,800 U.S. jobs in 2019, invested $37 million into research and development, and contributed a value of $5.9 billion to expanding U.S. exports. Top industry sectors for Brazilian FDI included: software & IT services, financial services, food & beverages, chemicals, business services, and communications. (Select USA)
Joint Statement from President Donald J. Trump and President Jair Bolsonaro
White House, March 7, 2020
Statement by the Press Secretary on the Meeting with President Jair Bolsonaro of Brazil
White House, March 6, 2020
Joint Communique from the U.S.-Brazil CEO Forum
U.S. Department of Commerce, November 25, 2019
Message to the Congress on Designating Brazil as a Major Non-NATO Ally
White House, May 8, 2019
Joint Statement from President Donald J. Trump and President Jair Bolsonaro
White House, March 19, 2019
Other News:
Brazilian Ministry of the Environment: Adopt-A-Park Program
February 10, 2021
A Path to Boost International Trade Between Brazil-California – Official Catalog
Brazil-California Chamber of Commerce, November 10-11, 2020
Brazil to Join OECD in a Year, Plans 'Digital Bank' IPO
Reuters, October 20, 2020
Preliminary Overview of the Economies of Latin America and the Caribbean
ECLAC, December 2019
Brazil: A Brilliant Opportunity for U.S. Exporters
ITA Blog, August 31, 2016
Doing Business in Brazil's Retail Sector in the Digital Age
ITA Blog, July 21, 2016
Characteristics of travelers from Brazil to California – 2013
2015 Brazil Sales and Media Mission, Monday, October 19–Friday October 23, 2015
Visit California
Trade Agreements
Trade Agreements
In the Fall of 2020, the U.S. and Brazil reached an agreement on an update to the 2011 Agreement on Trade and Economic Cooperation (ATEC). President Trump and Brazilian President Jair Bolsonaro had directed the two countries to work towards an agreement in March of 2020. The new agreement included a protocol on trade regulations and transparency. This included three new annexes: customs administration and trade facilitation to reduce bureaucracy in foreign trade; good regulatory practices for the convergence of rules; and anti-corruption measures. (Brazil-U.S. Business Council, U.S. Chamber)
The negotiations also established two new economic partnerships. The first is a memorandum of understanding between the Brazilian Ministry of Economy and the Export–Import Bank of the United States (EXIM), and the second is involves the U.S. International Development Finance Corporation (DFC), which announced a commitment to invest USD 425 million in two projects in Brazil. (Brazil-U.S. Business Council, U.S. Chamber)
Yes, Really: It's Time to Revive Hemispheric Trade Talks
Latin Trade, August 6, 2020
Brazil – U.S. Joint Statement on Enhancement of Bilateral Economic and Trade Partnership
U.S. Trade Representative, April 17, 2020
On March 19, 2011, President Obama and President Rousseff signed the Agreement on Trade and Economic Cooperation, to enhance cooperation on trade and investment between the Western Hemisphere's two largest economies.
Investment
Investment
In 2018, US FDI in Brazil was $70.8 billion. Brazil FDI in the United States had a negative was $39 billion in 2018 (BEA). According to the USTR, U.S. FDI in Brazil is led by the manufacturing and finance/insurance sectors and Brazil's FDI in the United States is led by the wholesale trade sector. In 2017, Brazil FDI in the U.S. supported 85,400 jobs. Brazil invested $17 million into research and development in the U.S. Brazil also invested $4.4 billion into expanding U.S. exports. The top industry sectors in the US of Brazilian FDI are: software and IT services, financial services, food and beverages, textiles, chemicals, and metals. SelectUSA
Brazil Beyond The Olympics: Good News For Emerging Market Investors
Forbes, August 23, 2016
"Strengthening the U.S.-Brazil Trade and Investment Partnership for the 21st Century" Remarks by Deputy U.S. Trade Representative Miriam Sapiro
Nunes Opening Statement: Hearing on U.S.-Brazil Trade and Investment Relationship: Opportunities and Challenges
Vice President Biden Discusses the 'Start of a New Era of U.S.-Brazilian Relations'
Remarks to the Press by Vice President Biden and Brazilian Vice President Temer
General Council appoints Azevêdo as next Director-General, Lamy pledges smooth transition
Joint Statement by President Obama and President Rousseff
Fact Sheet: The United States and Brazil: A Growing Partnership
Fact Sheet: The U.S.-Brazil Economic Relationship
Fact Sheet: The U.S.-Brazil Global Partnership Dialogue
Fact Sheet: U.S.-Brazil Science and Technology Cooperation
Fact Sheet: The U.S.-Brazil Strategic Energy Dialogue
Fact Sheet: U.S.-Brazil Defense Cooperation
Fact Sheet: Strengthening the U.S.-Brazil Economic Relationship
Fact Sheet: the United States and Brazil Facilitating Travel and Exchange
Related News
Key Country Contacts
Resources
Business
Cultural