Trading Partner Portal: Belarus
Overview
Trade Overview

In Geneva in March 2022, the U.S., the EU and more than a dozen other World Trade Organization members issued a joint statement condemning Belarus' support for Russia's war in Ukraine and affirmed their intent to block its bid to join the WTO. "We have concluded that Belarus is unfit for WTO membership. We will not further consider its application for accession," the members said.
The Republic of Belarus is a landlocked country in Eastern Europe bordered by Russia to the Northeast, Ukraine to the South, Poland to the West, and Lithuania and Latvia to the Northwest. The population of Belarus is almost 9.5 million. Over 40% of the country is forested. Belarus' major economic sectors are service industries and manufacturing. Belarus declared independence in 1991, following the dissolution of the Soviet Union. Belarus is a member of the United Nations and the Eurasian Economic Union. The country is not apart of the EU, however it does maintain a bilateral relationship with the organization.
Diplomatic relations between the U.S. and Belarus were established just over 25 years ago. The U.S. has provided nearly $250 million of assistance to Belarus since 1991 to support the development of a more democratic society and a more prosperous economy. Over the years, thousands of Belarusians have come to the United States on academic and professional exchange programs.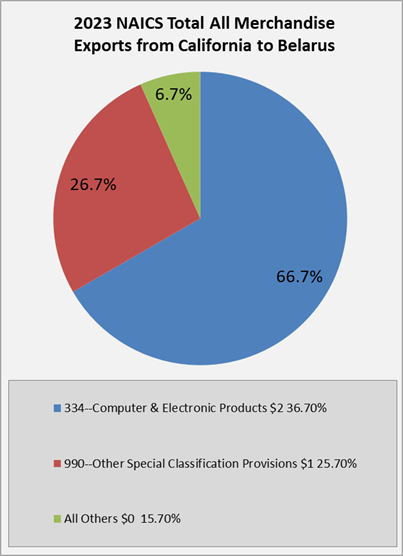 The U.S. exported $112 million worth of goods to Belarus in 2020. Top exports were computer and electronic products (24.9%), machinery, except electrical (19.2%), electrical equipment, appliances, transportation equipment (14.1%), and oil and gas (11.6%). Imports from Belarus to the U.S. totaled $333 million in 2020. This was mostly made up of chemicals, petroleum and coal products, reimports, and primary metal manufactures.
According to the U.S. BEA, Belarus invested $4 million into the U.S. in 2019.
California exported $14.6 million worth of goods to Belarus in 2020. Computer and electronic products made up over 36% of the total, followed by transportation equipment, used or secondhand merchandise, and chemicals. California imported $30.9 million worth of goods to Belarus in 2020, just over 75.6% of the total was reimports, followed by, primary metal manufactures, textiles and furniture.
U.S.-Belarus Economic Cooperation, Belarus Embassy in the United States, February 2018
Trade Agreements
Trade Agreements and Issues
Events
Events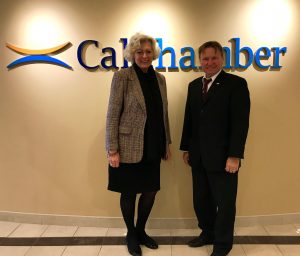 On February 15, 2018 Susanne Stirling, Vice President of International AFfairs at the CalChamber, met with Dr. Florin Ciuriuc a Sacramento Slavic-American Community Leader. Dr. Ciuriuc is the Executive Director of the Slavic Community Center in Sacramento and a Human Rights Advocate. Dr. Ciuriuc is set to become the Honorary Consul of Belarus in Sacramento.
He can be contacted at slaviccommunitycenter@yahoo.com.
Key Country Contacts
Resources
Business
Business
Cultural
Cultural/Educational