Trading Partner Portal: Armenia
Overview
Trade Overview

Armenia is a democratic nation-state – bordered by Turkey to the west, Georgia to the north, and Iran to the south – that has an ancient cultural heritage. The modern Republic of Armenia became independent in 1991 during the dissolution of the Soviet Union. Today, Armenia is a member of the Eurasian Economic Union, Council of Europe, and the Collective Security Treaty Organization.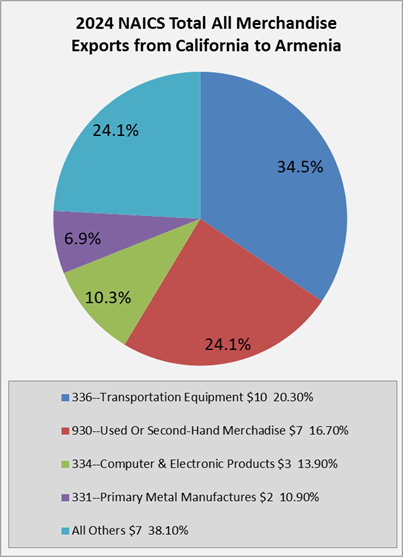 Armenia ranks 32nd on the 2021 Economic Freedom Index ahead of countries like France, Portugal and Italy. The Velvet Revolution which took place in 2018 brought full democracy to Armenia and a new interest in trade and investment. The Armenian government has been working closely with the Overseas Private Investment Corporation (OPIC) with interest in the high tech and electronics sectors, as well as agriculture, food processing, and textiles.
Armenia's population was approximately 2.79 million in 2021. There are 8 million Armenians that live abroad, including 1.5 million in the U.S., with 700,000 Armenians in California alone. Armenian GDP in 2021 was $13.86 billion.
U.S. exports to Armenia totaled $193 million in 2022. $88 million of the total was made up of transportation equipment, this was followed by computer and electronic products at $44 million, chemicals at $13 million, and used or secondhand merchandise at $11 million. Imports from Armenia to the U.S. in 2022 totaled $81 million. Of this, $37 million was made up of miscellaneous manufactured commodities, followed by beverage and tobacco, electric equipment, and apparel and accessories. (Trade Stats Express)
U.S. foreign direct investment (FDI) into Armenia in 2021 totaled $6 million. (Bureau of Economic Analysis)
Trade with California
California exports to Armenia in 2022 totaled $39 million. Exports were made up of $14 million of transportation equipment, followed by miscellaneous manufactured commodities, computers and electronic products, and used or secondhand merchandise. California was the top exporting state to Armenia in 2021. (Trade Stats Express)
Imports from Armenia into California totaled $42 million in 2022. $20 million of imports were made up of miscellaneous manufactured commodities, followed by $10 million of beverage and tobacco products, and $5 million of electrical equipment. California was also the largest importing state of Armenian exports. (Trade Stats Express)
California Partners with Impact Hub Yerevan on Trade and Services Desk
Governor's Office of Business and Economic Development, June 1, 2021
Events
Events
On July 8, 2019, CalChamber Vice President of International Affairs, Susanne Stirling, met with Consul General of Armenia in Los Angeles, Ambassador Armen Baibourtian, at the CalChamber offices in Sacramento.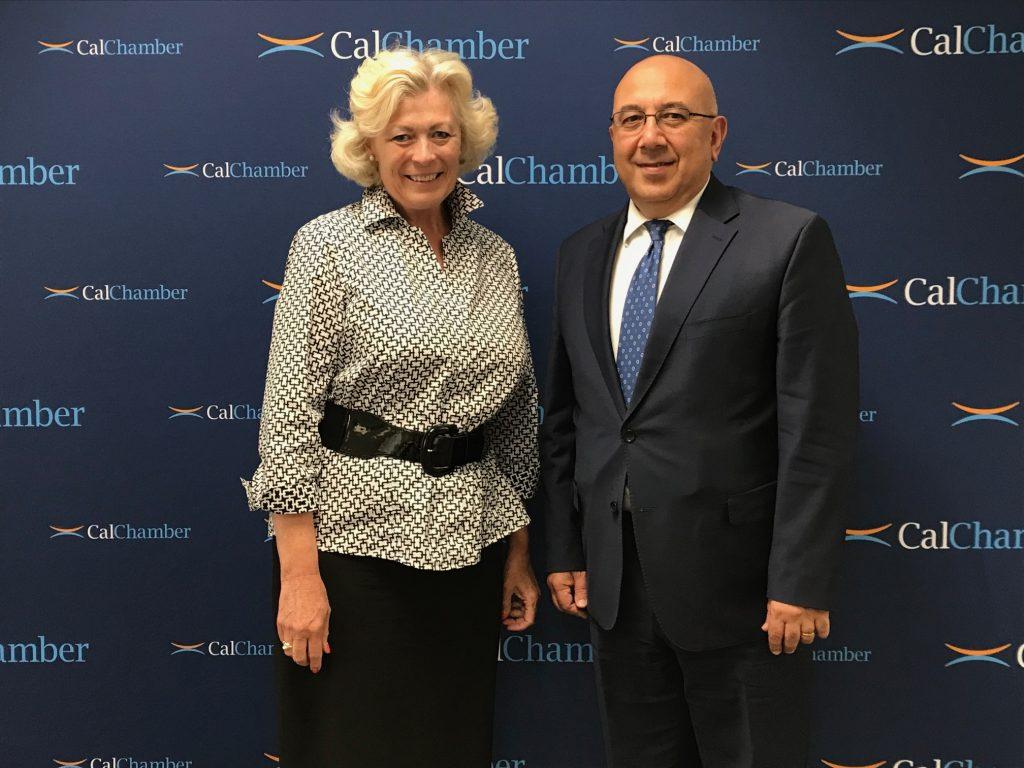 Key Country Contacts
Resources
Business
Cultural
Cultural/Educational