Trading Partner Portal: Argentina
Overview
Trade Overview

With Buenos Aires as its capital and over 45.8 million citizens, Argentina is the second largest country in South America. It is the eighth largest country in the world and is roughly the size of the U.S. east of the Mississippi River. In 2021, Argentina's GDP was back above pre-pandemic levels totaling $487.2 billion, from $445 billion in 2019. U.S. Department of State, World Bank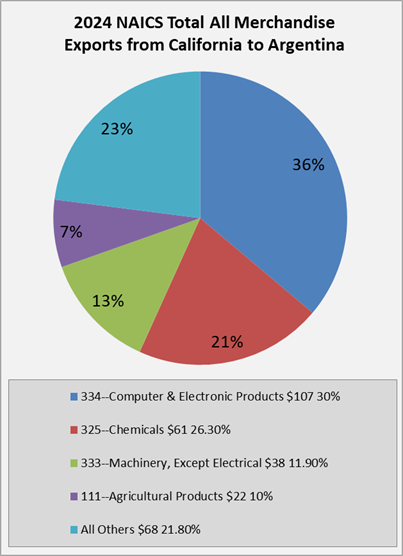 In 2022, the United States exported approximately $12.8 billion to Argentina, making it the U.S.'s 30th largest export destination. Top exports included petroleum & coal products ($3.3 billion), chemicals ($3.2 billion), computer and electronic products ($1.6 billion), non-electrical machinery ($1 billion), and oil and gas ($1 billion). That same year, the United States imported $6.9 billion from Argentina. This included primary metal ($1.5 billion), oil and gas ($1.5 billion), processed foods ($849 million), and chemicals ($600 million). U.S. Department of Commerce
As California's 49th largest export destination in 2022, Argentina imported $284 million worth of goods. These California exports included computer and electronic products ($78 million), chemicals ($76 million), non-electrical machinery ($39 million), and miscellaneous manufactured goods ($20 million). U.S. Department of Commerce
Argentine FDI into the U.S. totaled $9.3 billion in 2021, while US FDI into Argentina totaled $12.5 billion the same year. Argentina was the seventh fasted growing source of FDI in the US in 2021. Argentina supported about 2,700 jobs in the U.S in 2020. The top six industry sectors of FDI into the US were: software and IT services, communications, business services, food and beverages, transportation and financial services. SelectUSA
Update:
Yes, Really: It's Time to Revive Hemispheric Trade Talks
Latin Trade, August 6, 2020
Preliminary Overview of the Economies of Latin America and the Caribbean
ECLAC, December 2019
Argentina, Once Shunned, Regains Its Allure Wall Street Journal May 27, 2015
World Trade Organization (WTO) Case
On August 21, 2012 the U.S. Trade Representative Ron Kirk formally requested consultations with the Government of Argentina under the dispute settlement provisions of the World Trade Organization (WTO)
Consultations are the first step in the WTO dispute settlement process. Under WTO rules, if the matter is not resolved through consultations within 60 days, the United States may request the establishment of a WTO dispute settlement panel. See a copy of the U.S. consultation request here
Japan also requested WTO consultations with Argentina on this matter today, and the European Union requested consultations in May of this year.Mexico has launched its first dispute against Argentina at the World Trade Organization, accusing it of protectionism, a move that follows similar complaints by the European Union, United States and Japan.
US companies value the trading relationship with Argentina and are desirous of creating jobs and growth. Current Argentine government trade policy does create an obstacle, however, pending WTO consultations should promote dialogue to improve the relationship. See a summary of the dispute settlement here
Obama Declares a New Partnership After Talks With Argentine Leader
President Obama on March 23, 2016 declared a fresh era of partnership between the United States and Argentina, saying he stood ready to support Mauricio Macri, the country's new president, in his bid to improve the nation's economy and credibility on the world stage.
Remarks by President Obama and President Macri of Argentina at Parque de la Memoria
White House, March 24, 2016
FACT SHEET: United States – Argentina Relationship
White House, March 24, 2016
United States and Argentina Sign Trade and Investment Framework Agreement
USTR, March 23, 2016
Santa Fe Province
Santa Fe Province and the State of California
California and Santa Fe have an ongoing reciprocal exchange program, which began in 2004 between the California Senate International Relations Foundation and the Fundación Nueva Generación Argentina (FNGA). The goal is to increase political and economic ties, as well as discuss specific public policy issues including sustainable energy, port security and goods movement, and public safety.
Atop-level delegation from Santa Fe Province visited California in August 2012. Santa Fe Lieutenant Governor Henn led the delegation and was accompanied by government officials and major business and trade representatives.
Of the 23 provinces in Argentina, the Santa Fe Province has one of the most important economies in the country, accounting for nearly 10 percent of the nation's output.More than 20 percent of the cultivated lands of Argentina are in Santa Fe, whose main crops include soybeans, sunflowers, maize, wheat and rice. Strawberries, honey and cotton are also produced. In addition, 20 percent of the nation's livestock in meat and dairy are in the province.
Santa Fe is located inland northeast of Buenos Aires. The main river and connection to the Atlantic Ocean is the Parana River—one of the largest in the world. Manufacturing is also important in Santa Fe, with mills, refineries and steel production.The main city and capital of Santa Fe is Rosario, with a population of more than3 million.
In addition to Santa Fe's lieutenant governor and key senators, the delegation was very interested in establishing private sector contacts. The Nueva Generacion Argentina Foundation, founded in 1990 in Rosario, has been researching and fighting for strengthening and consolidating democracy and the institutions of the republic, spreading the culture of democracy as a value and principle to improve the population's welfare and quality of life. The FNGA is a nonprofit, independent and nonpartisan organization.
The Foundation has a strong international vision and is working to form a special relationship with Californians interested in exchanges in the academic, commercial, cultural and sporting areas. In particular, there is interest in strengthening commercial exchanges.

Visit www.fnga.org.ar
Misión Argentina-California 2012
The Rosario Stock Exchange was also represented on the mission. The Exchange is a civil, nonprofit organization founded in 1884 with the aim of promoting legitimate transactions, such as trading of grains, oil seeds and other agricultural products and byproducts, as well as, bonds, stock, certificates and other marketable securities, services and goods. Visit: www.bcr.com.ar
Events
Recent Events
Santa Fe Delegation Meets with CalChamber Representatives
(August 15, 2012) CalChamber representatives, as well as several members of the California Legislature, met with a delegation led by Lt. Governor Jorge Henn, of Santa Fe, Argentina. Full Story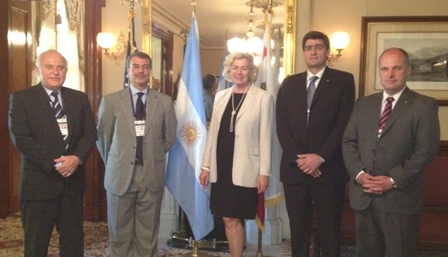 Key Country Contacts
Resources
CalChamber Resources
Business
Business
Cultural