Trading Partner Portal: Peru
Overview
Trade Overview

Total trade in 2022 between Peru and the United States was nearly $22.35 billion. The United States exported $13.7 billion worth of goods to Peru, with petroleum and coal products being the top export at a value of $6 billion. Since 2009, US exports to Peru have nearly doubled.  U.S. Department of Commerce
According to the U.S. Department of Commerce, in 2022, California exported $711 million to Peru, making it our state's 33rd largest export destination. Top exports to Peru included petroleum and coal products, waste and scrap, computers and electronic products, and processed foods. imports from Peru to California totaled $930 million in 2022. Top imports were agricultural products and processed foods.
Peruvian FDI into the U.S. totaled $510 million in 2021, while in the same year U.S. FDI into Peru totaled $7.54 billion (Bureau of Economic Analysis). Peruvian FDI into the U.S. supported 200 U.S. workers employed by Peruvian owned firms (Select USA). The top six industry sectors for Peruvian FDI into the US were food and beverages, business services, communications, healthcare, textiles, and coal/oil/gas (Select USA).
Peru is the third largest country in South America and is approximately three times the size of California. It is the fifth most populous country in Latin America (after Brazil, Mexico, Colombia, and Argentina) with 33.7 million residents, and has a GDP of $223 billion (The World Bank). The President of Peru is popularly elected for a five-year term. A constitutional amendment passed in 2000 which prevents reelection. The legislative branch consists of a unicameral Congress of 120 members.
Peru's economy is one of the most dynamic in Latin America, showing particularly strong growth over the past few years. During the 1990s, Peru was transformed by market oriented economic reforms and privatizations. From 1994-1997, the economy recorded robust growth driven by foreign direct investment, but stagnated from 1998 through 2001. Upon taking office in 2001, Peruvian President Alejandro Toledo maintained largely orthodox economic policies, and took measures to attract investment. Recent economic expansion has been driven by construction, mining, investment (most significantly in the Camisea natural gas project), domestic demand, and exports.
Trade Agreements
Trade Agreements
Yes, Really: It's Time to Revive Hemispheric Trade Talks
Latin Trade, August 6, 2020
Memorandum of understanding for the strengthening of cooperation between Peru and California
(February 26, 2014) California and Peru have pledged to work together on issues of mutual concern, including trade, science and initiatives to combat climate change," said Governor Brown.
"This is a historic step in the dynamic and prosperous bilateral relationship between Peru and the state of California — one of the strongest markets in the world," Ambassador Forsyth said. "The agreement is a model of cooperation, trade liberalization and investment promotion between the North and South. The peoples of California and Peru will be the direct beneficiaries and that will help create stronger bridges between our countries."
California and Peru sign agreement to strengthen economic, environmental ties Governor's Office, February 26, 2014
U.S. – Peru Trade Promotion Agreement
On April 12, 2006, Trade Representative Rob Portman and Peruvian Minister of Foreign Trade, Alfredo Ferrero Diez Canseco, signed the U.S.-Peru Trade Promotion Agreement in a ceremony at the Organization of American States.
In June 2006 the Peruvian Congress overwhelmingly approved the agreement by a vote of 79-14 with six abstentions. The TPA was approved by the U.S. Congress on November 8, 2007 by a vote of 285-132. The TPA was approved by the U.S. Senate on December 4, 2007 by a vote of 77-18. Both the U.S. and Peruvian Presidents have signed the TPA.
For more information, please see
CalChamber's Trade Issues Page: U.S. – Peru Trade Promotion Agreement
Andean Trade Preference Act Extension
In December 2009, President Obama signed legislation to extend the Andean Trade Preference Act (ATPA).
ATPA ensures that products from several trading partners in South America continue to enter the United States duty-free.  With this extension, the US is committed to continue economic growth in our hemisphere with a global system based on free and open trade. Congress extended the ATPA, ensuring duty-free access to the U.S. market for trading partners in South America, including Colombia and Peru.
The ATPA also allows for suspending trade preferences with countries that do not live up their promises.  Unfortunately, Bolivia has failed to cooperate with the United States on important efforts to fight drug trafficking, so President Bush proposed to suspend Bolivia's trade preferences until it fulfills its obligations.
Events
Events
CalChamber Hosts Eduardo Ferrero, Ambassador of Peru to the United States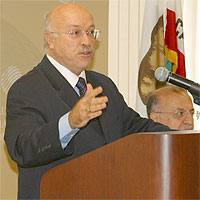 (June 14, 2006) The California Chamber of Commerce hosted the Honorable Eduardo Ferrero, Ambassador of Peru to the United States, at an international luncheon yesterday to discuss the future of California trade in Latin America and the pending U.S.-Peru Free Trade Agreement (FTA).
Chamber-Supported U.S. – Peru FTA Pending Before Congress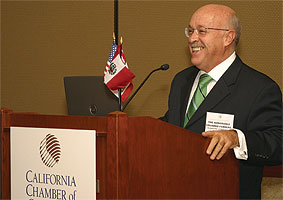 (March 3, 2006) Eduardo Ferrero, ambassador of Peru to the United States, describes the mutual benefits that will accrue to both nations upon the adoption of a free trade agreement at a February 24 international breakfast hosted by the California Chamber of Commerce. California is the third largest exporter of products to Peru among the United States, about $104.3 million annually. Los Angeles represents $70.9 million of that total, Ferrero said.
Key Country Contacts
Resources
Business
Cultural
Cultural/Educational