CalChamber Legal Affairs Staff: Bianca N. Saad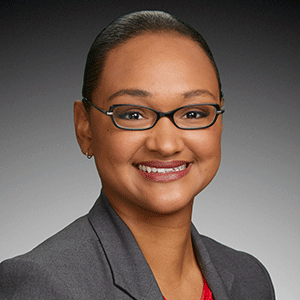 Bianca N. Saad
General Counsel, Labor and Employment
Bianca Saad, a member of the CalChamber legal affairs team since April 2018, was named general counsel, labor and employment in October 2023.
Since mid-November 2021, she has been developing and leading the content and training strategy for existing and emerging products and training, as well as overseeing CalChamber associate general counsel and subject matter experts.
She serves as a co-presenter for CalChamber compliance seminars and webinars.
Before her promotion to leading content and training strategy, Saad oversaw CalChamber coverage of the ever-expanding area of employment-related local ordinances.
She brought to the CalChamber legal affairs team the perspective of an employee representative, coming from nearly eight years in private practice as an employment litigation attorney. She has represented plaintiff workers in various types of employment cases, including unlawful discrimination, harassment, retaliation, whistleblower claims, and wage and hour disputes. She represented her clients in administrative agency matters and arbitration and through all phases of litigation, including depositions and other discovery, settlement negotiations, mediation and jury trials, facing both private and public employers. Her experience includes five years as a senior associate/litigation attorney with a boutique employment litigation firm in Sacramento.
Saad also has volunteered as an assistant district attorney for the District Attorney's Office in San Francisco.
She graduated with honors from the University of Miami with a B.B.A. in business management. She earned her J.D. from California Western School of Law.
Related News
Legal Affairs
The Legal Affairs Department reviews and participates in court cases having a broad impact on California's economy and business climate.