Trading Partner Portal: Hong Kong
Overview
Trade Overview

The United States has substantial economic ties with Hong Kong. In August 2020, the U.S. State Department reported that there are some 1,300 U.S. firms  and approximately 85,000 U.S. residents in Hong Kong. The latest available figures on U.S. direct investment in Hong Kong show investment at about $86.8 billion, making the United States one of Hong Kong's largest investors.
In 2022, U.S. exports to Hong Kong totaled $25.85 billion. Top exports were computer and electronic products at $11.58 billion of the total, followed by miscellaneous manufactured commodities, chemicals, and primary metal manufactures. Imports from Hong Kong to the U.S. totaled $4.8 billion in 2022. Imports consisted largely of reimports, miscellaneous manufactured commodities, and computer products.
Hong Kong was the 10th largest export destination for California in 2022 which exported approximately $5.55 billion in goods to Hong Kong. The top category of California exports to Hong Kong was computer and electronic products, totaling $3.4 billion. Miscellaneous manufactured commodities, processed foods, and agricultural products were the other top California export categories to Hong Kong.
There are 98,000 Hong Kongers that call California home, which make up 51% of all Hong Kong immigrants within the U.S. There are 1,000 students from Hong Kong studying in California universities each year. In 2017, 62,000 Hong Kongers traveled to California as a tourist destination, which accounted for 42% of all Hong Kong tourists to the U.S. Per capita, Hong Kong is the largest importer of California goods. Hong Kong is the third largest importer of U.S. wine exports internationally and the largest Asian importer of wine. (LAEDC and HKTDC)
In 2021, total FDI stock in the US from Hong Kong totaled $16.6 billion, while U.S. FDI into Hong Kong totaled $86.8 billion. In 2020, Hong Kong FDI in the US supported 38,900 jobs and invested $683 million in research and development and another $1.5 billion in expanding US exports. The top industry sectors for Hong Kong FDI in the US were: industrial equipment, software and IT services, communications, food and beverages, business services, and financial services. Select USA
In California, the twenty-second largest source of FDI through foreign-owned enterprises (FOEs) is Hong Kong. In 2021, Hong Kong FOEs in California provided 4,974 jobs through 212 firms amounting to $590 million in wages. The top jobs by sector are: wholesale trade, leisure/hospitality, manufacturing, retail trade and information (World Trade Center Los Angeles FDI Report).
AP Interview: US Firms in Hong Kong Face Risks, Says AmCham
AP, July 19, 2021
AmCham Statement on Business Environment in Hong Kong
AmCham Hong Kong, July 16, 2021
Issuance of a Hong Kong Business Advisory
U.S. Department of State, July 16, 2021
PRC National People's Congress Proposal on Hong Kong National Security Legislation
U.S. Department of State, May 27, 2020
U.S. Department of Commerce
US Census Bureau Trade in Goods – Hong Kong
WTO Trade Review 2014 – Hong Kong
Characteristics of travelers from Hong Kong to California – 2013
Visit California
U.S. – Hong Kong Wine Agreement
Commerce Secretary Gary Locke Signs Agreement Promoting U.S. Wines in Hong Kong and AsiaMay 17, 2010
California vintners thirsty for a taste of China's booming wine marketLos Angeles Times, May 25, 2010
World Competitiveness Yearbook 2013 names Hong Kong as the third most competitive economy, after the USA and Switzerland. The Yearbook, ranks the ability of economies across the world to create and maintain an environment that sustains the competitiveness of enterprises therein. The report selected 59 economies for ranking.
Events
Events
On Tuesday, February 4, 2020 the CalChamber hosted the Hong Kong Economic and Trade Office Commissioner Eddie Mak for a meeting in Sacramento.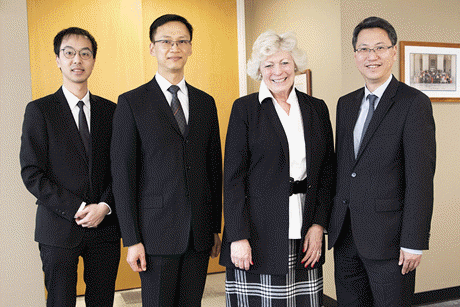 Hong Kong-California Ties Subject of Recent Meeting at CalChamber, March 17, 2017
Trade, investment and innovation were topics of discussion on March 14 when representatives of the Hong Kong Economic and Trade Office stopped by the California Chamber of Commerce.
Hong Kong Commissioner Speaks on Trade Opportunities for California Business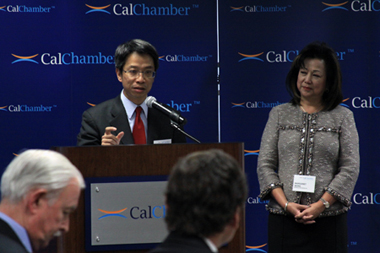 The Hong Kong commissioner to the United States, Clement C. M. Leung, JP, highlighted the numerous trade opportunities and advantages Hong Kong offers to California businesses at a California Chamber of Commerce international luncheon forum on February 6, 2014.
The event was attended by Assembly members Travis Allen (R-Huntington Beach), Brian Jones (R-Santee), and Sebastian Ridley-Thomas (D-Los Angeles); representatives from the Governor's Office of Business and Economic Development (GO-Biz); and representatives from the U.S. Department of Commerce and U.S. Commercial Service.
Leung introduced Hong Kong as a "place where the East meets the West," a launching pad both for U.S. businesses looking to enter the Asia market and for Chinese enterprises, which are venturing out onto the global stage.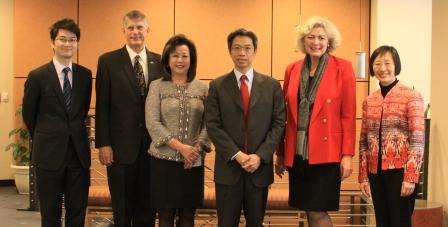 International Luncheon Forum: US/CA – Hong Kong Relations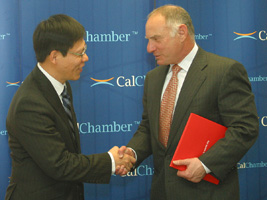 Donald Tong, Hong Kong commissioner and CalChamber President Allan Zaremberg.
(February 23, 2010) Despite the recent global recession, Hong Kong has turned doldrums into opportunities by making duty-free wine a key catalyst for economic prosperity, Hong Kong Commissioner Donald Tong said yesterday.
Tong spoke at a Sacramento international luncheon forum hosted by the California Chamber of Commerce and the Hong Kong Economic and Trade Office in San Francisco. He discussed how Hong Kong, a special administrative region of the People's Republic of China, has managed to preserve its commitment to free market principles and competitive spirit while dealing with the slow economy.
In 2008, Hong Kong removed duty off wine, making it the first duty-free wine port among major economies.
"Removal of wine duties certainly helps encourage more locals and tourists to drink in Hong Kong, but this measure was introduced with a much bigger objective in mind: The development of Hong Kong into a hub for wine-related business," Tong said.
Key Country Contacts
Resources
CalChamber Resources
Business
Business
Cultural
Cultural/Educational