2017 Job Killers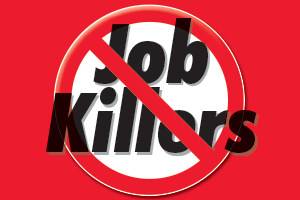 The California Chamber of Commerce has identified six job killer bills that would have a negative impact on California's economy if they become law. CalChamber will release the full list of job killer bills in the spring.
Job Killers Overview & Top Stories
Sample letters to legislators are available at www.calchambervotes.com.
The list of 2017 job killer bills follows:
Arbitration Discrimination
SB 33 (Dodd; D-Napa) Discrimination Against Arbitration Agreements — Unfairly discriminates against arbitration agreements contained in contracts for goods and services and is likely preempted by the Federal Arbitration Act, which will lead to confusion and litigation, by prohibiting any mandatory arbitration agreement that requires an individual to waive any claims for fraud, identity theft, or wrongful use of personal identifying information.
Affordable Housing Barriers
AB 199 (Chu; D -San Jose) Prevailing Wage on All Development Projects — Increases housing costs and discourages development by imposing prevailing wage on all development projects (private and public).
Increased Labor Costs
AB 5 (Gonzalez Fletcher; D-San Diego) Unfair Scheduling Mandate — Burdens small and large employers with a scheduling mandate that requires employers to offer additional hours of work to employees before hiring a new employee or contractor and exposes employers to multiple threats of costly litigation for technical violations that do not cause an employee any harm.
SB 62 (Jackson; D-Santa Barbara) Significant Expansion of California Family Rights Act — Increases costs, risk of litigation and creates less conformity with federal law by expanding the family members for whom leave may be taken, which will provide a potential 24-week protected leave of absence for employers to administer.
SB 63 (Jackson; D-Santa Barbara) Imposes New Maternity and Paternity Leave Mandate — Unduly burdens and increases costs of small employers with as few as 20 employees by requiring 12 weeks of protected employee leave for child bonding and exposes them to the threat of costly litigation.
Increased Unnecessary Litigation Costs
SB 49 (De León; D-Los Angeles) Creates Uncertainty and Increases Potential Litigation Regarding Environmental Standards — Creates uncertainty for businesses with respect to the federal environmental standards proposed to be incorporated into California law if backsliding occurs at the federal level in the future, and increases the potential for costly litigation by creating private rights of action under California law when certain events occur.