Trade Statistics
California is one of the 10 largest economies in the world with a gross state product of over $2 trillion. International trade and investment is a major part of our economic engine that broadly benefits businesses, communities, consumers and state government.  California's economy is diverse, and the state's prosperity is tied to exports and imports of both goods and services by California-based companies, to exports and imports through California's transportation gateways, and to movement of human and capital resources.
Although trade is a nationally determined policy issue, its impact on California is immense. In 2015, California exported to 229 foreign markets. Trade offers the opportunity to expand the role of California's exports. In its broadest terms, trade can literally feed the world and raise the living standards of those around us.
2015 Trade Statistics are available
through the International Trade Administration's
"Trade Stats Express."
In 2015, California exported $165.4 billion to 229 foreign economies.
California's top export markets are
Mexico, Canada, China, Japan and Hong Kong.
International Activities
Global Trade Facts
WTO publishes its annual suite of trade and tariff data
To mark the 20th anniversary of the WTO, International Trade Statistics 2015 looks back at world trade from 1995 to the end of 2014. The publication features a variety of charts to highlight the most noteworthy trends in world trade over the past 20 years. Numerous tables provide more detailed data while a chapter on methodology explains how the data are compiled.
World Trade Organization, October 29, 2015
WTO Updates Statistic Database for 2014
World Trade Organization, July 30, 2015
Now includes revised data for 2014 on global exports and imports of goods and on trade in commercial services. More extensive data on trade in goods, with further breakdowns, will be made available by 1 September.
Trade growth to remain subdued in 2016 as uncertainties weigh on global demand
World Trade Organization, April 7, 2016
Statement from U.S. Secretary of Commerce Penny Pritzker on International Trade in Goods and Services in 2015
U.S. Department of Commerce, February 5, 2016
Jobs Attributable to Foreign Direct Investment in the United States
U.S. Department of Commerce, February 2016
Commerce Department Releases Reports Ranking Top Export Markets
U.S. Department of Commerce, May 24, 2016
U.S. Exports Support a Record 11.7 Million Jobs in 2014
U.S. Department of Commerce, March 4, 2015
According to the April 2016 World Trade Organization (WTO) report, world trade growth (GDP) grew slightly to 2.8%, up from 2.1% in 2012 and a sharp deceleration from the 2010 rebound of 13.8%. Growth is forecasted to remain at 2.8% in 2016 and to grow to 3.6% 4.0% in 2017. The slow pace of growth in the past few years was attributed to prolonged sluggish growth in GDP following the financial crisis
"Trade is still registering positive growth, albeit at a disappointing rate," WTO Director-General Roberto Azevêdo said. "This will be the fifth consecutive year of trade growth below 3%. Moreover, while the volume of global trade is growing, its value has fallen because of shifting exchange rates and falls in commodity prices. This could undermine fragile economic growth in vulnerable developing countries. There remains as well the threat of creeping protectionism as many governments continue to apply trade restrictions and the stock of these barriers continues to grow."
"However, we should keep these figures in perspective. WTO Members can take a number steps to use trade to lift global economic growth — from rolling back trade restrictive measures, to implementing the WTO Trade Facilitation Agreement. This Agreement will dramatically cut trade costs around the world, thereby potentially boosting trade by up to $1 trillion a year," Azevêdo added. "More can also be done to address remaining tariff and non-tariff barriers on exports of agricultural and manufactured goods."
WTO economists cautioned that preliminary trade figures for 2015 and forecasts for 2016 were difficult to gauge due to the extraordinary levels of volatility in financial markets and in the broader economy for the last few years.
U.S. Trade Facts
According to the World Bank, the United States is the world's largest economy with a GDP of $17.4 trillion.
The largest export markets for U.S. goods in 2015 were Canada ($280 billion, down 10.4 percent), Mexico ($236.4 billion, down 1.6 percent), China ($116.2 billion, down 6.1 percent), and Japan ($62.5 billion, down 6.5 percent).
Annual Summary for 2014
Source: Bureau of Economic Analysis – http://www.bea.gov/newsreleases/international/trade/tradnewsrelease.htm
According to a March 2015 study by Tripadvisor, the U.S. is the most popular destination for world travelers for 2015.
California Trade Facts
U.S. Department of Commerce reported that, in 2015, California exports amounted to  $165.4 billion. This is a decrease from the 2014 total of $173.8 billion. California maintained its perennial position as a top exporting state.
Exports from California accounted for 11 percent of total U.S. exports in 2015. California's top export destinations are Mexico, Canada, China, Japan and Hong Kong. California trade and exports translate into high-paying jobs for over one million Californians.
Top Export Sectors
California is a top exporter in the nation of computers, electronic products, and sales of food and kindred products. Computers and electronic products are California's top export, accounting for 26.1 percent of all the state's exports.
According to a study​ conducted by Tech America in February 2014, California is the second largest tech exporting state after Texas.
Other top categories included transportation equipment, machinery, except electrical, and misc. manufactured commodities.
According to a study conducted by the U.S. Bureau of Economic Analysis and the National Endowment for the Arts using 2011 data, creative industries led by Hollywood employ 2 million people and add about $504 billion to the U.S. GDP.
Hollywood, Creative Industries Add $504 Billion to U.S. GDP
Associated Press, December 5, 2013​
Mexico
Mexico continues to be California's number one export market. California exports to Mexico increased to $26.8 billion in 2015. Mexico purchases 16.2 percent of all California exports.
California's exports to Mexico are driven by computers and electronic products, which account for 25.1 percent of all California exports to Mexico. Other top categories included transportation equipment, machinery, except electrical, and chemicals.
Canada
Canada is California's second largest export market, purchasing 10.2 percent of all California exports. In 2015, California exported over $16.9 billion to Canada.
Computers and electronic products remained California's largest exports, accounting for 31.8 percent of all California exports to Canada.
Asia-Pacific
California is the largest exporting state to Asia. In 2015, California exported $67.5 billion in goods to the region.
Greater China
California exports to Mainland China totaled $14.4 billion in 2015. Computers and electronic products accounted for 33.9 percent of exports to China.
Exports to Hong Kong were $8.8 billion in 2015, moving Hong Kong up to California's number 5 export destination, surpassing South Korea.
Japan
California exports to Japan totaled $11.7 billion in 2015. Computers and electronic products accounted for 20.5 percent of total exports.
European Union
California exports to the European Union (28) totaled $29.2 billion in 2015. California is the top exporting state to Europe. Computers, electronic products, chemicals, miscellaneous manufactured commodities, and transportation equipment are our leading export sectors to the region. European Union countries purchase 17.6 percent of all California exports.
Export Totals from California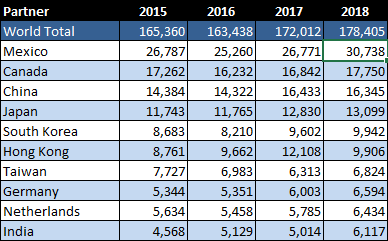 How States Benefit from Trade
Trade Benefits America, April 2016
Trade Pol​icy Review: United States of America​
California: Expanding Exports and Supporting Jobs through Trade Agreements
US Department of Commerce, February 26, 2015Jobs Supported by Exports 2014: an Update
ITA, March 2015
California: Exports, Jobs, and Foreign Investment
ITA – April 2014
How California's Economy Benefits from International Trade and Investment ​
Business Roundtable
U.S. Services Exports: California
Coalition of Services Industries, February 2015
Fast Facts on ​the California Economy ​
Compiled by: Assembly Committee on Jobs, Economic Development, and the Economy – 09/2013
California to Draw More Than $100 Billion From Tourists in 2011 January 3, 2011
Reports:
WTO Trade Statistics 2013 Editions
Additional Information