Trade Statistics
California is one of the 10 largest economies in the world with a gross state product of over $2 trillion. International trade and investment are major parts of our economic engine that broadly benefit businesses, communities, consumers and state government.  California's economy is diverse, and the state's prosperity is tied to exports and imports of both goods and services by California-based companies, to exports and imports through California's transportation gateways, and to movement of human and capital resources.
Although trade is a nationally determined policy issue, its impact on California is immense. In 2016, California exported to 228 foreign markets. Trade offers the opportunity to expand the role of California's exports. In its broadest terms, trade can literally feed the world and raise the living standards of those around us.
2016 Trade Statistics are available
through the International Trade Administration's
"Trade Stats Express."
In 2016, California exported $163.6 billion to 228 foreign economies.
California's top export markets are
Mexico, Canada, China, Japan and Hong Kong.
International Activities
Global Trade Facts
IMF Raises 2017 Outlook for Global Economic Growth (The New York Times) in their April 2017 report the fund forecast a growth rate in 2017 of 3.5 percent, compared with 3.1 percent in 2016. Their raised outlook for global growth cites a post-election surge in confidence in the United States, better prospects in large emerging markets and an uptick in global trade.
According to the April 2017 World Trade Organization (WTO) report, world GDP grew slightly by 2.3% in 2016, which was reflected in the weak trade growth of just 1.3% in the same year. This was was partly due to cyclical factors as economic activity slowed across the board, but it also reflected deeper structural changes in the relationship between trade and economic output. However, global trade is expected to expand 2.4% in 2017 and to grow between 2.1% and 4% in 2018. The unpredictable direction of the global economy in the near term  and the lack of clarity about government action on monetary, fiscal and trade policies raises the risk that trade activity will be stifled.
"Weak international trade growth in the last few years largely reflects continuing weakness in the global economy. Trade has the potential to strengthen global growth if the movement of goods and supply of services across borders remains largely unfettered.  However, if policymakers attempt to address job losses at home with severe restrictions on imports, trade cannot help boost growth and may even constitute a drag on the recovery," said WTO Director-General Roberto Azevêdo.
"Although trade does cause some economic dislocation in certain communities, its adverse effects should not be overstated – nor should they obscure its benefits in terms of growth, development and job creation. We should see trade as part of the solution to economic difficulties, not part of the problem.  In fact, innovation, automation and new technologies are responsible for roughly 80% of the manufacturing jobs that have been lost and no one questions that technological advances benefit most people most of the time. The answer is therefore to pursue policies that reap the benefits from trade, while also applying horizontal solutions to unemployment which embraces better education and training and social programmes that can quickly help get workers back on their feet and ready to compete for the jobs of the future," he said.
Global economic growth has been unbalanced since the financial crisis, but for the first time in several years all regions of the world economy should experience a synchronized upturn in 2017. This could reinforce growth and provide an additional boost to trade.
World Trade Outlook Indicator Suggests Moderate Trade Momentum in First Quarter of 2017
The WTO's latest World Trade Outlook Indicator (WTOI) suggests that global trade growth will continue to build moderately in the first quarter of 2017 after having strengthened in the final quarter of last year. Trade-related indicators including air freight, automobile sales, export orders and container shipping have all registered solid gains in recent months, auguring for faster growth in merchandise trade volumes in the first few months of the year.
World Trade Organization, February 14, 2017
WTO launches new annual statistical publication
The WTO launched a new annual statistical publication — the "World Trade Statistical Review" — on 21 July. This new publication provides insights into how world trade has evolved in recent years by analyzing the latest trade statistics within an economic context."World Trade Statistical Review" replaces the WTO's previous annual statistical publication, "International Trade Statistics"
World Trade Organization, July 21, 2016
Jobs Attributable to Foreign Direct Investment in the United States
U.S. Department of Commerce, February 2016
Commerce Department Releases Reports Ranking Top Export Markets
U.S. Department of Commerce, May 24, 2016
U.S. Trade Facts
According to the World Bank, the United States is the world's largest economy with a GDP of $17.9 trillion.
For every $1 appropriated to U.S. Commercial Service in Fiscal Year 2016, an estimated $192 was returned to the American economy in the form of increased exports ($56.2 billion) and foreign direct investment ($5.3 billion), which supported approximately 300,000 U.S. jobs.
From 2010 to 2016, U.S. Commercial Service assistance played a significant role in helping U.S. companies and localities achieve over $300 billion in U.S. exports and over $23 billion in foreign direct investment – supporting an estimated 1.7 million American jobs.
The largest export markets for U.S. goods in 2016  were Canada ($265.9 billion, down 5.2 percent), Mexico ($230.9 billion, down 2 percent), China ($115.7 billion, down 0.3 percent), and Japan ($63.2 billion, 1.3 percent increase).
Annual Summary for 2016
Source: Bureau of Economic Analysis – http://www.bea.gov/newsreleases/international/trade/tradnewsrelease.htm
California Trade Facts
U.S. Department of Commerce reported that, in 2016, California exports amounted to  $163.6 billion. This is a decrease from the 2015 total of $165.4 billion. California maintained its perennial position as a top exporting state.
Exports from California accounted for 11 percent of total U.S. exports in 2016. California's top export destinations are Mexico, Canada, China, Japan and Hong Kong. California trade and exports translate into high-paying jobs for over one million Californians.
In 2016, new foreign direct investment into California totaled $64.705 billion. Bureau of Economic Analysis
Top Export Sectors
California is a top exporter in the nation of computers, electronic products, and sales of food and kindred products. Computers and electronic products are California's top export, accounting for 25.9 percent of all the state's exports.
According to a study conducted by Tech America in February 2014, California is the second largest tech exporting state after Texas.
Other top categories included transportation equipment, machinery, except electrical, and misc. manufactured commodities.
According to a study conducted by the U.S. Bureau of Economic Analysis and the National Endowment for the Arts using 2011 data, creative industries led by Hollywood employ 2 million people and add about $504 billion to the U.S. GDP.
Hollywood, Creative Industries Add $504 Billion to U.S. GDP
Associated Press, December 5, 2013
Mexico
Mexico continues to be California's number one export market. California exports to Mexico slightly decreased to $25.3 billion in 2016, down from $26.8 billion in 2015. Mexico purchases 15.4 percent of all California exports.
California's exports to Mexico are driven by computers and electronic products, which account for 21.7 percent of all California exports to Mexico. Other top categories included transportation equipment, machinery, except electrical, and chemicals.
Canada
Canada is California's second largest export market, purchasing 9.9 percent of all California exports. In 2016, California exported over $16.2 billion to Canada.
Computers and electronic products remained California's largest exports, accounting for 32.2 percent of all California exports to Canada.
Asia-Pacific
California is the largest exporting state to Asia. In 2016, California exported $68.7 billion in goods to the region.
Greater China
California exports to Mainland China totaled $14.4 billion in 2016. Computers and electronic products accounted for 29.9 percent of exports to China.
Exports to Hong Kong were $9.6 billion in 2016, maintaining Hong Kong's spot as California's number 5 export destination, just above South Korea.
Japan
California exports to Japan totaled $11.76 billion in 2016. Computers and electronic products accounted for 23.7 percent of total exports.
European Union
California exports to the European Union (28) totaled $29.7 billion in 2016. California is the top exporting state to Europe. Computers, electronic products, chemicals, transportation equipment, and miscellaneous manufactured commodities are our leading export sectors to the region. European Union countries purchase 18.2 percent of all California exports.
Export Totals from California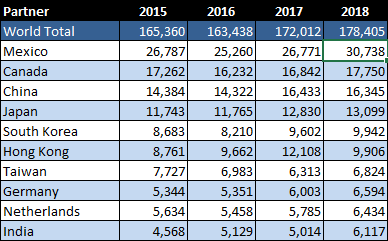 Jobs Supported by State Exports 2015
ITA, March 31, 2016
How States Benefit from Trade
Trade Benefits America, April 2016
Trade Policy Review: United States of America
California: Expanding Exports and Supporting Jobs through Trade Agreements
US Department of Commerce, February 26, 2015
California: Exports, Jobs, and Foreign Investment
ITA – April 2014
How California's Economy Benefits from International Trade and Investment
Business Roundtable
U.S. Services Exports: California
Coalition of Services Industries, February 2015
Fast Facts on the California Economy
Compiled by: Assembly Committee on Jobs, Economic Development, and the Economy – 09/2013
Reports:
WTO Trade Statistics 2017 Editions
Additional Information