Trading Partner Portal: Taiwan
Overview
Trade Overview

The rapid economic rise of Taiwan, also known as Chinese Taipei, during the latter half of the 20th century and into the 21st century is attributable to its strong emphasis on trade. Strong export sectors include electronics, machinery, and petrochemicals.
Taiwan has a net trade surplus and has the world's fifth largest foreign reserves. Its estimated GDP in 2014 was $519.1 billion. Taiwan's major export partners are China, Hong Kong, the United States, Japan and Singapore. The major import partners are Japan, China, and the United States. CIA World Factbook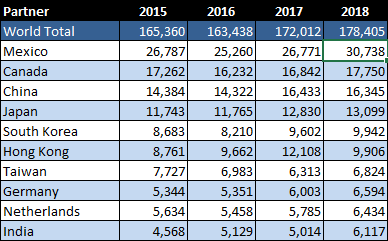 Taiwan is a member of the World Trade Organization (WTO), the Asia Development Bank, and the Asia-Pacific Economic Cooperation (APEC) forum. It also has observer status in the Organization for Economic Cooperation and Development (OECD).
U.S. – Taiwan Trade
Taiwan is the 14th largest importer of U.S. goods. In 2016, the U.S. imported $39 billion from Taiwan and exported $26 billion to Taiwan. Top export categories included computer and electronic products, non-electrical machinery, transportation equipment, and chemicals.
California – Taiwan Trade
California exported over $6.9 billion to Taiwan in 2016. Top categories included transportation equipment, non-electrical machinery, computer and electronic products, and chemicals. California has the highest amount of exports to Taiwan within the U.S. and Taiwan is the seventh largest importer of California goods and services.​
Taiwan economic information from the Taipei Economic and Cultural Office in Los Angeles (May 2013).
Characteristics of travellers from Taiwan to California – 2013​
Visit California
Improving Cross-Strait Relations
In the past decade, relations between Taiwan and mainland China have been improving primarily through economic and trade policies. In 2001, Taiwan formally opened direct trade, travel, and postal service from Fujian province in mainland China to the Kinmen and Matsu Islands, which are part of Taiwan but are directly off the coast of China's Fujian province. These islands (among others) were under dispute between Taiwan and China during the First and Second Taiwan Strait Crises in the 1950s.
In 2002, direct cross-Strait trade became allowed and was followed in later years by openings in cross-Strait transportation, shipping, tourism, and postal service. It was estimated that more than 1.5 million tourists from mainland China visited Taiwan in 2010. China is Taiwan's biggest trading partner and Taiwanese investments into mainland China range from $150 to $300 billion. In January 2010, three financial memorandums of understanding came into effect between Taiwan and China regarding banking, securities, and insurance further improving relations.
In June 2010, Taiwan and China signed the Economic Cooperation Framework Agreement (ECFA), a landmark agreement between the two. It is hoped that the ECFA will lead to a future free trade agreement between Taiwan and China, as well as improving cross-Strait relations. Another goal of Taiwan after the ECFA is to create stronger trade pacts with other Asia-Pacific regional powers especially ASEAN and the US.
(Sources: U.S. Department of Commerce, U.S. Department of State, CIA World Factbook)
Key Country Contacts
Resources
Business
Business
Cultural
Cultural/Educational