Tuesday, January 8, 2019
Featured Headlines
CalChamber Companies in the News
Lockheed Martin Skunk Works® Announces Job Growth
With Continued Investment In Southern California To Bring
New High-Tech Innovation To The State
Lockheed Martin, January 3, 2019
28 CalChamber Member Companies Recognized as Best Places
to Work in 2019
CalChamber, December 19, 2018
Supervisors OK 19,000-Home Development at Tejon Ranch
Los Angeles Times, December 11, 2018
Trade Policy
From the White House
Presidential Proclamation to Take Certain Actions Under
the African Growth and Opportunity Act and for Other Purposes
December 21, 2018
President Donald J. Trump Is Improving American Agriculture Programs
December 20, 2018
President Trump Announces Presidential Delegation to Switzerland
to attend the World Economic Forum
December 18, 2018
From the U.S. Department of Commerce
U.S. Secretary of Commerce Concludes Successful 2018
December 21, 2018
From the U.S. Trade Representative
USTR Requests First-Ever Environment Consultations Under
the U.S.-Peru Trade Promotion Agreement (PTPA)
January 4, 2019
USTR Grants First Round of Product Exclusions
(Harmonized Tariff Schedule)
December 21, 2018
Treasury, USTR Sign Bilateral Agreement with the United Kingdom on Prudential Measures Regarding Insurance and Reinsurance
December 19, 2018
From the U.S. Department of State
China Travel Advisory – Level 2 Exercise Increased Caution
January 3, 2019
Secretary Pompeo Travels to Brazil and Colombia
to Strengthen Prosperity, Security, and Democracy
December 28, 2018
Trade Agreements
Asia Trade Pact RCEP Aims for Fall Signing, After India Elections
Nikkei Asian Review, January 7, 2019
Swiss-US Free Trade Deal on WEF Agenda
Swissinfo.ch, January 6, 2019
Brexit Won't Prevent a U.S.-U.K Trade Pact
The Wall Street Journal, January 6, 2019
Free Trade for the Pacific Basin as CPTPP Enters Into Force
Global Trade Review, January 4, 2019
CPTPP Could Be A Strong Trading Partner for China
The Global Times, January 1, 2019
Revised U.S.-S. Korea Free Trade Deal Takes Effect
UPI, December 31, 2018
Continental Free Trade Area to Boost E-Commerce in Africa
UNCTAD, December 11, 2018
California

Jerry Brown Has $15 Million Surplus of His Own,
Here's What He Plans to Do With It
The Sacramento Bee, December 18, 2018
More International Articles
China
U.S.-China Trade Talks to Continue for Third Day
Reuters, January 8, 2019
Xi's Top Trade Official Unexpectedly
Attended China-U.S. Talks
Bloomberg, January 7, 2019
Trade Talks Open in Beijing Amid
Optimism About an End to U.S.-China Dispute
The Washington Post, January 7, 2018
Why This Week's US-China Trade
Talks Are a Big Deal for Oil Prices
CNBC, January 7, 2019
China Can't Meet 'Draconian' U.S.
Demands, Says Ex-Goldman Exec
Bloomberg, January 6, 2019
Trump Likely to Meet With
China's Wang Qishan in Davos
American Journal of Transportation, January 5, 2019
Why Slowing Economies Could
Prod US and China to Reach Deal
AP, January 2, 2019
The Trade War is Already over
Politico, January 2, 2019
US Stays Mum on China Trade
Concessions Ahead of Beijing Talks
American Journal of Transportation, January 2, 2019
China Allows First-Ever U.S.
Rice Imports Ahead of Trade Talks
Reuters, December 28, 2019
Shipping Costs from China to the U.S. Have More Than Doubled as Trade War Sparks a 'Bonanza'
CNBC, December 14, 2018
Trump Gets Win as Xi Makes Good
on Pledge to Buy U.S. Soy
Bloomberg, December 12, 2018
Beijing Eases Back on 'Made
in China 2025' Amid Trade Talks with U.S.
Reuters, December 12, 2018
Trade Deals With China—Done the Chinese Way
The Wall Street Journal, December 12, 2018
World Bank President Resigns to Join Investment Firm
The Wall Street Journal, January 7, 2019
Britain Testing 'No-Deal' Scenario as Brexit Vote Nears
AP, January 7, 2019
U.K. Upends Economic Orthodoxy That Growth Needs More Power
Bloomberg, January 3, 2019
China Lunar Prob Sheds Light on the 'Dark Side' of the Moon
The Sacramento Bee, January 3, 2019
Britain and the American Option
The Wall Street Journal, January 2, 2019
EU's High Trade Surplus With the U.S. Poses Risk to 2018 Tariff Truce
The Wall Street Journal, January 1, 2019
One of World Trade's Top Prognosticators Is Worried About 2019
Bloomberg, December 20, 2018
APEC to Spearhead Free Trade, Multilateral Integration, Says Chile
XinhuaNet, December 13, 2018
Share Trade Update: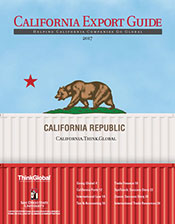 The California Export Guide is published by ThinkGlobal Inc. in partnership with the Center for International Business Education and Research (CIBER) at San Diego State University. The guide provides expert advice and information for exporters.
Recent News
Netherlands Looks Ahead to Post-Brexit World
December 11, 2018
You can view the entire
Trade Update on our website.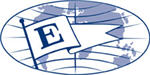 President's Export Award Recipient
Visit CalChamber.com/International for export/import information, trade stats, trade policy, FAQs and more.

Upcoming Events:
Trade Trends 2019: Conversation with European Trade Commissioner Cecilia Malmstrom
1/10/2019

National Association of District Export Councils Annual Export Conference
5/21/2019

Select USA Investment Summit
6/10/2019

California Coalition
for Free Trade
A broad-based group of companies and business organizations working to secure a national free trade agenda.
Join or Learn More
Resources:
California Congressional
Delegation Pictorial Roster
California Congressional
Committee Assignments
California Legislative Pictorial Roster
Federal Government:
The White House

The U.S. Senate

The U.S. House of Representatives

U.S. State Department - California Impact'

U.S. Department of Commerce

U.S. Trade Representative
State Government:
Governor

California State Senate

California State Assembly

California Department of Finance

Governor's Office of Business
and Economic Development – GO Biz

GO-Biz California Business Portal:
A One-Stop-Shop Website
for Business Owners




California STEP Grant FY 2018




Free eNewsletters
Receive free eNewsletters to help keep you up to date on the laws affecting you and your business. To subscribe to any of the newsletters, visit this link.

Connect with CalChamber
Note: This email is being sent to members of the CalChamber Council for International Trade; CalChamber members with international interests; local, binational and American chambers of commerce abroad; the consular corps; California congressional delegation, selected U.S. and California government officials; and representatives of business and trade associations.

If you would like to be added to the subscriber list for this free e-newsletter, please click here.
To unsubscribe from Trade Update,
please email us.
1215 K Street, Suite 1400
Sacramento, CA 95814
916 444 6670
www.calchamber.com/international international@calchamber.com