Tuesday, March 22, 2022
Featured Headlines
CalChamber Companies in the News
Food Giant Cargill to Buy $290 Mln Stake in Chile Salmon Farmer
Reuters, March 18, 2022
Target Launches First 'Net Zero Energy Store' in California
Biz Women, March 18, 2022
Amazon Closes $8.5 Billion Acquisition Deal of MGM
Variety, March 17, 2022
Walmart's Mexico Unit Aims to Double Mobile Phone Service Users in 2022
Reuters, March 15, 2022
Trade Policy
From the White House
Readout of President Joe Biden's Call with President Macron of France, Chancellor Scholz of Germany, Prime Minister Draghi of Italy, Prime Minister Johnson of the United Kingdom
March 21, 2022
Statement by President Biden on our Nation's Cybersecurity
March 21, 2022
Fact Sheet
President Biden Announces Key Nominees (Including Ambassadors to Trinidad and Tobago, Qatar, and Morocco)
March 18, 2022
Remarks by President Biden on the Assistance the United States is Providing to Ukraine
March 16, 2022
Fact Sheet
Readout of Supply Chain Event Launching Data Initiative for Greater Supply Chain Resilience
March 15, 2022
From the U.S. Department of Commerce
Bipartisan National Security Experts Urge Congress to Pass Competitiveness Legislation to Boost Semiconductor Production and Domestic Manufacturing
March 21, 2022
Commerce Department Identifies Commercial and Private Aircraft Exported to Russia in Apparent Violation of U.S. Export Controls
March 18, 2022
Readout of Deputy Secretary Graves Meeting with Uzbekistan's Deputy Prime Minister Sardor Umurzakov
March 17, 2022
From the U.S. Trade Representative
Ambassador Tai Marks KORUS 10th Anniversary at SK Siltron CSS
March 16, 2022
From the U.S. Department of State
OECD Hosts Executive Consultation Group Meeting on Blue Dot Network
March 21, 2022
U.S.-Croatia Joint Statement
March 17, 2022
The United States Shares 500 Million COVID-19 Vaccine Doses Worldwide
March 17, 2022
$1 Billion in New U.S. Security Assistance for Ukraine This Week
March 16, 2022
From the Export-Import Bank of the U.S.
READOUT: EXIM Chair's Council on China Competition Meets to Discuss Current State of Global Competition, Subcommittee Recommendations
March 17, 2022
EXIM Chair Reta Jo Lewis Welcomes Prime Minister of Côte D'Ivoire, Reaffirms Bank's Commitment to Sub-Saharan Africa
March 16, 2022
From the World Trade Organization
WTO Offers Unique Forum for Dialogue on Global Supply Chain Issues — DG Okonjo-Iweala
March 21, 2022
W.T.O. Chief Calls for Deeper Global Trade to Address Supply Chain Disruptions.
The New York Times, March 21, 2022
Russian MPs Present Bill for Russia to Leave the WTO
InfoBae, March 21, 2022
Russia's Invasion of Ukraine Turns WTO Meeting on its Head
The Hill, March 18, 2022
Agriculture Committee's 100th Session Discusses Food Security, Farm Policies, Nairobi Decision
March 16, 2022
Director-General Okonjo-Iweala Hails Breakthrough on TRIPS COVID-19 Solution
March 16, 2022
Allies Join G7's WTO Stance Towards Russia – EU Trade Chief
Reuters, March 15, 2022
Trade Agreements
India, Australia Working to Reach Free Trade Agreement 'Very Soon'
Arab News, March 21, 2022
China Must Engage Australia to Boost CPTPP Chances, Trade Minister Says
South China Morning Post, March 22, 2022
Germany Calls for New Talks on Transatlantic Trade Deal
Reuters, March 20, 2022
Malaysia Confirms China-Backed RCEP Free Trade Pact Comes Into Force, Expects US$200 Million Boost
South China Morning Post, March 18, 2022
War in Ukraine Puts UK-India Trade Deal Under the Microscope
Politico, March 18, 2022
UAE, Australia Plan to Begin Bilateral Trade Talks – Officials
Reuters, March 17, 2022
U.S.-South Korea Trade Deal Grew Exports But Brought Disappointments -U.S. Trade Chief
Reuters, March 15, 2022
Shifting Geopolitics Mean Canada and India Might Actually Do a Trade Deal this Time, Analysts Say
Financial Post, March 15, 2022
Federal
Pay-Anything Mood Grips U.S. Importers Fearful of Shipping Woes
Bloomberg, March 18, 2022
White House to Withdraw Key Agricultural Trade Nominee
Politico, March 15, 2022
White House Pushes Supply-Chain Operators to Share Data
The Wall Street Journal, March 15, 2022
California
West Coast Trade Report
Pacific Merchant Shipping Association, March 2022
Port of Los Angeles Container Volumes Could 'Soften' This Spring
Supply Chain Drive, March 16, 2022
More International Articles
CP Rail and Teamsters Union Agree on Final Arbitration, Workers to Return to Jobs
Global News, March 22, 2022
Pressed to Choose Sides on Ukraine, China Trade Favors the West
Reuters, March 21, 2022
Japanese PM to Visit India to Build Indo-Pacific Partnership
ABC News, March 17, 2022
Ukraine War's Global Economic Impact to Hit Poorest Hardest, OECD Says
The Wall Street Journal, March 17, 2022
China Finds Way to Do Covid Zero While Keeping Factories Open
Bloomberg, March 17, 2022
Japan's Import Surge Points to Fallout for Households
Bloomberg, March 16, 2022
Another COVID-19 Lockdown In China Sees Supply Chain Woes Resurgence
International Business Times, March 16, 2022
Canada's Inflation Rate Surges to a Fresh 30-Year High
Reuters, March 16, 2022
The Global Fight Over Chips Is About to Get Even Worse
Bloomberg, March 15, 2022
National Edition – available for complimentary further distribution.


CalChamber Policy Briefings



2022 CalChamber Issues Guide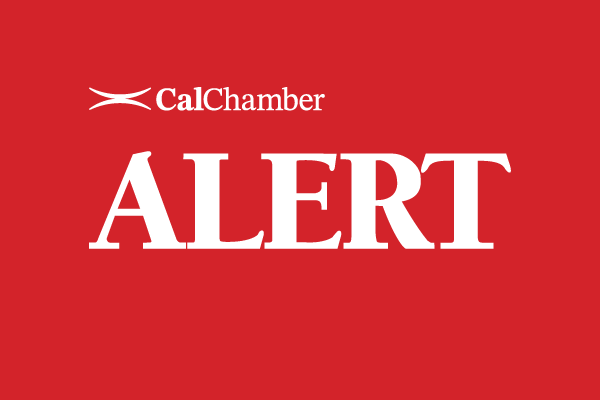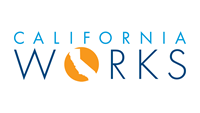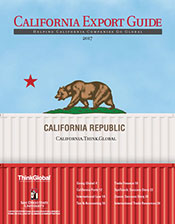 The California Export Guide is published by ThinkGlobal Inc. in partnership with the Center for International Business Education and Research (CIBER) at San Diego State University. The guide provides expert advice and information for exporters.



You can view the entire
Trade Update on our website.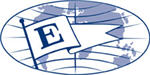 President's Export Award Recipient
Visit CalChamber.com/International for export/import information, trade stats, trade policy, FAQs and more.

Upcoming Events:

Federal Maritime Commission – Maritime Transportation Data Initiative Hearings
Every Tuesday until 4/19/2022

Upcoming U.S. Commercial Service Webinars
November 2021 to Spring 2022



Expo Dubai 2021
10/1/2021 – 3/31/2022
2022 Taiwan Trade Shows
January 2022 – October 2022

"The Reshoring Movement: The Time is Now" with Rosemary Coates of The Reshoring Institute
03/22/2022

AmCham Ireland Global Conference
03/24/2022

2022 WUSATA Pavilion at SIAL America
03/22/2022 – 03/24/2022

How to Effectively Manage International Employees
03/24/2022

Trade Mission To Central America 2022
03/27/2022 – 03/28/2022

Cyber Security Business Development Mission to South America
04/05/2022 – 04/08/2022

Opportunities for Textile & Apparel – Central American Free Trade Agreement
04/06/2022

China International Medical Equipment Fair (CMEF)
04/07/2022 – 04/10/2022

30th Annual Africa & Diaspora International Conference
04/28/2022 – 04/30/2022

2022 World Trade Week Southern California: Global Trade: Reconnecting the World
05/05/2022

Trade Mission to South America
5/15/2022 - 5/20/2022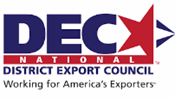 2022 NADEC Annual Export Conference
05/19/2022 – 05/20/2022

Federal Maritime Commission – Maritime Transportation Data Summit
06/01/2022

Concrete Show South East Asia 2022
09/14/2022 - 09/17/2022


California Coalition
for Free Trade
A broad-based group of companies and business organizations working to secure a national free trade agenda.
Join or Learn More
Resources:
California Congressional
Delegation Pictorial Roster
California Congressional
Committee Assignments
California Legislative Pictorial Roster

International Job Positions

Trade Promotion Opportunities

World Trade Organization

PODCAST: The Trade Guys, Center for Strategic and International Studies

PODCAST: Global Translations, Politico
Federal Government:

The White House

Agency Review Teams

The U.S. Senate

The U.S. House of Representatives

U.S. State Department

Tracker: Current U.S. Ambassadors

U.S. Department of Commerce

U.S. Trade Representative

U.S. Small Business Administration

Export-Import Bank of the U.S.
State Government:
Governor

Lieutenant Governor

California State Senate

California State Assembly

California Department of Finance

California Office of the Small Business Advocate (CalOSBA)


GO-Biz Monthly International Trade Newsletter




Free eNewsletters
Receive free eNewsletters to help keep you up to date on the laws affecting you and your business. To subscribe to any of the newsletters, visit this link.

Connect with CalChamber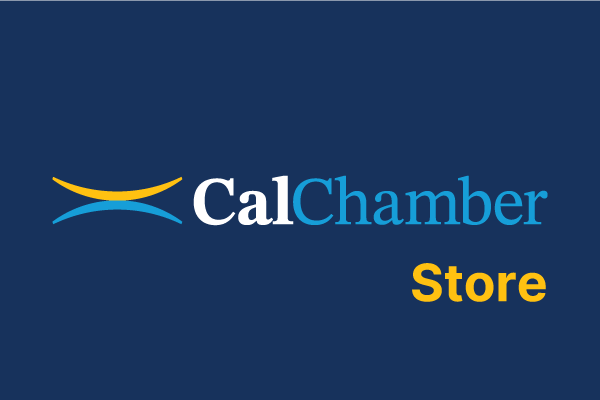 Susanne Stirling, Vice President International Affairs

Nikki Ellis, International Affairs Specialist
Note: This email is being sent to members of the CalChamber Council for International Trade; CalChamber members with international interests; local, binational and American chambers of commerce abroad; the consular corps; California congressional delegation, selected U.S. and California government officials; and representatives of business and trade associations.

In addition, a National edition is available for distribution.
If you would like to be added to the subscriber list for this free e-newsletter, please click here.
To unsubscribe from Trade Update,
please email us.
1215 K Street, Suite 1400
Sacramento, CA 95814
916 444 6670
www.calchamber.com/international international@calchamber.com