Tuesday, March 15, 2022
Featured Headlines



The California Chamber of Commerce
stands with Ukraine.
Ukrainian President Zelensky will address the U.S. Congress on Wednesday, March 16th at 6:00am PST
You can watch his address here.
Governor Newsom Helps Package Emergency Relief Supplies for Shipment to Ukraine
Office of Governor Gavin Newsom, March 15, 2022
Statement by Executive Vice-President Dombrovskis on EU Decision to Stop Treating Russia as a Most-Favoured-Nation at the WTO
European Commission, March 15, 2022
This Week: Congress Ramps Up Penalties
Against Russia Over Invasion
The Hill, March 14, 2022
Joint Statement by the G7 Announcing
Further Economic Costs on Russia
White House, March 11, 2022
Fact Sheet
Executive Order on Prohibiting Certain Imports, Exports, and New Investment with Respect to Continued Russian Federation Aggression
White House, March 11, 2022
Removing Russia's Trade Privileges
— What You Need to Know
Politico, March 11, 2022
CalChamber Companies in the News
Walmart Global Tech Accelerates Expansion with Plans To Hire Thousands of Technologists and Add New Locations
Walmart, March 15, 2022
Intel Announces Initial Investment of Over €33 Billion for R&D and Manufacturing in EU
Intel, March 15, 2022
Egypt's Ministry of Finance Automates National Tax System in Collaboration with CalChamber Member IBM
IBM Newsroom, March 9, 2022
Trade Policy
From the White House
Fact Sheet: Biden-⁠Harris Administration Announces New Initiative to Improve Supply Chain Data Flow
March 15, 2022
President Biden Announces Key Nominees (Including Ambassador to the Netherlands)
March 11, 2022
Joint Statement on U.S.-UK Consultations on the Indo-Pacific
March 11, 2022
Joint Statement by President Joseph R. Biden Jr. of the United States and President Iván Duque Márquez of the Republic of Colombia U.S.-Colombia Bicentennial Partnership
March 10, 2022
Memorandum on the Designation of the State of Qatar as a Major Non-NATO Ally
March 10, 2022
Readout of Joseph R. Biden, Jr.'s Call with President-Elect Yoon Suk-yeol of the Republic of Korea
March 9, 2022
From the U.S. Department of Commerce
Readout of Secretary Raimondo's Meeting with Polish Minister for Economic Development and Technology Piotr Nowak
March 14, 2022
Commerce Restricts the Export of Luxury Goods to Russia and Belarus and to Russian and Belarusian Oligarchs and Malign Actors in Latest Response to Aggression Against Ukraine
March 11, 2022
(VIDEO) Department of Commerce, U.S. Travel Association Host Roundtable on Promoting Safe Business Travel and Igniting Post-pandemic Recovery in the Travel and Tourism Sector
March 8, 2022
From the U.S. Trade Representative
Readout of Ambassador Jayme White's Virtual Meeting with Mexico's Under Secretary of Economy, Luz Maria de la Mora and Canada's Deputy Minister of International Trade, David Morrison
March 14, 2022
Readout of Ambassador Katherine Tai's Meeting with Poland's Minister of Economic Development and Technology Piotr Nowak
March 14, 2022
Statement from Ambassador Katherine Tai on the Announcement of Additional Economic Actions Against Russia
March 11, 2022
Statement from Ambassador Katherine Tai on María L. Pagán's Confirmation as Deputy United States Trade Representative (Geneva Office)
March 10, 2022
From the U.S. Department of State
Slovenia – U.S. Strategic Dialogue Joint Statement
March 14, 2022
Secretary Antony J. Blinken with AU Commission Chairperson Moussa Faki Mahamat at the Signing of a Memorandum of Cooperation Between the United States and the African Union
March 11, 2022
From the International Trade Administration
A New Collaboration to Empower Women in Trade
March 14, 2022
From the World Trade Organization
2022 Public Forum to Focus on Theme of Sustainable and Inclusive Recovery
March 15, 2022
There Are Two Ways to Kick Russia Out of the World Trade System. One is More Likely to Work.
The Washington Post, March 11, 2022
No Longer Business as Usual at the World Trade Organization
Asia Society, March 11, 2022
DG Okonjo-Iweala Welcomes Project in Support of African Continental Free Trade Area
March 10, 2022
U.S. Senate Confirms Pagán as Top Trade Official at WTO
Reuters, March 10, 2022
Explainer: Ousting Russia from WTO, IMF Would Mark End of An Era
Reuters, March 9, 2022
Trade Agreements
Gov't Taking Steps to Resume Malaysia-EU Trade Negotiations
The Sun Daily, March 14, 2022
Interim FTA with Australia Likely on 21 Mar
LiveMint, March 14, 2022
U.S.-South Korea Free Trade Agreement Turns 10. It Is Key to Further Elevating Both Countries' Alliance.
The Heritage Foundation, March 14, 2022
Pakistan, China to Renegotiate Free Trade Agreement Benefits
The Print, March 11, 2022
CPTPP: Can We Expect Additional Southeast Asian Members Soon?
The Diplomat, March 10, 2022
Australia, India Move Toward Free Trade Pact to Cut China Dependence
Nikkei Asia, March 9, 2022
Federal
White House to Withdraw Key Agricultural Trade Nominee
MSN, March 15, 2022
Shenzhen Lockdown Leaves U.S. Ports Bracing for Fallout
Bloomberg, March 15, 2022
Biden Set to Call for End of Russia's Preferred Trade Status
Bloomberg, March 11, 2022
U.S. Inflation Soared 7.9 Percent in Past Year, a Fresh 40-Year High
Politico, March 10, 2022
Far From a Negative, Trade is Key to Building American Jobs
The Hill, March 10, 2022
AFT Statement on Upcoming Section 301 Tariff Review
Americans for Free Trade, March 9, 2022
Risch, Durbin Encourage Biden Administration to Follow Through on U.S.-Africa Leaders Summit
U.S. Senate Committee on Foreign Relations, March 9, 2022
California
Southern California's Ports Are Catching Their Breath During Import Lull
The Wall Street Journal, March 10, 2022
More International Articles
China Lockdowns Hit Output for Toyota, VW to Apple Suppliers
American Journal of Transportation, March 15, 2022
Container Freight Rates Set to Rise on More China Lockdowns
Bloomberg, March 14, 2022
Japan Announces More Details of Chip, Weapon Ban Against Russia
Bloomberg, March 14, 2022
India and US to Collaborate on Building Resilient Supply Chains: USTR Report
The India Panorama, March 13, 2022
Russia's Efforts to Salvage Economy Could Have Devastating Impacts
The Hill, March 13, 2022
Ukraine Conflict Prompts Countries to Hoard Grain, Endangering Global Food Supply
Politico, March 12, 2022
The Global Supply Chain's Pandemic Recovery is Another Casualty of Russia's Invasion of Ukraine.
The New York Times, March 12, 2022
Russia Bans Export of 200 Products After Suffering Sanctions Hit
Bloomberg, March 10, 2022
Russia Says China Refuses to Supply Aircraft Parts After Sanctions
Reuters, March 10, 2022
IMF Chief Georgieva Says Ukraine War to Lower Global Growth Forecast
Reuters, March 10, 2022
Cambodia Says ASEAN-U.S. Summit Postponed, Seeking New Date
Reuters, March 9, 2022
Give Georgia a Free Trade Agreement
The Hill, March 9, 2022
South Korea's 'Maverick' New President Rides Tough-on-China Platform to Victory
Politico, March 9, 2022
Ukraine War Gives Macron's Drive for EU Autonomy New Impetus
Politico, March 9, 2022
War in Ukraine Puts Shipping's Recovery in Jeopardy
Bloomberg, March 9, 2022
How Biden Plans to Squeeze Putin's Global Access to High Tech
Politico, February 24, 2022
National Edition – available for complimentary further distribution.


CalChamber Policy Briefings



2022 CalChamber Issues Guide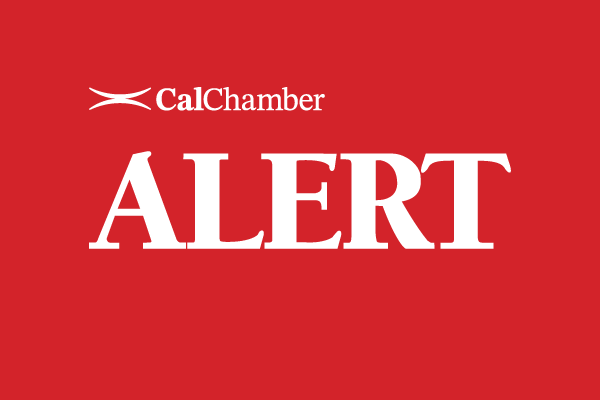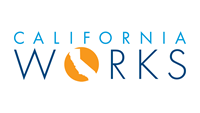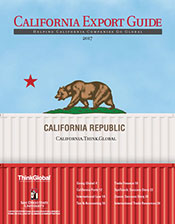 The California Export Guide is published by ThinkGlobal Inc. in partnership with the Center for International Business Education and Research (CIBER) at San Diego State University. The guide provides expert advice and information for exporters.



You can view the entire
Trade Update on our website.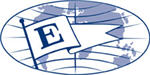 President's Export Award Recipient
Visit CalChamber.com/International for export/import information, trade stats, trade policy, FAQs and more.

Upcoming Events:

Federal Maritime Commission – Maritime Transportation Data Initiative Hearings
Every Tuesday until 4/19/2022

Upcoming U.S. Commercial Service Webinars
November 2021 to Spring 2022



Expo Dubai 2021
10/1/2021 – 3/31/2022
2022 Taiwan Trade Shows
January 2022 – October 2022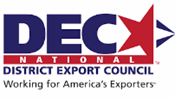 Complying with US Export Controls
03/15/2022-03/18/2022

Exporting During Challenging Times
03/17/2022

"The Reshoring Movement: The Time is Now" with Rosemary Coates of The Reshoring Institute
03/22/2022

AmCham Ireland Global Conference
03/24/2022

2022 WUSATA Pavilion at SIAL America
03/22/2022 – 03/24/2022

How to Effectively Manage International Employees
03/24/2022

Trade Mission To Central America 2022
03/27/2022 – 03/28/2022

Cyber Security Business Development Mission to South America
04/05/2022 – 04/08/2022

Opportunities for Textile & Apparel – Central American Free Trade Agreement
04/06/2022

China International Medical Equipment Fair (CMEF)
04/07/2022 – 04/10/2022

30th Annual Africa & Diaspora International Conference
04/28/2022 – 04/30/2022

2022 World Trade Week Southern California: Global Trade: Reconnecting the World
05/05/2022

Trade Mission to South America
5/15/2022 - 5/20/2022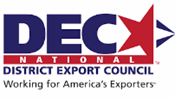 2022 NADEC Annual Export Conference
05/19/2022 – 05/20/2022

Federal Maritime Commission – Maritime Transportation Data Summit
06/01/2022

Concrete Show South East Asia 2022
09/14/2022 - 09/17/2022


California Coalition
for Free Trade
A broad-based group of companies and business organizations working to secure a national free trade agenda.
Join or Learn More
Resources:
California Congressional
Delegation Pictorial Roster
California Congressional
Committee Assignments
California Legislative Pictorial Roster

International Job Positions

Trade Promotion Opportunities

World Trade Organization

PODCAST: The Trade Guys, Center for Strategic and International Studies

PODCAST: Global Translations, Politico
Federal Government:

The White House

Agency Review Teams

The U.S. Senate

The U.S. House of Representatives

U.S. State Department

Tracker: Current U.S. Ambassadors

U.S. Department of Commerce

U.S. Trade Representative

U.S. Small Business Administration

Export-Import Bank of the U.S.
State Government:
Governor

Lieutenant Governor

California State Senate

California State Assembly

California Department of Finance

California Office of the Small Business Advocate (CalOSBA)


GO-Biz Monthly International Trade Newsletter




Free eNewsletters
Receive free eNewsletters to help keep you up to date on the laws affecting you and your business. To subscribe to any of the newsletters, visit this link.

Connect with CalChamber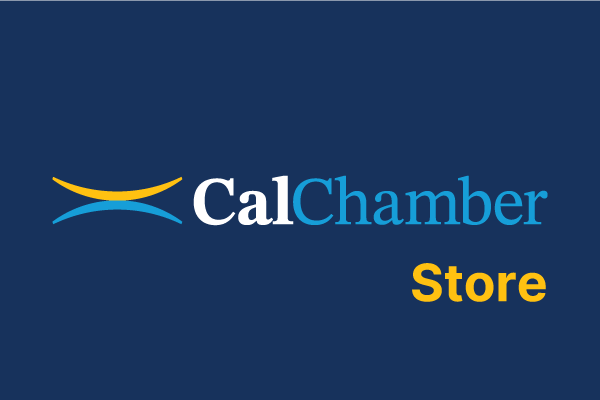 Susanne Stirling, Vice President International Affairs

Nikki Ellis, International Affairs Specialist
Note: This email is being sent to members of the CalChamber Council for International Trade; CalChamber members with international interests; local, binational and American chambers of commerce abroad; the consular corps; California congressional delegation, selected U.S. and California government officials; and representatives of business and trade associations.

In addition, a National edition is available for distribution.
If you would like to be added to the subscriber list for this free e-newsletter, please click here.
To unsubscribe from Trade Update,
please email us.
1215 K Street, Suite 1400
Sacramento, CA 95814
916 444 6670
www.calchamber.com/international international@calchamber.com