Tuesday, March 30, 2021
Featured Headlines
CalChamber Companies in the News
PepsiCo Launches $40 Million Community College Program to Support 4,000 Black and Hispanic Students
PepsiCo, March 30, 2021
Southwest Airlines Orders 100 Boeing 737 MAX Jets, Plus 155 Options
American Journal of Transportation, March 29, 2021
Trade Policy
From the White House
Readout of President Joseph R. Biden, Jr. Call with Prime Minister Boris Johnson of the United Kingdom
March 26, 2021
President Biden Announces His Intent to Nominate Key Members for the Department of State
March 26, 2021
President Biden Participates in European Council Summit
March 25, 2021
Readout of President Joseph R. Biden, Jr. Call with Prime Minister Kyriakos Mitsotakis of Greece
March 25, 2021
From the U.S. Department of Commerce
Women-Owned Business Ownership in America on the Rise
March 29, 2021
U.S. Secretary of Commerce Gina M. Raimondo Announces Efforts to Advance Offshore Wind Power Generation
March 29, 2021
Making a Place for Women in Manufacturing
March 26, 2021
Women in Commerce's NTIA Leadership Making a Difference in Tech Equity
March 25, 2021
Intensifying Negotiations on Trans-Atlantic Data Privacy Flows: A Joint Press Statement by U.S. Secretary of Commerce Gina Raimondo and European Commissioner for Justice Didier Reynders
March 25, 2021
Statement: U.S. Secretary of Commerce Gina M. Raimondo On Her Meeting With The U.S. Travel Association
March 24, 2021
From the U.S. Trade Representative
First Joint Committee Meeting Under the Bilateral U.S.-UK Agreement on Prudential Measures Regarding Insurance and Reinsurance
March 30, 2021
USTR Suspends Trade Engagement with Burma Following Military Coup and Violence Against Civilians
March 29, 2021
USTR Announces Next Steps of Section 301 Digital Services Taxes Investigations
March 26, 2021
Statement from USTR Ambassador Katherine Tai on the Death of Ambassador William E. Brock, III
March 26, 2021
Statement from USTR Spokesperson Adam Hodge on U.S. Action to Prevent Maduro Regime's Attempt to Undermine U.S. Sanctions
March 26, 2021
From the U.S. Department of State
Secretary Blinken's Meeting with UN Secretary-General Guterres
March 29, 2021
Secretary Blinken's Meeting with President of the UN General Assembly Volkan Bozkir
March 29, 2021
Secretary Antony J. Blinken at a Virtual Town Hall Meeting with U.S. Mission to the United Nations Staff
March 29, 2021
PRC Sanctions on U.S. Officials
March 27, 2021
Entry Into Force of U.S.-UK Civil Air Transport Agreement
March 26, 2021
Secretary Antony J. Blinken's Remarks to U.S. Tri-Mission
March 25, 2021
Strengthening Economies and Shoring Up Infrastructure Development Along the U.S.-Mexico Border
March 24, 2021
Secretary Blinken's Meeting with European Commission President von der Leyen
March 24, 2021
Reaffirming and Reimagining America's Alliances
March 24, 2021
From the International Trade Administration
The United States Remains the Top Destination for Business Investment for the Ninth Consecutive Year
March 24, 2021
From the Export-Import Bank of the U.S.
EXIM Announces Key Staff Appointments
March 24, 2021
From the World Trade Organization
DG Okonjo-Iweala: Action on Trade Can Help Alleviate Debt Pressures for Poorest Countries
March 29, 2021
Trade Beyond COVID-19: Building Resilience
March 29, 2021
WTO Launches Trade for Peace Network in Support of Fragile and Conflict-Affected States
March 25, 2021
Post-COVID-19 Recovery Must Not Leave Anyone Behind — DG Okonjo-Iweala at Aid for Trade Event
March 25, 2021
Trade Agreements
Filipino Gov't Starting Informal Talks to Join Trans-Pacific Partnership
BusinessWorld, March 30, 2021
The Trade Pact Waiting to Happen: Friends—Like the U.S. and the U.K.—are Invaluable in a Pinch
The Wall Street Journal, March 30, 2021
U.S. Trade with Myanmar is Suspended Over Killings by the Military.
The New York Times, March 29, 2021
African Continental Free Trade Agreement: Lovely on Paper, Probably Dead in the Water
Daily Maverick, March 29, 2021
Fate of Trade Pact Hangs in the Balance Amid Beijing-Taipei Tensions
South China Morning Post, March 27, 2021
Outgoing Ecuador Trade Minister Presses for Deal with U.S.
Politico, March 26, 2021
U.K.-U.S. Trade Deal Is Likely Years Away as Biden Shifts Focus
Bloomberg, March 26, 2021
The Complexities of China's CPTPP Entry
East Asia Forum, March 26, 2021
China Eyes Free Trade Agreement with the Gulf States
Hellenic Shipping News, March 26, 2021
EU Leaders Make Good on Trade Promises with Turkey, but Threaten Sanctions
Reuters, March 25, 2021
Philippines Keen on Trans-Pacific Free Trade Area
PhilStar Global, March 25, 2021
China Says Members of RCEP Pact Aim for Deal to Take Effect from 2022
Reuters, March 24, 2021
UK Will Not Compromise Values for Trade in 'Critical' Indo-Pacific
Nikkei Asian Review, March 24, 2021
China Has Bought Only a Third of U.S. Goods Required by Trade Deal
Bloomberg, March 23, 2021
US Lawmakers Push for Free Trade Agreement with Taiwan
Taiwan News, March 23, 2021
Federal
US Threatens Tariffs on UK Exports Over Digital Services Tax
The Guardian, March 29, 2021
Biden's Trade Chief says US Won't Be Lifting Tariffs on China
The Hill, March 28, 2021
At Least 12 American Grain Shipments Impacted by Suez Congestion
American Journal of Transportation, March 26, 2021
Hot U.S. Economy, Fresh Supply Disruptions Pressure World's Factories
The Wall Street Journal, March 24, 2021
FDI in the United States, Quarter Four 2020
Global Business, March 23, 2021
U.S. Durable Goods Orders Decrease for First Time Since April
Bloomberg, March 24, 2021
More International Articles
US-China Relations: Trade Talks Will Take Place 'When the Time is Right', says New US Trade Representative Katherine Tai
South China Morning Post, March 29, 2021
China, Long a Source of Deflation, Starts Raising Prices for the World
The Wall Street Journal, March 29, 2021
China May Boost Cotton Imports to Cut Xinjiang Fiber in Exports
Bloomberg, March 29, 2021
New US Administration an Opportunity to 'Rebuild' EU-US Transatlantic Partnership, says David Sassoli
The Parliament Magazine, March 29, 2021
What the UK's Tilt to the Indo-Pacific Means for India
Observer Research Foundation, March 28, 2021
Iran, China Sign Strategic Long-Term Cooperation Agreement
Politico, March 27, 2021
Boris Johnson Talks Tough on China Following Sanctions Against UK MPs
Politico, March 27, 2021
China Sets Duties on Australia Wine for 5 Years as Ties Sour
Bloomberg, March 26, 2021
Biden Finds a Key Ally Wary of His Bid to Outpace China on Chips
Bloomberg, March 25, 2021
China Retaliates Against Clothing Brands After Western Sanctions
NPR, March 25, 2021
China's New Belt and Road Has Less Concrete, More Blockchain
Bloomberg, March 24, 2021
Global Factories Pay Higher Prices as Surge Strains Supplies
The Wall Street Journal, March 24, 2021
National Edition – available for complimentary further distribution.


CalChamber Policy Briefings



2021 Business Issues Guide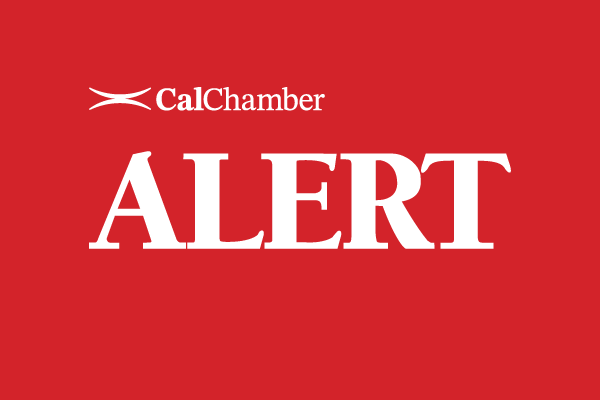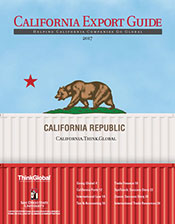 The California Export Guide is published by ThinkGlobal Inc. in partnership with the Center for International Business Education and Research (CIBER) at San Diego State University. The guide provides expert advice and information for exporters.



You can view the entire
Trade Update on our website.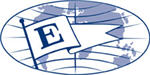 President's Export Award Recipient
Visit CalChamber.com/International for export/import information, trade stats, trade policy, FAQs and more.

Upcoming Events:

Impact of AI on Global Trade and Policy
3/31/2021

Ethiopian Trade and Tourism Promotion
4/2/21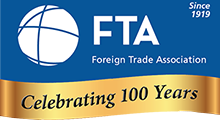 Charting a Course for Trade and Digital Ledger Technology
4/7/21
California Global Connect: Virtual Trade Mission to Singapore
4/13/21 – 4/15/21


Czech-US West Coast Business Forum and B2B ONLINE
4/15/2021 – 4/16/2021
BCA Virtual Business Matching 2021 : Consulate General of Indonesia
4/16/2021 – 5/8/2021

Cyber Security Business Development Mission to India
04/19/2021 – 04/23/2021




Virtual Trade Mission to Kenya
04/20/21-04/21/21

What's new in taxation and business laws in 2021?
4/22/2021

FDA 2021 and Beyond, It's Not Just About PPE
4/28/21

California-Baja California IT & Aerospace Virtual Trade Mission
5/3/-2021 - 5/6/2021



World Trade Week SoCal – Global Trade: The Road to Economic Recovery
5/3/2021 – 5/7/2021

CMEF – China Medical Equipment Fair
5/16/2021 – 5/16/2021




2021 NADEC Virtual EXPORT CONFERENCE
5/26/2021 – 5/27/2021



INTERNATIONAL TRADE EXPO AMCHAM COLOMBIA
06/02/2021 – 06/03/2021
2021 SelectUSA Investment Summit
7/7/2021 – 7/11/2021

Expo Dubai 2021
10/1/2021 – 3/31/2021

2021 Select LA Investment Summit
10/20/2021 – 10/21-2021

12th World Chambers Congress: Dubai 2021
11/23/2021 - 11/25/2021


California Coalition
for Free Trade
A broad-based group of companies and business organizations working to secure a national free trade agenda.
Join or Learn More
Resources:
California Congressional
Delegation Pictorial Roster
California Congressional
Committee Assignments
California Legislative Pictorial Roster

International Job Positions

Trade Promotion Opportunities

World Trade Organization

PODCAST: The Trade Guys, Center for Strategic and International Studies

PODCAST: Global Translations, Politico
Federal Government:

The White House

Agency Review Teams

The U.S. Senate

The U.S. House of Representatives

U.S. State Department

U.S. Department of Commerce

U.S. Trade Representative

U.S. Small Business Administration

Export-Import Bank of the U.S.
State Government:
Governor

Lieutenant Governor

California State Senate

California State Assembly

California Department of Finance


GO-Biz Monthly International Trade Newsletter




Free eNewsletters
Receive free eNewsletters to help keep you up to date on the laws affecting you and your business. To subscribe to any of the newsletters, visit this link.

Connect with CalChamber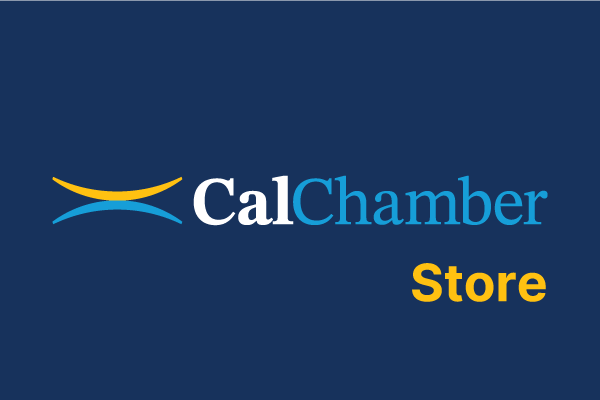 Susanne Stirling, Vice President International Affairs

Nikki Ellis, Assistant, International Affairs
Note: This email is being sent to members of the CalChamber Council for International Trade; CalChamber members with international interests; local, binational and American chambers of commerce abroad; the consular corps; California congressional delegation, selected U.S. and California government officials; and representatives of business and trade associations.

In addition, a National edition is available for distribution.
If you would like to be added to the subscriber list for this free e-newsletter, please click here.
To unsubscribe from Trade Update,
please email us.
1215 K Street, Suite 1400
Sacramento, CA 95814
916 444 6670
www.calchamber.com/international international@calchamber.com