Tuesday, January 5, 2021
Featured Headlines
CalChamber Companies in the News
Amazon Continues to Expand its Transportation Fleet with Purchased Aircraft
American Journal of Transportation, January 5, 2020
UPS Hires for a Busy Shipping Season as Holiday Logistics and Vaccine Deliveries Gain Pace, Finds GlobalData
GlobalData January 4, 2021
CalChamber Member General Motors – How Buick Became the #1 U.S. Car Brand in China
LinkedIn, December 31, 2020
Governor Newsom Announces Partnership of CalChamber Members CVS and Walgreens to Provide Pfizer Vaccines to Residents and Staff in Long-Term Care Facilities
Office of Governor Gavin Newsom, December 28, 2020
USDA Taps IBM to Help Modernize Conservation Programs that Support U.S. Farmers and Ranchers
IBM, December 22, 2020
Northrop Grumman Recognized as a Leader in Sustainability
Northrop Grumman, December 21, 2020
Lockheed Martin To Acquire Aerojet Rocketdyne, Strengthening Position As Leading Provider Of Technologies To Deter Threats And Help Secure The United States And Its Allies
Lockheed Martin, December 20, 2020
Trade Policy
From the White House
Proclamation to Take Certain Actions Under the African Growth and Opportunity Act and for Other Purposes
December 22, 2020
From the U.S. Department of Commerce
Remarks by Commerce Secretary Wilbur Ross at the Export-Import Bank Virtual Board Meeting on Domestic Content Policy
December 17, 2020
Op-Ed by Commerce Secretary Wilbur L. Ross: Space Commerce Accelerating
December 16, 2020
U.S. Secretary of Commerce Wilbur Ross and Singapore Minister for Trade and Industry Chan Chun Sing Sign Memorandum of Understanding on Trade Financing and Investment Cooperation
December 15, 2020
From the U.S. Trade Representative
U.S. Slaps Tariffs on French and German Wines, Aircraft Parts Amid EU Dispute
Reuters, December 30, 2020
United States Modifies Tariffs on EU Products in Large Civil Aircraft Dispute
December 30, 2020
Notice of Product Exclusion Extensions and Additional Modifications: China's Acts, Policies, and Practices Related to Technology Transfer, Intellectual Property, and Innovation
Federal Register, December 29, 2020
From the U.S. Department of State
Joint Statement of the United States-Bahrain Strategic Dialogue
December 30, 2020
Protecting U.S. Investors from Financing Communist Chinese Military Companies
December 28, 2020
U.S.-Australia-India-Japan Consultations ("The Quad") Senior Officials Meeting
December 18, 2020
From the Export-Bank of the U.S.
EXIM Board Unanimously Approves New Policy to Support U.S. Exporter Sales to Additional Foreign Markets and More Effectively Counter Competitors Such as the People's Republic of China
December 23, 2020
From the International Trade Administration
Robots and the Economy: The Role of Automation in Productivity Growth
December 22, 2020
Economic Diversification: A Necessary Priority for EDOs
December 21, 2020
From the Bureau of Economic Analysis
U.S. International Investment Position, Third Quarter 2020
December 29, 2020
U.S. International Transactions, Third Quarter 2020
December 18, 2020
From the World Trade Organization
WTO Paper Explores Role of Trade Policy in the Rapid Roll-Out of COVID-19 Vaccines
December 22, 2020
World Trade Volume Rallies in Third Quarter After COVID-19 Shock
December 18, 2020
Trade Agreements
BREXIT
Brexit Customs Checks Make
a Quiet Debut at U.K. Ports
The New York Times, January 1, 2021
Agreements Reached Between the
United Kingdom of Great Britain and
Northern Ireland and the European Union
Government of the United Kingdom, December 30, 2020
EU Governments Approve
Post-Brexit Trade Agreement With U.K.
Bloomberg, December 29, 2020
The Key Terms of the Brexit Deal Analyzed
American Journal of Transportation, December 28, 2020
BBC Says Obtained Full Copy
of Post-Brexit Trade Deal
Reuters, December 25, 2020
UK Clinches Historic Post-Brexit
Trade Agreement with EU
American Journal of Transportation, December 24, 2020
British Business' Last-Minute Plea
for Brexit 'Grace Periods'
Politico, December 18, 2020
Japan and Mexico Agree to Expand Membership of TPP Free Trade Pact
The Japan Times, January 5, 2021
Japan-U.K. Post-Brexit Trade Deal Takes Effect
Kyodo News, January 1, 2021
Turkey and U.K. Agree to Roll Over Free Trade Agreement
American Journal of Transportation, December 29, 2020
India Should Now Aggressively Pursue FTAs with EU, U.K.: Trade Experts
The Hindu, December 25, 2020
Toomey-led Resolution Calls for Free Trade Agreement Between the US and Taiwan
U.S. Senator Pat Toomey, December 23, 2020
Britain, Canada Strike Short-Term Deal to Avoid Post-Brexit Tariffs
Reuters, December 22, 2020
Some Automakers Want More Time to Meet New Trade Rules, Mexican Official Says
Reuters, December 22, 2020
UK-Singapore Free Trade Agreement: Securing Bilateral Trade in Goods and Services Post-Brexit
Lexology, December 21, 2020
Top U.S. Trade Negotiator Bullish on Last-Minute U.K. Trade Deal
Bloomberg, December 17, 2020
Federal
President of the Pacific Merchant Shipping Association (PMSA) John McLaurin Makes Statement Regarding Congestion in the Supply Chain
American Journal of Transportation, January 4, 2021
U.S. Companies Face China Tariffs as Exclusions Expire
The New York Times, December 31, 2020
While China is Knocking at the Door of Key Trade Agreement, Will the US Find its Way in Under Biden?
South China Morning Post, December 29, 2020
U.S. Trade Deficits Continue to Grow
Axios, December 22, 2020
Trump Trade Czar Eyes Exit Hailing Tariff Power His Critics Hate
Bloomberg, December 22, 2020
U.S. Adds Over 100 Chinese, Russian Companies to Military List
Bloomberg, December 21, 2020
California
California Small Businesses to Receive Additional $500M in Economic Relief
The San Diego Union-Tribune, January 3, 2021
California May Be Losing its Business Mojo
CalMatters, December 15, 2020
The Bay Area-Silicon Valley and Australia An Expanding Trans-Pacific Partnership
Bay Area Council Economic Institute, December 2020
More International Articles
Manufacturers Overcame Covid-19 Setbacks to End 2020 on High Note
The Wall Street Journal, January 4, 2021
France Seeks 'De-Escalation' from Biden on Trade, Minister Says
Bloomberg, January 4, 2021
South Korea's Export Growth in December Fastest Since 2018
Bloomberg, January 1, 2021
China Finishes Off a Wild Year With More Manufacturing Growth
The Wall Street Journal, December 30, 2020
Mexico Takes Controversial Step to Limit Private Fuel Imports
Reuters, December 27, 2020
South America 'Hardest Hit' by Covid-19 Economic Fallout
France24, December 23, 2020
Global Cargo Logjam Deepens, Delaying Goods Bound for Retailers, Automakers
Reuters, December 23, 2020
Huawei Documents Reveal China's Grievance Against Australia
The Sydney Morning Herald, December 21, 2020
Foreign Investment Pours Into China Despite Trade War, Pandemic
Bloomberg, December 18, 2020
With Eye on China, Japan Refuses to Ease TPP Rules for New Members
Nikkei Asian Review, December 18, 2020
National Edition – available for complimentary further distribution.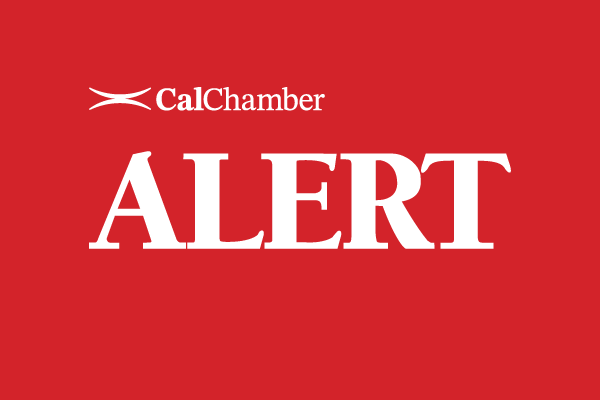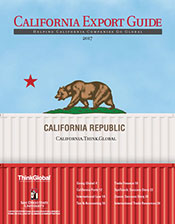 The California Export Guide is published by ThinkGlobal Inc. in partnership with the Center for International Business Education and Research (CIBER) at San Diego State University. The guide provides expert advice and information for exporters.



You can view the entire
Trade Update on our website.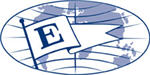 President's Export Award Recipient
Visit CalChamber.com/International for export/import information, trade stats, trade policy, FAQs and more.

Upcoming Events:


WEBINAR: Intro to Trade Finance: Compete and Win Sales with EXIM'S Risk Protection & Access to Cash
1/12/2021

2021 California Budget Review by Finance Director Keely Martin Bosler
1/12/2021




AmCham Ireland's Invest in California Guide Launch
1/13/2021

California Global Connect: Renewable Energy and Advanced Transportation Opportunities in Portugal & Spain
2/23/2021 – 2/26/2021

Taiwan Trade Shows 2021
3/01/2021 - 10/30/2021

Cyber Security Trade Mission to South America
3/1/2-21 - 3/8/2021

Cyber Security Business Development Mission to India
04/19/2021 – 04/23/2021
2021 SelectUSA Investment Summit
6/6/2021 – 6/9/2021

Expo Dubai 2021
10/1/2021 – 3/31/2021

12th World Chambers Congress: Dubai 2021
11/23/2021 - 11/25/2021


California Coalition
for Free Trade
A broad-based group of companies and business organizations working to secure a national free trade agenda.
Join or Learn More
Resources:
California Congressional
Delegation Pictorial Roster
California Congressional
Committee Assignments
California Legislative Pictorial Roster

International Job Positions

Trade Promotion Opportunities

PODCAST: The Trade Guys, Center for Strategic and International Studies

PODCAST: Global Translations, Politico
Federal Government:

The White House

Biden Transition Page

Agency Review Teams

The U.S. Senate

The U.S. House of Representatives

U.S. State Department

U.S. Department of Commerce

U.S. Trade Representative

U.S. Small Business Administration

Export-Import Bank of the U.S.
State Government:
Governor

California State Senate

California State Assembly

California Department of Finance


GO-Biz Monthly International Trade Newsletter




Free eNewsletters
Receive free eNewsletters to help keep you up to date on the laws affecting you and your business. To subscribe to any of the newsletters, visit this link.

Connect with CalChamber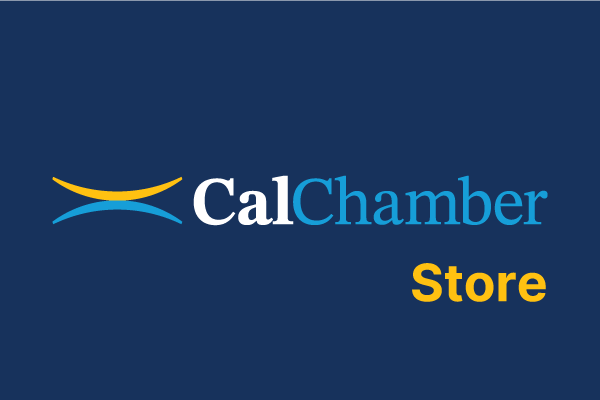 Susanne Stirling, Vice President International Affairs

Nikki Ellis, Assistant, International Affairs
Note: This email is being sent to members of the CalChamber Council for International Trade; CalChamber members with international interests; local, binational and American chambers of commerce abroad; the consular corps; California congressional delegation, selected U.S. and California government officials; and representatives of business and trade associations.

In addition, a National edition is available for distribution.
If you would like to be added to the subscriber list for this free e-newsletter, please click here.
To unsubscribe from Trade Update,
please email us.
1215 K Street, Suite 1400
Sacramento, CA 95814
916 444 6670
www.calchamber.com/international international@calchamber.com