Tuesday, June 11, 2019
Featured Headlines
CalChamber Companies in the News
BMW Opens Mexico Plant Without Flinching
Automotive News, June 10, 2019
Amazon Unveils Futuristic Helicopter-Plane Hybrid Drone for Deliveries
Bloomberg, June 5, 2019
Boeing is In Talks for a Megadeal That the Trade War Could Derail
AJoT, June 5, 2019
UPS Teams Up with ShopRunner Connecting Retailers with 58 Million UPS My Choice Members
AJoT, June 3, 2019
Trade Policy
From the White House
President Donald J. Trump Secures a Historic Deal with Mexico to Combat the Crisis at the Border
June 10, 2019
New Government Data Shows the Broad Strength of the United States Job Market
June 10, 2019
President Donald J. Trump Is Working with the United Kingdom To Secure A Stronger and More Prosperous International Partnership
June 3, 2019
Proclamation to Modify the List of Beneficiary Developing Countries Under the Trade Act of 1974
May 31, 2019
From the U.S. Department of Commerce
Opening Remarks by U.S. Commerce Secretary Wilbur L. Ross at the 2019 SelectUSA Investment Summit
June 11, 2019
Implementation of New Commerce Section 232 Exclusions Portal – Effective June 13, 2019
Federal Register, June 10, 2019
The 2019 SelectUSA Investment Summit: Ivanka Trump, Larry Kudlow, Tech Startups & More
June 6, 2019
Department of Commerce Releases Report on Critical Minerals
June 4, 2019
Commerce and Treasury Departments Implement Changes to Cuba Sanctions Rules
June 4, 2019
Secretary Wilbur Ross Statement on Meeting with Mexico's Secretary of Economy
June 3, 2019
Secretary of Commerce Leads U.S. Delegation to El Salvador
June 1, 2019
From the U.S. Trade Representative
Statement on the United States-CARICOM Trade and Investment Council
June 7, 2019
U.S. Trade Representative and the U.S. Department of Treasury Respond to the "White Paper" Issued by China on June 2, 2019
June 3, 2019
Notice Regarding Application of Section 301 Action
May 31, 2019
From the U.S. Department of State
Joint Statement on U.S.-Bangladesh Partnership Dialogue
June 11, 2019
Joint Statement on the Inaugural U.S.-Iceland Economic Dialogue
June 7, 2019
Secretary Pompeo Travels to The Netherlands To Address the Global Entrepreneurship Summit and Reinforce U.S.-Dutch Ties
June 3, 2019
U.S.-Australia-India-Japan Consultations ("The Quad")
May 31, 2019
Secretary Pompeo Travels to Switzerland To Strengthen Economic Security and Bilateral Ties
May 31, 2019
From the World Trade Organization
G20 Trade Ministers Renew Commitment to WTO Reform with "Sense of Urgency"
June 9, 2019
Local Content Measures Scrutinized by WTO Members in Investment Committee
June 6, 2019
EU to Propose Workaround to Avoid U.S. Block on WTO Judges
Reuters, June 6, 2019
WTO Chief Hopeful of Progress on E-Commerce Rules at G-20
Nikkei Asian Review, June 5, 2019
Canada Appeals Panel Report Regarding US Dumping Duties on Canadian Lumber
June 4, 2019
DG Azevêdo Pledges Support for Africa's Continued Economic Integration
June 3, 2019
DDG Wolff: Companies Depend On the Health of a Liberal International Trading System
May 30, 2019
Trade Agreements
Japan's Motegi Says to Meet USTR Lighthizer on June 13 for Trade Talk
Reuters, June 11, 2019
Hong Kong Seeks New Markets Through Asean Free-Trade Deal as US-China Trade War Rages On
South China Morning Post, June 10, 2019
UK and South Korea Agree to Sign Post-Brexit Trade Deal
The Guardian, June 10, 2019
Trump to Make China Tariffs Decision 'Right After G20'
Reuters, June 6, 2019
This is What the U.S. Wants from the U.K. Before it Will Sign a Trade Deal
NBC News, June 3, 2019
Trump Administration Strips India of Special Trade Status
The New York Times, May 31, 2019
Federal
Trump Vows to 'Do Something' About EU Wine Duties
France 24, June 10, 2019
Trump's Method ot the Madness on Trade
Politico, June 6, 2019
Exports, Imports Both Plummet as U.S. Trade Deficit Narrows
Bloomberg, June 6, 2019
Trade War is Hurting U.S. Wineries
Wine Spectator, June 5, 2019
Trump's Mexico Tariff Threat Trips Up Manufacturers Shifting Out of China
The Wall Street Journal, June 2, 2019
Trump Administration Considered Tariffs on Australia
The New York Times, June 2, 2019
California
In Trump's Trade War with China, L.A. Ports are Ground Zero
The Los Angeles Times, June 9, 2019
'Disaster': How Trump's Mexico Tariff Plan Would Jolt California
The San Francisco Chronicle, June 3, 2019
This Week in the Pacific Northwest
Consulate General of Israel to the Pacific Northwest, June 2019
More International Articles
China
Chinese Exporters Dodge Tariffs
With Fake Made-in-Vietnam Labels
AJoT, June 10, 2019
Chinese State Media Calls New Tech Export
Controls a Shield 'Against Certain Countries'
South China Morning Post, June 9, 2019
China is Letting Value of Yuan Slide to Offset Trade War Tariffs, US Treasury Secretary Mnuchin Says
South China Morning Post, June 8, 2019
U.S.-China Trade War Sparks
Worries About Rare Minerals
AP, June 8, 2019
China Plans to Create a
Technology Security Management System
Bloomberg, June 8, 2019
Govt Mulls Mandatory Barcoding of All Medicines Sold Within India
LiveMint, June 9, 2019
G20 Ministerial Statement on Trade and Digital Economy
G20, June 9, 2019
Japan's First-Quarter GDP Grows at Faster Pace, But Trade War Blunts Outlook
Reuters, June 9, 2019
Vietnam Tops List of Biggest Winners from U.S.-China Trade War
Bloomberg, June 3, 2019
Trump's Trade Attack Pushes India to Negotiating Table
AJoT, June 3, 2019
Welcoming Triton, the Largest Ship to Ever Pass Through the Panama Canal
AJoT, June 3, 2019
Global Manufacturing Shrinks Amid Wall Street Recession Warning
Bloomberg, June 2, 2019
Withdrawal of India's GSP Benefits By USA
Press Information Bureau Government of India, June 1, 2019
Share Trade Update: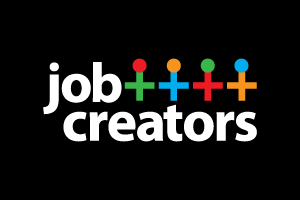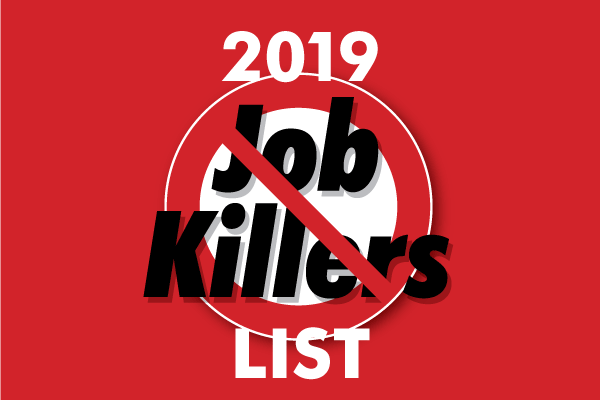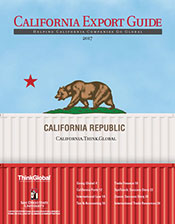 The California Export Guide is published by ThinkGlobal Inc. in partnership with the Center for International Business Education and Research (CIBER) at San Diego State University. The guide provides expert advice and information for exporters.



You can view the entire
Trade Update on our website.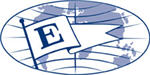 President's Export Award Recipient
Visit CalChamber.com/International for export/import information, trade stats, trade policy, FAQs and more.

California Coalition
for Free Trade
A broad-based group of companies and business organizations working to secure a national free trade agenda.
Join or Learn More

Resources:
California Congressional
Delegation Pictorial Roster
California Congressional
Committee Assignments
California Legislative Pictorial Roster
Federal Government:
The White House

The U.S. Senate

The U.S. House of Representatives

U.S. State Department

U.S. Department of Commerce

U.S. Trade Representative
State Government:
Governor

California State Senate

California State Assembly

California Department of Finance




California STEP Grant FY 2018




Free eNewsletters
Receive free eNewsletters to help keep you up to date on the laws affecting you and your business. To subscribe to any of the newsletters, visit this link.

Connect with CalChamber
Note: This email is being sent to members of the CalChamber Council for International Trade; CalChamber members with international interests; local, binational and American chambers of commerce abroad; the consular corps; California congressional delegation, selected U.S. and California government officials; and representatives of business and trade associations.

If you would like to be added to the subscriber list for this free e-newsletter, please click here.
To unsubscribe from Trade Update,
please email us.
1215 K Street, Suite 1400
Sacramento, CA 95814
916 444 6670
www.calchamber.com/international international@calchamber.com