Tuesday, March 5, 2019
Featured Headlines
CalChamber Companies in the News
Lyft Files Its Long-Awaited IPO, As it Cuts its Cash Reserves in Half
San Francisco Business Times, March 1, 2019
Trump's Vietnam Visit Spotlights $15.7 Billion in Orders for Boeing
Chicago Tribune, February 27, 2019
Sempra Energy to Start Sale Process for Peru and Chile Businesses
Power Technology, February 26, 2019
Disney-Fox Deal Passes in Brazil With Divestment Accord
Bloomberg, February 26, 2019
Boeing Nominates Former U.N. Ambassador Haley to Join Its Board
Yahoo Finance, February 26, 2019
Trade Policy
From the White House
Presidential Proclamation on Irish-American Heritage Month, 2019
March 1, 2019
Economic Growth Has Reached 3 Percent for the First Time
in More than a Decade Thanks to President Donald J. Trump's Policies
February 28, 2019
President Donald J. Trump Hails Vietnam's Commitment
to Expanding Commercial Partnerships with American Companies
February 27, 2019
House Ways and Means Committee
Brady Opening Statement at Hearing on U.S.-China Trade
February 27, 2019
From the U.S. Department of Commerce
U.S. Department of Commerce Initiates Section 232 Investigation
into Titanium Sponge Imports
March 4, 2019
Op-Ed by Commerce Secretary Wilbur L. Ross:
Launching Toward a $1 Trillion Space Economy
February 28, 2019
Statement from U.S. Secretary of Commerce Wilbur Ross
on Q4 and Annual 2018 GDP: Economy Grows 2.9% in 2018
February 28, 2019
U.S. Department of Commerce Initiates Antidumping Duty
and Countervailing Duty Investigations of Imports
of Fabricated Structural Steel from Canada, China, and Mexico
February 26, 2019
From the U.S. Trade Representative
United States Will Terminate GSP Designation of India and Turkey
March 4, 2019
Trump Administration Charts Trade Policy Course More Favorable
to American Workers
March 1, 2019
United States Wins WTO Dispute Finding China Provides Excessive Government Support to its Grain Producers
February 28, 2019
Opening Statement of USTR Robert Lighthizer
to the House Ways and Means Committee
February 27, 2019
Watch USTR Lighthizer's Testimony Here.
From the U.S. Department of State
Merger of U.S. Embassy Jerusalem and U.S. Consulate General Jerusalem
March 3, 2019
From the World Trade Organization
Time to Modernize, Not Abandon, The WTO
East Asia Forum, March 5, 2019
General Council Meeting: WTO Chairpersons for 2019
February 28, 2019
WTO Issues Panel Report Regarding Chinese Agricultural Subsidies
February 28, 2019
DG Azevêdo: "The Time is Now to Confront Systemic Challenges"
February 27, 2019
U.K. Approved to Rejoin $1.7 Trillion WTO Procurement Deal
Reuters, February 27, 2019
U.S. Wins WTO Dispute Over China Farm Policies, Lighthizer Says
Reuters, February 27, 2019
Canada, U.S. Take India to Task on WTO Commitments
The Western Producer, February 26, 2019
Trade Agreements
China-Chile FTA Upgraded, New Opportunities for Investors
China Briefing, March 4, 2019
EU Set for Trade Talks with U.S. on March 6 Amid Concern Over Tariffs
Reuters, March 4, 2019
New Push for Asia-Pacific Megadeal as Trade War Eases
Nikkei Asian Review, March 4, 2019
Indonesia and Australia Sign Pact Eliminating Many Tariffs
Associated Press, March 3, 2019
USTR Seeks to Kick Off Trade Talks with Japan as Early as March
Agri-Pulse, February 27, 2019
China-Backed Trade Pact Faces Fresh Hurdles Amid Bali Talks
Bloomberg, February 26, 2019
Mexico Seeks to Put to Rest Labor Concerns Over New Trade Deal
The Hill, February 26, 2019
Save NAFTA? Check. What's Next for Canada's Top Trade Negotiator
Maclean's, February 25, 2019
The Latest Winner From the U.S.-China Trade Fight: Canada
Bloomberg, February 25, 2019
Federal
In Change of Tone, U.S. Restores EU's Diplomatic Status
The New York Times, March 4, 2019
California
California Farmers Surviving Trump's Trade War with China,
But How Long Will it Last?
The Sacramento Bee, February 28, 2019
More International Articles
China
U.S. Confirms It's Delaying China
Tariff Increase Indefinitely
Bloomberg, March 5, 2019
China Lowers 2019 GDP Growth
Target to 6-6.5 Percent Range
South China Morning Post, March 5, 2019
Trump and Xi are Close to a Deal,
But the Trade War Isn't Over
Bloomberg, March 4, 2019
China to Slash Taxes, Boost Lending
to Prop Up Slowing Economy
Reuters, March 4, 2019
We Can't Let China Become the Global
Leader in Artificial Intelligence
Los Angeles Times, March 4, 2019
China Reportedly Offering to Lower
Tariffs on US Farm, Chemical and Auto
Products as Trade Deal Gets Closer
CNBC, March 3, 2019
US-China relationship must not
'return to the cold war': Beijing
diplomat asks Washington to be patient
The South China Morning Post, March 1, 2019
U.S. Prepares Final China
Trade Deal as Hawks Urge Caution
Bloomberg, February 28, 2019
U.S. Still Sends Lots of Lobster
to China, But Tariff A Worry
Associated Press, February 27, 2019
U.S.-China Trade: Tariff and Non-Tariff Barriers
Reuters, February 26, 2019
Trump Attacks India on Trade as U.S. Seeks Its Help on China
Bloomberg, March 5, 2019
UK Minister Says Brexit Talks Yield 'Positive' Signals
The Sacramento Bee, March 5, 2019
China-US Competition is Good News for LATAM Investment
Equities, March 4, 2019
Mexico Eyes Fresh US Targets for Tariffs to Pressure Trump Over Steel
Reuters, March 1, 2019
Mexico Faces Possible Downgrade in Coming Year, Negative Outlook
Reuters, March 1, 2019
India- Latin American Nations Have Huge Potential to Boost Trade Ties
The New Indian Express, February 28, 2019
Brazil's Wine Sector Eyes Chinese Market for Future Development
XinhuaNet, February 27, 2019
India Is Missing Out on the Trade War Investment Boom
Bloomberg, February 25, 2019
IBNewsmag:
What is Blockchain, and Can It Help Beef Up Your Supply Chain?
International Business News, February 2019
Share Trade Update: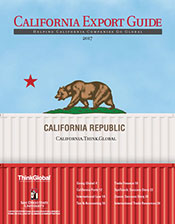 The California Export Guide is published by ThinkGlobal Inc. in partnership with the Center for International Business Education and Research (CIBER) at San Diego State University. The guide provides expert advice and information for exporters.





You can view the entire
Trade Update on our website.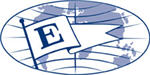 President's Export Award Recipient
Visit CalChamber.com/International for export/import information, trade stats, trade policy, FAQs and more.

Upcoming Events:
How China Can Lead the Way Towards Cooperative Innovation: A Discussion with Amb. Craig Allen, President of U.S.-China Business Council
3/11/2019

Doing Business in Spain and Portugal Webinar
3/18/2019

Doing Business in Nordics Webinar
4/16/2019

Aerospace Fair Mexico 2019
4/24/2019



Understanding Brexit
4/24/2019

Doing Business in Austria and Hungary
4/24/2019

93rd Annual World Trade Week: SoCal – The Engine of Global Trade & Economic Growth
5/2/2019

Trade Winds Indo-Pacific Forum & Mission 2019
5/6/2019

Doing Business in Czech Republic and Slovakia Webinar
May 15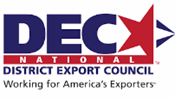 National Association of District Export Councils Annual Export Conference
5/21/2019





Select USA Investment Summit
6/10/2019

Doing Business in Baltics Webinar
6/12/2019

Think Asia, Think Hong Kong
9/20/2019

California Coalition
for Free Trade
A broad-based group of companies and business organizations working to secure a national free trade agenda.
Join or Learn More

Resources:
California Congressional
Delegation Pictorial Roster
California Congressional
Committee Assignments
California Legislative Pictorial Roster
Federal Government:
The White House

The U.S. Senate

The U.S. House of Representatives

U.S. State Department

U.S. Department of Commerce

U.S. Trade Representative
State Government:
Governor

California State Senate

California State Assembly

California Department of Finance

Governor's Office of Business
and Economic Development – GO Biz

GO-Biz California Business Portal:
A One-Stop-Shop Website
for Business Owners




California STEP Grant FY 2018




Free eNewsletters
Receive free eNewsletters to help keep you up to date on the laws affecting you and your business. To subscribe to any of the newsletters, visit this link.

Connect with CalChamber
Note: This email is being sent to members of the CalChamber Council for International Trade; CalChamber members with international interests; local, binational and American chambers of commerce abroad; the consular corps; California congressional delegation, selected U.S. and California government officials; and representatives of business and trade associations.

If you would like to be added to the subscriber list for this free e-newsletter, please click here.
To unsubscribe from Trade Update,
please email us.
1215 K Street, Suite 1400
Sacramento, CA 95814
916 444 6670
www.calchamber.com/international international@calchamber.com