Tuesday, January 19, 2021
Featured Headlines
CalChamber Companies in the News
Ford to Illuminate Iconic Detroit-Area Buildings Tuesday, Joining Nationwide Memorial for U.S. Lives Lost to COVID-19
Ford Media, January 18, 2021
Lockheed Martin-Built Orion Spacecraft Is Ready For Its Moon Mission
Lockheed Martin, January 14, 2021
United Airlines Commits to 100% Green Carbon Neutral by 2050
3BL Media, January 6, 2021
Walmart Foundation Donates $12M to Feeding America
New Jersey Business News Magazine, December 22, 2020
Comcast Announces $1 Million Commitment to Per Scholas to Combat the Tech Opportunity Gap Across the U.S.
Business Wire, December 3, 2020
Trade Policy
From the White House
Proclamation Terminating Restrictions on Entry of Certain Travelers from the Schengen Area, the United Kingdom, the Republic of Ireland, and Brazil
January 18, 2021
Statement from the Press Secretary Regarding the Designations of the UAE and the Kingdom of Bahrain as Major Security Partners of the United States
January 15, 2021
Trump Administration Issues 75th Annual Economic Report of the President
January 15, 2021
Operation Warp Speed Delivers Best Early Vaccination Rate of the G20
January 15, 2021
Executive Order on Encouraging Buy American Policies For The United States Postal Service
January 14, 2021
From the U.S. Department of Commerce
Across the Commerce Department: 2020 Year in Review
January 15, 2021
Commerce Tightens Controls to Prevent Support of Foreign Military-Intelligence and WMD Activities
January 14, 2021
Commerce Department Issues Interim Rule to Secure the ICTS Supply Chain
January 14, 2021
Commerce Secretary Signs MOU Establishing U.S. Trade Zone in Kingdom of Bahrain
January 13, 2021
From the U.S. Trade Representative
USTR Releases Annual Reports on WTO Compliance of China and Russia
January 15, 2021
USTR Releases Findings in Section 301 Investigation of Vietnam's Acts, Policies, and Practices Related to Currency Valuation
January 15, 2021
USTR Releases Findings and Updates in DST Investigations
January 14, 2021
USDA, USTR Name New Agricultural Trade Advisors
Foreign Agricultural Service, January 14, 2021
From the U.S. Department of State
United States and Turkey Sign Cultural Property Agreement
January 19, 2021
Championing America's First Freedom
January 16, 2021
United States and Morocco Sign Cultural Property Agreement
January 14, 2021
Protecting and Preserving a Free and Open South China Sea
January 14, 2021
Joint Statement of the 47th U.S.-Israel Joint Political-Military Group
January 12, 2021
U.S. Trade Development Agency
Video – 2020: A Year Like No Other
December 30, 2020
From the Export-Bank of the U.S.
EXIM Board Adopts New Procedures to Implement Provisions of its Historic 2019 Congressional Reauthorization
January 18, 2021
EXIM's Role in National Strategy to Secure 5G Implementation Plan Approved by White House
January 17, 2021
EXIM Chairman Kimberly Reed Kicks Off Second Phase of "All America Initiative" in Partnership with the National Association of State Chambers
January 17, 2021
EXIM Approved 142 Small Business Authorizations Totaling More Than $407 Million and Supporting 2,700 U.S. Jobs in November 2020
January 14, 2021
From the International Trade Administration
U.S. Departments of Commerce and Energy Appoint U.S. Selection of the U.S.-Mexico Energy Business Council
January 15, 2021
From the World Trade Organization
DDG Wolff: Focused WTO Talks Needed on Trade and Climate Change Issues
January 14, 2021
DDG Wolff Outlines Possible Responses to Calls for WTO Reform
January 13, 2021
WTO, OECD Launch Dataset on Bilateral Services Trade
January 13, 2021
Trade Agreements
New Brexit-Era Regulations Add "Red Tape" and Confusion to EU-UK Trade
American Journal of Transportation, January 18, 2021
Fate of Kenya-U.S. Free Trade Deal Uncertain
The Maritime Executive, January 18, 2021
EU Trade Official Wants Swift Engagement with Biden on Aircraft, Digital Taxes, WTO
Reuters, January 15, 2021
The Chile-Paraguay FTA Could Create Deeper Ties For Latin America And Opportunities For Investors
Forbes, January 14, 2021
African Continental Free Trade Agreement: Red Tape Delays Start of Trading Under New Pact
Business Maverick, January 14, 2021
China to Import More Indonesian Products to Balanced Trade
Reuters, January 13, 2021
Trade Deal Allows Chinese Staff to Work in EU for 3 Years
Politico, January 13, 2021
U.S. Bans All Xinjiang Cotton Products, Tomatoes Over Forced Labor
Bloomberg, January 13, 2021
Federal
U.S. Says Vietnam's Currency Actions 'Unreasonable' but Holds Off On Tariffs
Reuters, January 16, 2021
Architect of U.S. Pivot Picked to Be Biden's 'Asia Czar'
The Japan Times, January 14, 2021
Biden Names U.S.'s Former UN Ambassador Power to Lead USAID
Reuters, January 13, 2021
Obama-Era Veteran Kurt Campbell to Lead Biden's Asia Policy
Reuters, January 13, 2021
The Right Way for the U.S. to Engage the World Again
Bloomberg, January 13, 2021
U.S. to Require Negative Virus Tests From International Air Passengers
The New York Times, January 12, 2021
Biden Trade Policy to Center on Workers, USTR Nominee Says
The Wall Street Journal, January 12, 2021
California
Seroka Reports Port of LA Moved 9.2 Million TEUS In 2020
American Journal of Transportation, January 15, 2021
Port of Long Beach Moves a Record 8.1 Million TEUs in 2020
American Journal of Transportation, January 15, 2021
Minister Troy Highlights Opportunities to Strengthen Ireland's Economic Relationship with Largest Trade and Investment Partner in the US, California
Government of Ireland, January 13, 2021
State Expects to Receive Surplus Revenue, But Sees Deficits on the Horizon
CalChamber, January 13, 2021
More International Articles
Time for Europe and US to Work Together on China
Politico, January 19, 2021
Johnson Fuels G-7 Fears of Rival Alliance to Counter China
Bloomberg, January 19, 2021
Merkel, Macron, Xi and Modi to Speak at Virtual Davos Forum
Bloomberg, January 18, 2021
Once a Trump-Basher, Mexico's Leader Misses Him Already
The New York Times, January 18, 2021
Canada's Ambassador to U.S. Shares Most Biden Priorities, Worries About His 'Buy America' Policy
Politico, January 17, 2021
China's Growth Beats Estimates as Economy Powers Out of Covid
Bloomberg, January 17, 2021
Brexit Driving Top Dealmakers Out of London and Into the EU
Bloomberg, January 15, 2020
China 2020 Exports Up Despite Virus; Surplus Surges to $535B
AP, January 14, 2021
China Promotes New International Trade Representative
Global Times, January 14, 2021
U.S. Says Austria, Spain, U.K. Digital Taxes Are Discriminatory
Bloomberg, January 14, 2021
China's Economy Powers Ahead While the Rest of the World Reels
The Wall Street Journal, January 13, 2021
China Wants to Open Up its Financial Markets to Foreigners — But It's a Long Road Ahead
CNBC, January 12, 2021
National Edition – available for complimentary further distribution.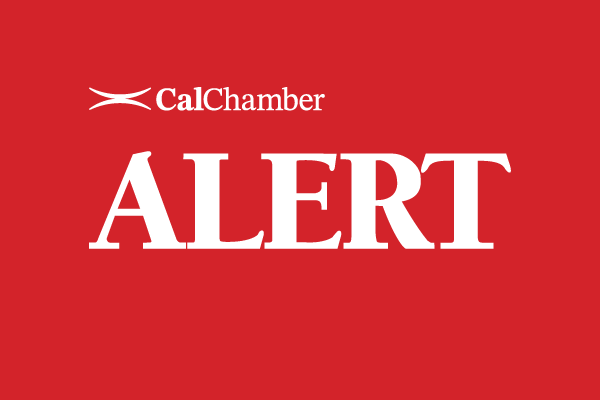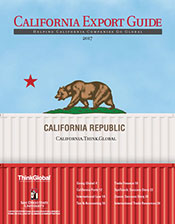 The California Export Guide is published by ThinkGlobal Inc. in partnership with the Center for International Business Education and Research (CIBER) at San Diego State University. The guide provides expert advice and information for exporters.



You can view the entire
Trade Update on our website.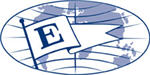 President's Export Award Recipient
Visit CalChamber.com/International for export/import information, trade stats, trade policy, FAQs and more.

Upcoming Events:

NorCal World Trade Center's GLOBAL OUTLOOK 2021
1/26/2021

California Global Connect: Renewable Energy and Advanced Transportation Opportunities in Portugal & Spain
2/23/2021 – 2/26/2021

California - UK After Brexit: Prospects in Partnership
2/25/2021

Taiwan Trade Shows 2021
3/01/2021 - 10/30/2021

Cyber Security Trade Mission to South America
3/1/2-2021 - 3/8/2021

2021 Smart City Summit & Expo, Taiwan
3/23/2021 – 3/26/2021

Cyber Security Business Development Mission to India
04/19/2021 – 04/23/2021




2021 NADEC Virtual EXPORT CONFERENCE
5/26/2021 – 5/27/2021
2021 SelectUSA Investment Summit
6/6/2021 – 6/9/2021

Expo Dubai 2021
10/1/2021 – 3/31/2021

12th World Chambers Congress: Dubai 2021
11/23/2021 - 11/25/2021


California Coalition
for Free Trade
A broad-based group of companies and business organizations working to secure a national free trade agenda.
Join or Learn More
Resources:
California Congressional
Delegation Pictorial Roster
California Congressional
Committee Assignments
California Legislative Pictorial Roster

International Job Positions

Trade Promotion Opportunities

PODCAST: The Trade Guys, Center for Strategic and International Studies

PODCAST: Global Translations, Politico
Federal Government:

The White House

Biden Transition Page

Agency Review Teams

The U.S. Senate

The U.S. House of Representatives

U.S. State Department

U.S. Department of Commerce

U.S. Trade Representative

U.S. Small Business Administration

Export-Import Bank of the U.S.
State Government:
Governor

California State Senate

California State Assembly

California Department of Finance


GO-Biz Monthly International Trade Newsletter




Free eNewsletters
Receive free eNewsletters to help keep you up to date on the laws affecting you and your business. To subscribe to any of the newsletters, visit this link.

Connect with CalChamber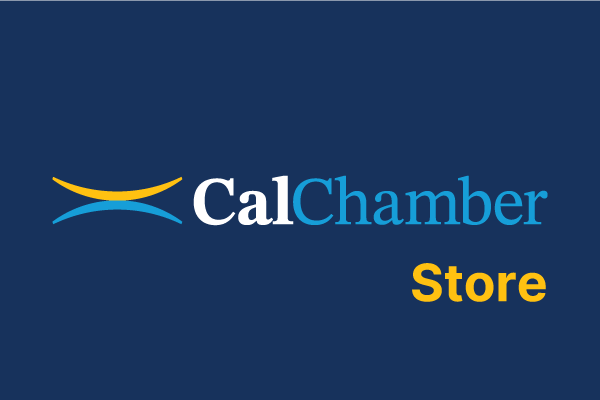 Susanne Stirling, Vice President International Affairs

Nikki Ellis, Assistant, International Affairs
Note: This email is being sent to members of the CalChamber Council for International Trade; CalChamber members with international interests; local, binational and American chambers of commerce abroad; the consular corps; California congressional delegation, selected U.S. and California government officials; and representatives of business and trade associations.

In addition, a National edition is available for distribution.
If you would like to be added to the subscriber list for this free e-newsletter, please click here.
To unsubscribe from Trade Update,
please email us.
1215 K Street, Suite 1400
Sacramento, CA 95814
916 444 6670
www.calchamber.com/international international@calchamber.com