Tuesday, April 10, 2018
Featured Headlines
CalChamber Companies in the News
A Culture of Innovation: Stepping Out of Our
Comfort Zone to Achieve Goals
Blue Diamond Growers, April 4, 2018
Clippers Foundation to Donate $10 Million
to Renovate Los Angeles' Basketball Courts
Los Angeles Times, April 2, 2018
Trade Policy
From the White House
Statement from President Donald J. Trump
on Additional Proposed Section 301 Remedies
April 5, 2018
From the U.S. Department of Commerce
U.S. Department of Commerce Issues Affirmative Final Determination on Stainless Steel Flanges from the People's Republic of China
April 6, 2018
From the U.S. Trade Representative
USTR Announces U.S.-Bahrain Memorandum
of Understanding on Trade in Food and Agriculture Products
April 9, 2018
USTR Robert Lighthizer Statement
on the President's Additional Section 301 Action
April 5, 2018
United States: China's Response
to U.S. Steel and Aluminum Tariffs Is Baseless
April 4, 2018
From the U.S. Department of State
Joint Statement on the U.S.-India-Japan Trilateral Meeting
April 5, 2018
From the International Trade Administration
Strengthening Credit Conditions
for Exporting Small and Medium-Sized Enterprises
April 6, 2018
From the World Trade Organization
WTO Establishes Two Panels to Rule on US Lumber Duties
April 9, 2018
China Initiates WTO Dispute Complaint Against
US Tariffs on Steel, Aluminum Products
April 9, 2018
S. Korea Notifies WTO of Plans to Suspend Tariff
Concessions on U.S. Goods
Reuters, April 6, 2018
China Files WTO Complaint Over the United States'
Tariff Measures on Chinese Goods
April 5, 2018
Trade Agreements
NAFTA
No New NAFTA Deal This Week, But
80 Percent Chance for Early May: Mexico Minister
Reuters, April 9, 2018
A NAFTA Poison Pill
The Wall Street Journal, April 9, 2018
Trump Has an Unlikely Ally on Wages:
Mexico's Leftist Candidate
Bloomberg, April 9, 2018
Mexico Does Not Rule Out
'Quick Result' to NAFTA Trade Talks
Reuters, April 6, 2018
NAFTA Nations 'Moving Forward in
Significant Way': Canada's Trudeau
Reuters, April 5, 2018
Trump Softens Key NAFTA Demand
on Regional Car Content
Bloomberg, April 4, 2018
Chairman Brady Talks NAFTA
Negotiations with Harris Faulkner
House Ways and Means Committee Youtube, April 3, 2018
Freeland Expected to Go to DC for Late-Game
NAFTA Talks as Political Pressure Ramps Up
CBC, April 3, 2018
British Minister Flags Free-Trade Deal with Australia
Australian British Chamber of Commerce, April 9, 2018
Joining the TPP After Brexit Would Be Groundbreaking for Britain, Says British MEP
Daily Express, April 5, 2018
Federal
Video: Navarro: Trump's Tariff Threats Are Not a 'Negotiating Tactic' with China
NBC, April 8, 2018
U.S. Looks to Protect Domestic Car Makers From Foreign Competition
The Wall Street Journal, April 6, 2018
U.S. Trade Offensive Puts Spotlight on Foreign-Exchange Policies
Bloomberg, April 4, 2018
Economist: Trump Trade War Will Cost 190,000 Jobs
Axios, April 4, 2018
Stocks Bounce Back from Trade Temors, Bonds Fall: Markets Wrap
Bloomberg, April 3, 2018
California
More International Articles
China
States That Could Be Hurt The
Most By A Trade War With China
ValuePenguin, April 2018
China is Studying Yuan Devaluation
as a Tool in Trade Spat
Bloomberg, April 9, 2018
Obama Trade Rep: Trump's Concerns
About China are 'Real and Legitimate'
CNBC, April 9, 2018
China Acting in Defense of International Trade
China Daily, April 8, 2018
Donald Trump Trade Threats Lack Credibility
Financial Times, April 8, 2018
Trump Proposes $100 Billion in
Additional Tariffs on Chinese Products
CNBC, April 6, 2018
Why China is Confident It Can
Beat Trump in a Trade War
The New York Times, April 5, 2018
Shipping Industry Braces for Chinese Trade War
CNN, April 5, 2018
As China Fires Back in Trade War,
Here Are the Winners and Losers
Bloomberg, April 4, 2018
How to Make Trade Peace with China
The Wall Street Journal, April 4, 2018
China Retaliates Against U.S. Tariffs,
Escalates Trade War
Los Angeles Times, April 4, 2018
As U.S. and China Trade Tariff Barbs,
Others Scoop Up U.S. Soybeans
Reuters, April 8, 2018
U.S. Sanctions Hit Putin Allies Including Billionaire Deripaska
Bloomberg, April 6, 2018
Trump to Urge Latam to Look to U.S., Not China, on Trade
Reuters, April 5, 2018
Mexican TVs, Pork Set to Benefit From U.S.-China Trade War
American Journal of Transportation, April 4, 2018
U.S.-China Trade War Could Hit German
Automakers, Plus Tesla, Ford
US News and World Report, April 4, 2018
U.S. Tariffs Aimed at China Give Japan New Reasons to Worry
Bloomberg, April 3, 2018
South Korea, India Cut Trade Surpluses with U.S. as Trump Rails
American Journal of Transportation, April 3, 2018
Share Trade Update: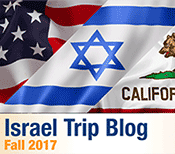 Israel Trip Blog - Fall 2017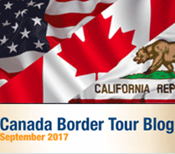 Canada Border Tour Blog - Sep. 2017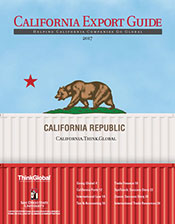 The California Export Guide is published by ThinkGlobal Inc. in partnership with the Center for International Business Education and Research (CIBER) at San Diego State University. The guide provides expert advice and information for exporters.
You can view the entire
Trade Update on our website.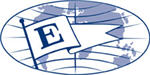 President's Export Award Recipient
Visit CalChamber.com/International for export/import information, trade stats, trade policy, FAQs and more.



CalChamber Supports All Measures on June 2018 Ballot
CalChamber, April 3, 2018
Upcoming Events:
Comprehensive Export Training
(2-Day Event)
4/13/2018 - 4/14/2018

Asia Pacific Business Outlook Conference 2018
4/16/2018 - 4/17/2018

Business Forum:
Innovations in Safety and Security
4/18/2018 - 4/20/2018



Chile California
Clean Engery Conference
4/18/2018

The Meaning of Brexit
4/18/2018



EXIM Bank 2018 Annual Conference
4/19/2018

Expo Seguridad
4/24/2018 -4/26/2018

Renewal Energy in the State of Jalisco, Mexico
4/25/2018

Bureau of Industry & Security Export Regulation Course
4/25/2018 - 4/26/2018



World Trade Week Kickoff Breakfast
5/4/2018

Water and Agriculture Technology Business Mission to Israel
5/8/2018 - 5/10/2018

CalChamber International Forum
5/23/2018

21st Annual International Business Luncheon
5/24/2018

2018 SelectUSA Investment Summit
6/20/2018 - 6/22/2018

Vehicle Aftermarket Trade Mission to Chile
8/21/2018 - 8/22/2018

83rd Thessaloniki International Fair (TIF)
9/8/2018 - 9/16/2018



China International Import Expo
11/5/2018 - 11/10/2018
California Coalition
for Free Trade
A broad-based group of companies and business organizations working to secure a national free trade agenda.
Join or Learn More
Resources:
California Congressional
Delegation Pictorial Roster
California Congressional
Committee Assignments
California Legislative Pictorial Roster
Federal Government:
The White House

The U.S. Senate

The U.S. House of Representatives

U.S. Department of Commerce

U.S. Trade Representative
State Government:
Governor

California State Senate

California State Assembly

California Department of Finance

Governor's Office of Business
and Economic Development – GO Biz

GO-Biz California Business Portal:
A One-Stop-Shop Website
for Business Owners




Free eNewsletters
Receive free eNewsletters to help keep you up to date on the laws affecting you and your business. To subscribe to any of the newsletters, visit this link.

Connect with CalChamber
Note: This email is being sent to members of the CalChamber Council for International Trade; CalChamber members with international interests; local, binational and American chambers of commerce abroad; the consular corps; California congressional delegation, selected U.S. and California government officials; and representatives of business and trade associations.

If you would like to be added to the subscriber list for this free e-newsletter, please click here.
To unsubscribe from Trade Update, please email us.
1215 K Street, Suite 1400
Sacramento, CA 95814
916 444 6670
www.calchamber.com/international international@calchamber.com