Tuesday, December 8, 2015
Featured Headlines
Our next Council for International Trade Update will publish on Tuesday, January 5, 2016.
From all of us at the California Chamber of Commerce, we wish you a happy holiday season and a wonderful, healthy, and prosperous new year!
Susanne Stirling, Vice President, International Affairs
susanne.stirling@calchamber.com
Mary Watts, Assistant, International Affairs
mary.watts@calchamber.com
Ann Amioka, Vice President, Communications
Steve Dormann, Managing Web Editor
Sara Espinosa, Publications Editor
Neil Ishikawa, Art Director
Cheryl O'Neal, Communications Assistant
CalChamber Council for International Trade hosts International Breakfast Friday, December 4, featuring British Consul General Priya Guha and GO-Biz Deputy Director of International Affairs Brian Peck.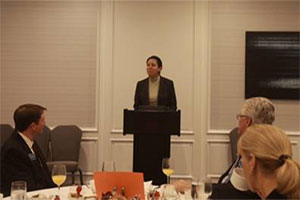 Consul General Priya Guha address CalChamber CIT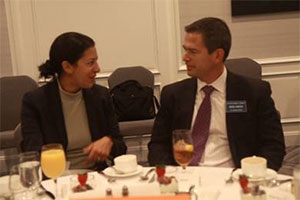 From left to right, British Consul General Priya Guha and Mark Jansen, President of Blue Diamond Growers and Chair, CalChamber Council for international Trade
Consul General Guha provided insight on California relations with the U.K. and Europe, as well as information about the Transatlantic Trade and Investment Partnership (T-TIP). Brian Peck gave a brief update on the international activities of GO-Biz.
CalChamber Companies in the News
Vatican appoints PricewaterhouseCoopers to audit accounts
BBC News, December 5, 2015
Chinese sales surge for Toyota, Honda in November
Nikkei Asian Review, December 3, 2015
Trade Policy
From the World Trade Organization
DG Azevêdo urges flexibility and political will for a successful Ministerial Conference
Arbitrator issues report in "COOL" case between US, Mexico and Canada
From the White House
Address to the Nation by the President
The Employment Situation in November
Here's What You Need to Know about the U.S. Visa Waiver Program:
From the U.S. Department of Commerce
SelectUSA's First-Ever Canada Conference – Greater Opportunity for the U.S.-Canada Commercial Relationship
U.S. Secretary of Commerce Penny Pritzker Addresses President's Export Council
U.S. Secretary of Commerce Penny Prtizker Closing Press Conference Remarks at the 26th Session of the U.S.-China Joint Commission on Commerce and Trade
TPP Founder Chile: Partner, Investor, Client, Supplier, and Friend
By Ambassador Hammer, U.S. Ambassador to Chile, ITA Blog, December 1, 2015
From the U.S. Trade Representative
Remarks by Ambassador Michael Froman to the U.S.-Israel Business Initiative
Trade Agreements
U.S. officials seek business help to sell Pacific trade pact
Reuters, December 3, 2015
Businsses Need a New Global Trade Deal
Wall Street Journal, December 3, 2015
Federal
U.S. gains 211,000 jobs in November, in report likely to trigger rate hike
MarketWatch, December 4, 2015
Feinstein at center of move to restrict visa-free travel to U.S.
Sacramento Bee, December 1, 2015
California
California newest airport terminal extends to Mexico
Associated Press, December 7, 2015
China's economic slowdown slams California exports
Sacramento Bee, December 7, 2015
Governor Brown Issues Statement on San Bernardino Shooting
Governor's Office, December 2, 2015
More International Articles
Bejing's Smog Crisis Idles Factories, Boosts Travel
Associated Press, December 8, 2015
EU, Ukraine vow to introduce trade pact next month despite Russian threats
Associated Press, December 7, 2015
EU-Vietnam Free Trade Agreement Officially Signed
Mondaq, December 7, 2015
EU seeks new air traffic agreements in Gulf carrier battle
Reuters, December 7, 2015
G20 sets up task force to get firms to disclose climate risks
Reuters, December 4, 2015
Markets slide in US and Europe after stimulus falls short
Associated Press, December 3, 2015
U.S., China reach agreement on guidelines for requesting assistance fighting cyber crime
Reuters, December 3, 2015
Draghi Braves QE Hype With Boost That Leaves ECB Room to Do More
Bloomberg, December 3, 2015
First Greek reform review likely done in February: EU official
Reuters, December 3, 2015
Eurozone Inflation Stays Low as ECB Prepares for Action
Associated Press, December 2, 2015
You can view the entire
Trade Update on our website.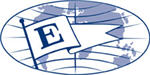 President's Export Award Recipient
Visit CalChamber.com/International for export/import information, trade stats, trade policy, FAQs and more.
Upcoming Events:
Submit An Event


12/7/2015 - 12/11/2015
Inbound Trade Mission from Europe

12/10/2015
EU Consultation Session on Digital Single Market

12/10/2015 - 12/11/2015
U.S. ASEAN Energy Trade Mission



12/10/2015
Saudi Business Opportunities Breakfast Briefing

12/11/2015
Exporting Roundtable Series: Trade Compliance

1/21/2016 - 1/27/2016
World Affairs Council - Cuba Policy Trip 2016

3/2/2016 - 3/4/2016
GLOBE 2016 Conference & Expo

4/25/2016 - 4/29/2016
Hannover Messe 2016



6/19/2016 - 6/21/2016
SelectUSA Investment Summit 2016


California Coalition
for Free Trade
A broad-based group of companies and business organizations working to secure a national free trade agenda.
Join or Learn More
Resources:
California Congressional Delegation Pictorial Roster
California Congressional Committee Assignments
California Legislative Pictorial Roster
Federal Government:
The White House

The U.S. Senate

The U.S. House of Representatives

U.S. Department of Commerce

U.S. Trade Representative
State Government:
Governor

California State Senate

California State Assembly

California Department of Finance

Governor's Office of Business and Economic Development – GO Biz



Free eNewsletters
Receive free eNewsletters to help keep you up to date on the laws affecting you and your business. To subscribe to any of the newsletters, visit this link.
Connect with CalChamber


Your one-stop shop for products that answer California and federal labor law and HR questions, alleviate confusion, save you time and money, so you can get back to business.

See the CalChamber Store's selection of forms and checklists in Spanish.
Note: This email is being sent to members of the CalChamber Council for International Trade; CalChamber members with international interests; local, binational and American chambers of commerce abroad; the consular corps; California congressional delegation, selected U.S. and California government officials; and representatives of business and trade associations.

If you would like to be added to the subscriber list for this free e-newsletter, please click here.
To unsubscribe from Trade Update, please email us.
1215 K Street, Suite 1400
Sacramento, CA 95814
916 444 6670
www.calchamber.com/international international@calchamber.com