Tuesday, September 25, 2018
Featured Headlines
CalChamber Companies in the News
Boeing Delivers First 787 Dreamliner for Shanghai Airlines
AJoT, September 24, 2018
PepsiCo and The PepsiCo Foundation Have Invested a Total of USD 7 Million Dollars in Access to Nutrition Programs in Latin America and the Caribbean
PepsiCo, September 24, 2018
Trade Policy
From the White House
Joint Statement on the United States-Korea Free Trade Agreement
September 24, 2018
President Donald J. Trump Announces Intent to Nominate Personnel to Key Administration Posts (Including Director of the USTDA)
September 19, 2018
From the U.S. Department of Commerce
U.S. Department of Commerce Establishes Improved Procedures for Section 232 Steel and Aluminum Exclusion Requests
September 20, 2018
Remarks by Secretary Wilbur L. Ross on Capitol Hill for the Release of the Outdoor Recreation Satellite Account Data
September 20, 2018
From the U.S. Trade Representative
USTR Announces FY 2019 WTO Tariff-Rate Quota Allocations for Refined and Specialty Sugar and Sugar-Containing Products
September 24, 2018
USTR Statement on Meeting of the Global Forum on Steel Excess Capacity
September 20, 2018
U.S. Timber Committee Responds to Peru's Timber Verification
September 19, 2018
From the U.S. Department of State
Previewing Sanctions Under Section 231 of the Countering America's Adversaries Through Sanctions Act of 2017 (CAATSA)
September 20, 2018
From the House Ways and Means Committee
Brady, Reichert Statements on KORUS Agreement
September 24, 2018
From the World Trade Organization
Full-Blown Trade War Would Cost Jobs, Growth and Stability: WTO's Azevedo
Reuters, September 25, 2018
European Union Files Appeal in Dispute with Russia Over Energy Sector Measures
September 21, 2018
The Bahamas Reactivates WTO Accession Process with a View to Secure Membership by 2019
September 21, 2018
WTO Members Clamor for More Clarity on U.S. Farm Spending
Reuters, September 20, 2018
WTO Members Review Two Regional Trade Agreements Covering Africa, the Caribbean and the EU
September 18, 2018
Trade Agreements
NAFTA
How Trump Split Mexico
and Canada in NAFTA Talks
Reuters, September 25, 2018
U.S. is Getting 'Very, Very Close' to
Moving Ahead on a Trade Deal Without Canada
CNBC, September 21, 2018
Mexico Will Seek Deal with Canada
if NAFTA Talks Fail: Lopez Obrador
Reuters, September 21, 2018
Canadian Officials are Mulling an Attack
on U.S. Pharma, Says Ottawa Lawyer
Yahoo, September 19, 2018
NAFTA Deal Unlikely This Week, Raising Tariff Fears
Bloomberg, September 18, 2018
Canada's Trudeau Under Growing
Pressure to Get NAFTA Deal Done
Reuters, September 18, 2018
U.S. Business Groups Urge Trump
to Keep Canada in NAFTA
The Wall Street Journal, September 18, 2018
Trump Pursues Trade Deals in Asia, Europe Amid Frostiness with China
The Wall Street Journal, September 25, 2018
EU-India "Fully Committed" to Move Forward on Free Trade Pact
Economic Times, September 23, 2018
TPP Being Reconsidered by Trump Administration
Hoosier Ag Today, September 23, 2018
China, Japan and South Korea Aim to Speed Up Talks on Free-Trade Agreement to Counter US Tariffs
South China Morning Post, September 22, 2018
EU and Mercosur to Re-Initiate Free-Trade Talks Next Week
ICIS, September 21, 2018
Japan-U.S. Trade Talks to Be Delayed After New U.S. Tariffs on China
Japan Today, September 19, 2018
Turkey Hopes to Sign Free Trade Deal with Japan by 2019, Minister Says
Daily Sabah, September 20, 2018
India, U.S. Closing In On Package Deal to Remove Trade Irritants
Reuters, September 18, 2018
A New Approach to EU-US Trade: Less is More
Politico, September 17, 2018
The Ideal U.S.-U.K. Free Trade Agreement: A Free Trader's Perspective
Center for Policy Studies, September 2018
Federal
Some Farmers Worry Trump's Bailout Checks Won't Be Enough
AP, September 24, 2018
Foreign Direct Investment in the United States
Organization for International Investment, September 24, 2018
Issa Appointment Could Give Trump an Able Trade War Ally
The San Diego Union-Tribune, September 22, 2018
'This Could Be Catastrophic': Small Businesses Say New Tariffs Will Make it Even Harder to Compete
The Washington Post, September 20, 2018
U.S. Chamber Chief Says Trump Can Still Avoid a Damaging Trade War
Reuters, September 19, 2018
Trump Nominates Retiring Rep. Darrell Issa to Run Trade Agency
KPBS, September 19, 2018
U.S. Companies Repatriated $169.5 Billion in Second Quarter
Bloomberg, September 19, 2018
California
California received a $650,000 STEP grant award,
an increase from last year's $500,000 STEP
award. When combined with State resources,
this will provide $999,999 in total export development assistance to California small business exporters!
SBA Announces FY 2018 State Trade
Expansion Program (STEP) Awards
PR Newswire, September 14, 2018
Governor Brown to Open Climate Week NYC with Heads of State, UNFCCC Executive Secretary Tomorrow
Office of California Governor Edmund G. Brown, Jr., September 23, 2018
California Farmers are Trade-War Casualties
The Wall Street Journal, September 19, 2018
More International Articles
China
U.S.-China Trade War Draws Rebuke
From World Leaders at UN Event
Bloomberg, September 24, 2018
Trade War Reality Sets in as U.S.
and China Stick to Their Guns
Bloomberg, September 23, 2018
Trump is Denying Product Exclusions
from New China Tariffs
Bloomberg, September 20, 2018
China Plans Broad Import Tax Cut
as Soon as October
Bloomberg, September 19, 2018
WTO Head Offers to Mediate Between
China and US Over Trade War
The Guardian, September 19, 2018
China's Premier Appeals for
Free Trade Amid Tariff Battle
AP, September 19, 2018
China Updates WTO Challenge
to Reflect Trump's Latest Tariffs
Bloomberg, September 18, 2018
China Says Won't Weaken Currency
to Boost Exports, as U.S. Tariffs Mount
Reuters, September 18, 2018
The Missing China Trade Strategy
The Wall Street Journal, September 18, 2018
It's Not Too Late to Prevent a Russia-China Axis
The Atlantic, September 14, 2018
EU Takes Action Against UK Over Customs Duties
The Sacramento Bee, September 24, 2018
Reminder to Shinzo Abe: The Economy is Your Legacy
Bloomberg, September 23, 2018
Japan Uneasy Over Trump Pressure on Auto as Summit, Trade Talks Loom
Reuters, September 20, 2018
EU Pushes October Brexit Agreement, Threatens No Deal
Reuters, September 19, 2018
Japan's Abe Re-Elected as Party Head, to Stay on as PM
The Sacramento Bee, September 20, 2018
Commitment to Development Index 2018
Center for Global Development, September 2018
Share Trade Update: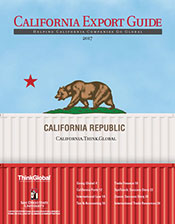 The California Export Guide is published by ThinkGlobal Inc. in partnership with the Center for International Business Education and Research (CIBER) at San Diego State University. The guide provides expert advice and information for exporters.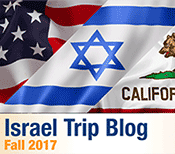 Israel Trip Blog - Fall 2017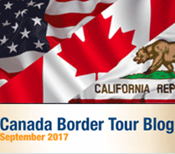 Canada Border Tour Blog - Sep. 2017
You can view the entire
Trade Update on our website.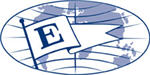 President's Export Award Recipient
Visit CalChamber.com/International for export/import information, trade stats, trade policy, FAQs and more.

Upcoming Events:
The U.S.-Vietnam Trade and Investment Forum 2018
9/25/2018

What Diplomats Do and Why It Matters
9/25/2018

India Energy Storage and Smart Grid Program
9/26/2018 - 10/6/2018

USTDA India Energy Storage & Smart Grid Reverse Trade Mission
10/1/2018

National Association of District Export Councils Annual Export Symposium
10/2/2018 - 10/3/2018

2018 U.S.-Taiwan Business Day
10/4/2018

Oman Technology Roadshow - Opportunities in Oman's Tech Sector -Seattle
10/4/2018

Oman Technology Roadshow - Opportunities in Oman's Tech Sector -
San Jose
10/9/2018

Pacific Rim/E-Commerce Export Opportunities Event
10/12/2018

International Consulate Reception
10/25/2018



China International Import Expo
11/5/2018 - 11/10/2018

Get Global 2018
11/7/2018

Business H2O: Water Innovation Summit
12/10/2018 - 12/11/2018

California Coalition
for Free Trade
A broad-based group of companies and business organizations working to secure a national free trade agenda.
Join or Learn More
Resources:
California Congressional
Delegation Pictorial Roster
California Congressional
Committee Assignments
California Legislative Pictorial Roster
Federal Government:
The White House

The U.S. Senate

The U.S. House of Representatives

U.S. State Department - California Impact'

U.S. Department of Commerce

U.S. Trade Representative
State Government:
Governor

California State Senate

California State Assembly

California Department of Finance

Governor's Office of Business
and Economic Development – GO Biz

GO-Biz California Business Portal:
A One-Stop-Shop Website
for Business Owners




California STEP Grant FY 2018




Free eNewsletters
Receive free eNewsletters to help keep you up to date on the laws affecting you and your business. To subscribe to any of the newsletters, visit this link.

Connect with CalChamber
Note: This email is being sent to members of the CalChamber Council for International Trade; CalChamber members with international interests; local, binational and American chambers of commerce abroad; the consular corps; California congressional delegation, selected U.S. and California government officials; and representatives of business and trade associations.

If you would like to be added to the subscriber list for this free e-newsletter, please click here.
To unsubscribe from Trade Update,
please email us.
1215 K Street, Suite 1400
Sacramento, CA 95814
916 444 6670
www.calchamber.com/international international@calchamber.com