Tuesday, August 8, 2017
Featured Headlines
CalChamber Companies in the News
Inspiration Comes to Us in Different Ways
Almond Insights, August 8, 2017
Toyota, Mazda Plan to Invest $1.6 Billion to Build U.S. Plant
AJoT, August 4, 2017
Trade Policy
From the White House
President Donald J. Trump Announces Intent to Nominate Personnel to Key Administration Posts (Ambassadors to Spain/Andorra and South Sudan)
August 3, 2017
President Donald J. Trump Announces Intent to Nominate Jamie McCourt to be Ambassador to the French Republic and Ambassador to the Principality of Monaco
August 3, 2017
President Trump Introduces RAISE Immigration Reform Act
August 2, 2017
President Donald J. Trump Announces Intent to Nominate Personnel to Key Administration Post (including Ambassador to Vietnam)
July 26, 2017
Department of Commerce
Free-Trade is a Two-Way Street by Wilbur Ross
The Wall Street Journal, July 31, 2017
Secretary Ross and Secretary Perry Hail New Coal Deal with Ukraine
July 31, 2017
From the U.S. Trade Representative
USTR Announces Reallocation of Unused FY 2017 World Trade Organization Tariff-Rate Quota Volume for Raw Cane Sugar
July 31, 2017
USTR Announces Revised Fiscal Year 2017 Tariff-Rate Quota Allocations for Raw Cane Sugar
July 31, 2017
Department of State
Australia-Japan-United States Trilateral Strategic Dialogue Ministerial Joint Statement
August 6, 2017
Secretary Tillerson's Remarks at a Press Availability
August 1, 2017
From the World Trade Organization
Trade Indicator Points to Continued Modest Recovery of World Trade in Third Quarter
August 7, 2017
Trade Agreements
NAFTA Update
Trump Nafta Win May Rest on
Helping Mexican Workers Get a Raise
AJoT, August 7, 2017
Mexico to Host Second Round of
NAFTA Talks in September
Reuters, August 2, 2017
NAFTA Negotiations to Include High-Level
Cabinet Dinner, 7 Rounds of Trade Talks
Global News, August 1, 2017
Canada Bolsters U.S.-Based
NAFTA Negotiation Team
CTV News, August 1, 2017
NAFTA 2.0 Needs to Enshrine Investor Protections
The Hill, July 28, 2017
Why Renegotiating NAFTA
Will Expand Economic Growth
The San Diego Union-Tribune, July 27, 2017
NAFTA Can be Reworked Without Hurting Earnings
AJoT, July 27, 2017
Canada's Trudeau: NAFTA
Dispute Resolution System is Essential
Reuters, July 25, 2017
India Wants Quick Deal on BIMSTEC Free Trade
The Hindu Business Line, August 6, 2017
Free Trade Agreement Between Ukraine and Canada Comes into Force
Ukrinform, August 1, 2017
Britain Eyes Trade Deal with Brazil
EuroNews, August 1, 2017
Mexico: Ratifies Free Trade Agreement with Japan
Business Insider, July 31, 2017
South Korea Names New Trade Minister Amid U.S. Push to Amend FTA
Reuters, July 30, 2017
UK to Tap Mexico After US in Ongoing Post-Brexit Trade Pursuit
CNBC, July 26, 2017
Federal
Trump Administration's Africa Policy in Focus at AGOA Trade Talks
Reuters, August 8, 2017
Trump's Trade Pullout Roils Rural America
Politico, August 7, 2017
U.S. Trade Deficit Drops 6% in June to 8-Month Low
MarketWatch, August 4, 2017
Democrats Aim to Regain Advantage on Trade from Trump
AP, August 2, 2017
US Plans Trade Probe Over China's Demands for Tech Transfers
AP, August 2, 2017
Trump to Name California Businesswoman Kelly Roberts Ambassador to Slovenia
NY Mag, August 1, 2017
Trump Close to Decision on Addressing Chinese Trade Practices
Reuters, August 1, 2017
Trump Keeps Obama Mexico Ambassador in Place in First Months
Bloomberg, July 31, 2017
Trump and GOP Leaders Agree to Drop Border-Adjustment Tax from Reform
The Los Angeles Times, July 27, 2017
USTR Lighthizer: Trump Challenging China's Industrial Policies
Reuters, July 25, 2017
California
California Exports Rally in June, Top $15 Billion
The Sacramento Bee, August 4, 2017
Dockworkers Union Ratifies Contract Extension, Easing Fears of Another Slowdown
Los Angeles Daily News, August 4, 2017
Port of Oakland Should Gain as China Opens Rice Market to U.S.
AJoT, August 3, 2017
Governor Brown Welcomes Norway to Under2 Climate Coalition
Office of Governor Edmund G. Brown Jr., August 2, 2017
Border Mayors Talk Trade, Border Crossings and the Wall
The San Diego Union-Tribune, July 30, 2017
California Rice Growers Stand to Prosper from China Deal
San Francisco Chronicle, July 29, 2017
More International Articles
Japan Exchange and Teaching Program (JET) celebrates their 30th anniversary.
One of the largest educational and cultural exchange programs of its kind, the JET Program has sent 32,000 young Americans to live and work in local communities. Founded in 1987 by the Government of Japan,
JET builds strong educational and cultural ties
between the United States and Japan.
'China has Conquered Kenya': Inside Beijing's New Strategy to Win African Hearts and Minds
The Los Angeles Times, August 7, 2017
Fifty Years On, Southeast Asia Emerges as Global Growth Leader
AJoT, August 6, 2017
Xi's Move to Slap North Korea Buys Time with Trump on Trade
AJoT, August 6, 2017
Mercosur Suspends Venezuela, Urges Immediate Transition
Reuters, August 5, 2017
Britain Prepares to Show its Brexit Hand
Politico, August 5, 2017
Vietnam Forecasts Record Foreign Investment of $16 Billion
AJoT, August 4, 2017
Africa: Free Trade Agreements an Opportunity for Africa
All Africa, August 4, 2017
China Tries to Calm U.S. Trade Spat While Readying Riposte
AJoT, August 3, 2017
US Sanctions are 'Trade War' on Russia, Says PM Medvedev
BBC, August 3, 2017
Korea's Exports Surge 20% as Global Demand Supports Growth
AJoT, July 31, 2017
Qatar Launches Wide-Ranging WTO Complaint Against Trade Boycott
Reuters, July 31, 2017
President Xi Says China Loves Peace But Won't Compromise on Sovereignty
Reuters, July 31, 2017
Amid Brexit Squabbling, PM May's Spokesman Says EU Free Movement to End in 2019
Reuters, July 31, 2017
US-Mexico Border Mayors Convene Amid High-Stakes Debates
AP, July 27, 2017
Trump Throws Brexit a Lifeline
The Wall Street Journal, July 26, 2017
Share Trade Update: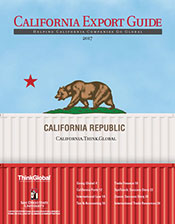 The California Export Guide is published by ThinkGlobal Inc. in partnership with the Center for International Business Education and Research (CIBER) at San Diego State University. The guide provides expert advice and information for exporters.
You can view the entire
Trade Update on our website.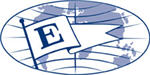 President's Export Award Recipient
Visit CalChamber.com/International for export/import information, trade stats, trade policy, FAQs and more.

Upcoming Events:
8/17/2017
International Business Roundtable: Finding Quality Logistics Providers

8/29/2017
2017 US Business Day

9/12/2017
MWC Americas 2017 San Francisco

9/18/2017
Perumin - Extemin: Peru Mining Show

9/19/2017
Expanding Horizons - A Workshop for Small Businesses Entering International Markets

9/19/2017- - 9/21/2017
ICC WCF 10th World Chambers Congress

9/27/2017
Trade Mission to the Four Countries of the Pacific Alliance

9/28/2017
Panama Energy Roundtable



The ICC World Chambers Federation would like to cordially invite you to the 10th World Chambers Congress, taking place from 19-21 September in Sydney, Australia. This event represents an unparalleled and unique gathering where chamber leaders and their business members, both large and small, from more than 110 countries, territories and regions, will gather to foster community, knowledge sharing and innovation. The Congress will feature dynamic plenary sessions and interactive workshops that will address topics at the heart of a chamber's local and international agendas including business, conflict and terrorism, leadership, 4th industrial revolution, skills for tomorrow, the future of origin, global mobility and infrastructure. An accompanying side programme, a 2,400sqm exhibition area and the soon-to-be-released Congress App will offer a wide range of unparalleled networking opportunities.
California Coalition
for Free Trade
A broad-based group of companies and business organizations working to secure a national free trade agenda.
Join or Learn More
Resources:
California Congressional Delegation Pictorial Roster
California Congressional Committee Assignments
California Legislative Pictorial Roster
Federal Government:
The White House

The U.S. Senate

The U.S. House of Representatives

U.S. Department of Commerce

U.S. Trade Representative
State Government:
Governor

California State Senate

California State Assembly

California Department of Finance

Governor's Office of Business and Economic Development – GO Biz

GO-Biz California Business Portal: A One-Stop-Shop Website for Business Owners




Free eNewsletters
Receive free eNewsletters to help keep you up to date on the laws affecting you and your business. To subscribe to any of the newsletters, visit this link.

Connect with CalChamber
Note: This email is being sent to members of the CalChamber Council for International Trade; CalChamber members with international interests; local, binational and American chambers of commerce abroad; the consular corps; California congressional delegation, selected U.S. and California government officials; and representatives of business and trade associations.

If you would like to be added to the subscriber list for this free e-newsletter, please click here.
To unsubscribe from Trade Update, please email us.
1215 K Street, Suite 1400
Sacramento, CA 95814
916 444 6670
www.calchamber.com/international international@calchamber.com