Tuesday, July 11, 2017
Featured Headlines
CalChamber Companies in the News
Siemens and AES Join Forces to Create Fluence, a New Global Energy Storage Technology Company
Siemens, July 11, 2017
Nine CalChamber Members Creating Jobs with Help from Tax Credit
CalChamber, July 5, 2017
Trade Policy
From the White House
President Donald J. Trump Announces Key Additions to his Administration (including Ambassadors to Italy and the Czech Republic)
July 10, 2017
Press Briefing on the President's Meetings at the G20
July 7, 2017
President Trump Reaffirms America's Commitment to its Allies on His Second Trip Abroad
July 6, 2017
Remarks by President Trump and President Moon of the Republic of Korea Before Bilateral Meeting
June 30, 2017
Seventeen Nominations Sent to the Senate Today (including Ambassadors to Guatemala and Peru)
June 29, 2017
Remarks by the Vice President to the US-India Business Council
June 27, 2017
Department of Commerce
U.S., Mexico Sign Final Amendments to Sugar Suspension Agreements
July 3, 2017
From the U.S. Trade Representative
The Trump Administration Invites Public Comment for Review of Existing Trade Agreements
June 29, 2017
Executive Order 13796 of April 29, 2017 (82 FR 20819), requires the USTR and the Secretary of Commerce to conduct comprehensive performance reviews of all trade agreements and investment agreements to which the US is a party and all trade relations with countries governed by the rules of the WTO with which the US does not have free trade agreements but with which the US runs significant trade deficits in goods. The USTR and the DoC are seeking comments that they will consider as part of these performance reviews and in the preparation of the subsequent report to the President.
Written comments are due by
11:59 p.m. (EDT) on July 31, 2017.
Comment here or go to regulations.gov
and enter Docket ID: USTR-2017-0010
United States and Philippines Strengthen Engagement on Trade
July 11, 2017
USTR Announces New Trade Preference Program Enforcement Effort
June 29, 2017
Public Hearings on the Renegotiation of NAFTA
June 27, 2017
USTR Robert Lighthizer Statement on Alan Wolff, New WTO Deputy Director General
June 27, 2017
International Trade Administration
Foreign Direct Investment: Driving Global Competitiveness and Innovation
July 7, 2017
From the World Trade Organization
Trade and Investment are Essential for Sustainable Development
July 10, 2017
DG Azevêdo Tells G20: Trade Differences Must Be Resolved with Discussion and Cooperation
July 7, 2017
WTO, IMF, World Bang Urge G-20 Leaders to Act on Trade
July 6, 2017
Trade Agreements
Turnbull: Australia 'Very Keen' for Trade Deal with UK
BBC, July 10, 2017
New Zealand and UK to Sign a Free Trade Agreement Soon
Sutff.Co, July 9, 2017
Trump Promises May a Post-Brexit Free Trade Deal with UK 'Very, Very Quickly'
Business Insider, July 8, 2017
Brazil: Main Points of Mercosur-EU Trade Deal Need to Be Concluded in December
VOA News, July 6, 2017
Japan to Host Meeting to Discuss TPP Future Without the US
Latin American Herald Tribune, July 4, 2017
Brexit: Liam Fox Says Talks on a UK-US Trade Deal Will Begin on 24 July
Independent, June 30, 2017
Trade Deal with Latin America Closer as NZ Joins Pacific Alliance
TVNZ, June 29, 2017
China Open to Free-Trade Agreement with Mexico: Xinhua
Reuters, June 28, 2017
Australian Trade Minister Embarks on Trade Mission to U.S., Colombia
XinhuaNet, June 28, 2017
Federal
Mexico is No Longer No.1 U.S. Corn-Buyer After Trade Tensions
Bloomberg, July 6, 2017
U.S., China to Meet in Washington on July 19 for Economic Talks
Reuters, July 6, 2017
US Trade Deficit Fell in May as Exports Hit 2-Year High
Associated Press, July 6, 2017
Chinese Vice Premier Talks Economy with U.S. Commerce Secretary Ross: Xinhua
Reuters, July 3, 2017
Xi, Abe Get Phone Calls From Trump as Asian Tensions Rise
AJoT, July 3, 2017
Trump Growing Frustrated with China, Weighs Trade Steps: Officials
Reuters, June 28, 2017
California
Future of Cap and Trade Requires on 2/3 Vote Approval
CalChamber, July 10, 2017
California Exports Cool Off a Bit in May
The Sacramento Bee, July 6, 2017
California's Hotel Building Boom Shows No Signs of Slowing
San Diego Union Tribune, July 6, 2017
As U.S. High Tech Surges, Silicon Valley Becomes a Diplomatic Outpost
The Sacramento Bee, July 3, 2017
Cyberattack Shutdown of LA Port Terminal Sparks Security Worries
Los Angeles Daily News, June 27, 2017
More International Articles
China Prepares Fresh Round of State-Orchestrated Megamergers
Financial Times, July 10, 2017
China's Cosco to Buy Shipping Rival Orient Overseas for $6.3 Billion
The Wall Street Journal, July 9, 2017
Colombia Hosts Pacific Alliance Summit in Cali
Colombia Today from the Colombia Embassy to the US, July 7, 2017
U.S. Cars a Tough Sell in South Korea Even as Trump Targets Trade Deal
Reuters, July 6, 2017
China Sees Opening Left by Trump in Europe, and Quietly Steps In
The New York Times, July 5, 2017
Global Trade Rebounds Despite Trump's Protectionist Threats
Bloomberg, July 5, 2017
Xi, Putin Urge Free Trade, Highlight UN in Global Governance
XinhuaNet, July 5, 2017
Dubai's Next Frontier: Latin America
Arabian Business.com, July 4, 2017
Britain Misses Out as Global Manufacturing Surges
Reuters, July 3, 2017
India Launches New Single Nationwide Tax Amid Confusion
The Sacramento Bee, July 1, 2017
Chinese President Xi Jinping Arrives in Hong Kong as Protesters Arrested
CNN, June 29, 2017
Hong Kong 20th Anniversary: A Photographic Timeline of Highs and Lows
Time, June 28, 2017
Share Trade Update: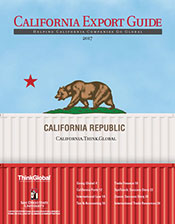 The California Export Guide is published by ThinkGlobal Inc. in partnership with the Center for International Business Education and Research (CIBER) at San Diego State University. The guide provides expert advice and information for exporters.
You can view the entire
Trade Update on our website.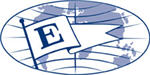 President's Export Award Recipient
Visit CalChamber.com/International for export/import information, trade stats, trade policy, FAQs and more.

Upcoming Events:
8/29/2017
2017 US Business Day

9/12/2017
MWC Americas 2017 San Francisco

9/19/2017
Overseas Private Investment Corporation (OPIC) Workshop: Expanding Horizons

9/19/2017- - 9/21/2017
ICC WCF 10th World Chambers Congress



The ICC World Chambers Federation would like to cordially invite you to the 10th World Chambers Congress, taking place from 19-21 September in Sydney, Australia. This event represents an unparalleled and unique gathering where chamber leaders and their business members, both large and small, from more than 110 countries, territories and regions, will gather to foster community, knowledge sharing and innovation. The Congress will feature dynamic plenary sessions and interactive workshops that will address topics at the heart of a chamber's local and international agendas including business, conflict and terrorism, leadership, 4th industrial revolution, skills for tomorrow, the future of origin, global mobility and infrastructure. An accompanying side programme, a 2,400sqm exhibition area and the soon-to-be-released Congress App will offer a wide range of unparalleled networking opportunities.
California Coalition
for Free Trade
A broad-based group of companies and business organizations working to secure a national free trade agenda.
Join or Learn More
Resources:
California Congressional Delegation Pictorial Roster
California Congressional Committee Assignments
California Legislative Pictorial Roster
Federal Government:
The White House

The U.S. Senate

The U.S. House of Representatives

U.S. Department of Commerce

U.S. Trade Representative
State Government:
Governor

California State Senate

California State Assembly

California Department of Finance

Governor's Office of Business and Economic Development – GO Biz

GO-Biz California Business Portal: A One-Stop-Shop Website for Business Owners




Free eNewsletters
Receive free eNewsletters to help keep you up to date on the laws affecting you and your business. To subscribe to any of the newsletters, visit this link.

Connect with CalChamber
Note: This email is being sent to members of the CalChamber Council for International Trade; CalChamber members with international interests; local, binational and American chambers of commerce abroad; the consular corps; California congressional delegation, selected U.S. and California government officials; and representatives of business and trade associations.

If you would like to be added to the subscriber list for this free e-newsletter, please click here.
To unsubscribe from Trade Update, please email us.
1215 K Street, Suite 1400
Sacramento, CA 95814
916 444 6670
www.calchamber.com/international international@calchamber.com